Exporting the ice making machine, Ms. Thuy in Thanh Hoa
IVA 3T ice cube making machine Viet An is still the most popular and prestigious product in Vietnam. Viet An As one of the units with high-class brands, a strong position in the field of import and distribution of ice making machines, water filtration lines, filling machines, bottle blowing machines ... etc.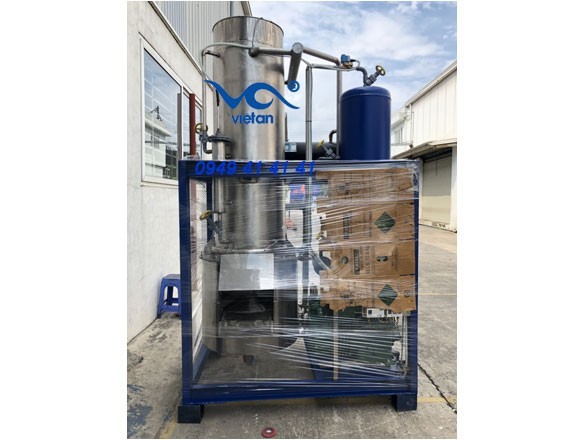 IVA3T ice cube machine is exported to Ms Thuy
A special advantage makes Ms Thuy choose IVA 3T Viet An ice making machine
IVA 3T ice making machine is designed according to the latest technology in the US in 2019. Produced by Viet An General Trading Joint Stock Company in Vietnam. With an industrial design very compact, handy makes the installation simpler for customers, and safe for manufacturers. New compressor 100% German technology, save small noise power, less affecting people around.
IVA 3T ice machine uses pure water to make ice, so it is very safe for ice products, the ice is clean ice and meets food safety standards 6 -1-2010 / BYT. The machine is designed with simple technique, high durability, low maintenance and maintenance costs, saving electricity.
IVA3T ice cube making machine - 3 tons intelligent. Made of high-quality iNox304, adapting to the climatic conditions of Vietnam, helping the machine from corrosion due to oxidation. with a system of components painted with 2 layers of anti-rust epoxy, the ice machine can withstand the harsh weather of Vietnam.
Ms Thuy should note the effective use of IVA 3T ice cube machine:
No matter how good a product is if it is not operated according to the prescribed standards and is properly cleaned, it will quickly degrade after a long time of use. For IVA 3T ice cube making machine to work better and more durable, Ms Thuy should note the following points:
Firstly: Read carefully the instructions provided by the manufacturer. When having problems, please contact immediately at 0949.41.41.41 to get the best solution.
Secondly: Regarding the water source, you should use tap water or filtered water, you can also use groundwater from a depth of more than 90m. You can refer to our RO technology water filtration line, when combining with ice machine to ensure the quality of ice made to be hygienic and completely 100% pure.
Thirdly, Ms Thuy needs to check the power source to see if the voltage level is suitable for the capacity or not to be able to find a replacement.
 + Pay attention should not be placed on the machine but the location is not flat, high humidity, avoid places with high temperatures, direct sunlight on.
 + Should periodically check the maintenance, cleaning and cleaning of components, replace if necessary to increase the life and durability of the machine.
The structure of the IVA 3T ice cube machine is exported to Ms Thuy
The main equipment includes:
The compressor imported 100% new from USA / Germany.
Condenser (heat exchanger and exhaust heat to water with an extra cooling water pumping system and cooling tower)
Throttle system
Evaporation system ...
The auxiliary equipment:
Oil separator operates on the principle of changing the direction and speed of the fluid flow! Based on the density of the medium and the oil dust!
High pressure container: for high pressure liquid solvent! The task of releasing the heat exchanger surface of the condenser and providing an adequate amount of solvent for the throttle system
Liquid separator
Heat exchangers: Exchange counterflow heat between the refrigerant from the evaporator and into the heat exchanger with the liquid in the spiral tube!
Attractive incentives for Ms Thuy when buying ice making machine of Viet An
Commit to 100% completely clean ice cubes.
Viet An offers a 12-month warranty on IVA3 ice machine and lifetime maintenance.
100% refund if providing fake ice machine - the quality of making ice is not as committed.
Free shipping and installation policy.
Discount card deals - worth tens of millions of dong - if Ms Thuy introduces acquaintances to buy the company's products.
The forms of payment for pure ice machine products range from bank transfer to direct receipt.
Free packaging system when buying ice cube machine in Viet An.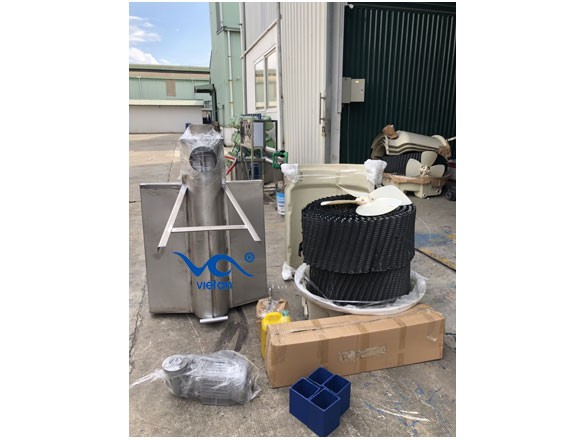 Accessories come with IVA3T ice making machine
With the IVA3T model, Ms. Thuy will quickly gain control of the ice market in Thanh Hoa because of the capacity, quality and durability of the machine, not only that, in a short time, Ms Thuy will pay back the investment and collect the quick reply from IVA3T ice making machine.
Viet An ice making machine is one of the quality and stable performance products imported from the US with technology specially designed for hygiene. Each time a new batch of ice is removed, the old water is removed, cleaned and refilled with purified water.
All problems related to the price of each type of ice machine, performance and operation please contact us via phone number 0949 41 41 41. Viet An is very pleased to welcome customer.