Exporting VACA2000 - 2000 liter water filtration line to Ms. Van in Tay Ninh
VACA2000 liter water filtration line is the most popular product line on the market today. Manufactured according to ISO9001: 2015 standards, imported directly from the United States by Viet An and distributed exclusively in Vietnam with the most competitive prices today. With the desire to bring clean and safe drinking water to people in Tay Ninh, Ms Van decided to sign a contract to buy Viet An's VACA2000 water filtration line to open a bottled pure water production and trading establishment. Bottling helps improve the health of consumers as well as earn more profits.
On June 15, 2019, Viet An General Trading Joint Stock Company exported a system of 2000 liter - VACA1000 water filtration system to Ms Van in Tay Ninh, after signing the contract No. 125/2019.
Viet An General Trading Joint Stock Company, formerly known as Viet An General Trading Co., Ltd., has been equitized since August 2009, is a leading enterprise in manufacturing, importing and distributing ice making machines. , RO pure water filtration line and filling machine, bottle blowing machine ... Exporting brand VA, USApec, Vinaro No. 1 quality in Vietnam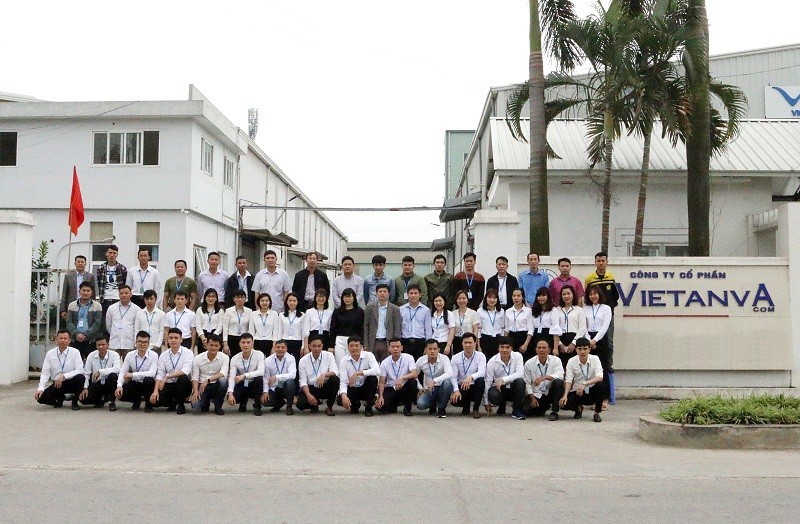 Understanding the importance of after-sales service, after-sales maintenance and maintenance of industrial machines, Viet An company with a team of professional engineers, we are always committed to providing the best service, bringing the best Satisfied, accompanying in the development process of customers. Choosing Viet An as a development investment partner - we will definitely make you feel secure and satisfied. Some typical awards Viet An has achieved over the years such as:
In 2009 Viet An received the Gold Medal for high-quality Vietnamese goods for bottled water, bottled water and golden lotus cup for its pure water filter product.
In 2015 Viet An received the exclusive brand certificates '' VA '' and ''USApec'' for ice machine products and pure water filtration lines issued by the National Office of Intellectual Property on September 10 / 2015.
In 2015 Viet An received the award of '' Top 100 leading brands in Vietnam in 2015 '' by Consumer Newspaper.
Received the certificate of ISO9001: 2015 international quality management standard
On 11/29/2016 Viet An General Trading Joint Stock Company was also honored to receive the Certificate of Merit as one of the enterprises with good achievements in the fight against fake of the Association Against Counterfeiting and Trademark Protection. Vietnam VATAP brand.
The pure water line VACA2000 Ms Van selected - modern water filtration technology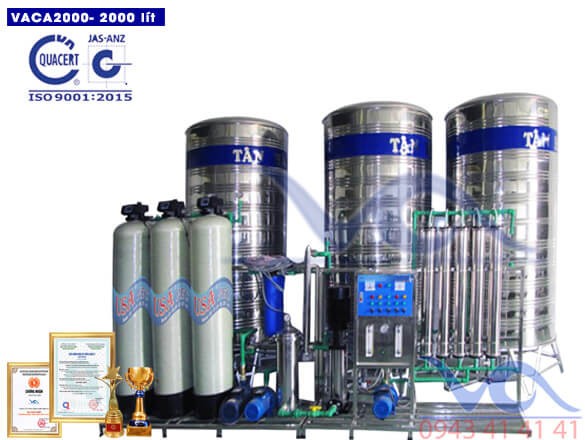 RO prefilter system
The source water is pumped up and stored in the headwater basin so that the water is exposed to the air and has time to precipitate to facilitate the treatment process after.
The water is then pushed through the filter MMF (Multimedia Filter) which is used to remove iron, manganese, heavy metals ... balance the pH.
Water continues to be pushed through the filter of ACF (Active Carbon Fillter), which is used to deodorize and eliminate toxins make clear and sweet water.
After deodorizing water, it is continued to pass through water softener WSF (Water Softener Filter) to remove metal ions, toxins, clear and sweet water by touching Na + ion exchange resins. All salt in the water after softening is converted to sodium salt and the metals Ca, Mg, Fe is trapped in Cation resins.
The treated water is stored in an intermediate water tank of 1.5m3 to ensure a quantity of water through the main system producing pure water. If done well, the front treatment stage will ensure longevity for reverse osmosis membranes.
RO Reverse osmosis system
From the water tank is pushed through the filtration system. Here, the water removes a part of suspended impurities, precipitates and stabilizes the impurities to create favorable conditions for the next water treatment process. Continued water is pushed through the main system producing pure water RO capacity of 2000 liters / h. Water through the RO system is water that removes metals, eliminates microorganisms to form pure water.
The water is then passed through a sterilizing device to kill bacteria and put into the finished product tank 3m3. From here, the water is put to use.
UV, OZONE bactericidal system AND FILLING
The water after being processed into pure water is stored in the third 1.5m3 tank of pure water to continue through the ultraviolet sterilization system and Ozone includes 3 20 "purification flasks to filter again. Suspended impurities are left before the water runs through ultraviolet light to kill bacteria, helping water to ensure quality of microbiology and physical chemistry. From here, water is taken to the filling system to create a finished product that is ready for use.
Water after this processing line will create pure water of physiological - chemical - microbiological standards according to bottled drinking water standard TC 6-1 / 2010 of BYT. From here, water is passed through the filling room to complete the product.
Accessories come with a 2000 liter / h water filtration line for Ms Van
Semi-automatic bottle filling machine (VAMCC150)
Shrink film machine
VATDS test pen
Instruct Ms Van to use properly to increase the life of VACA2000 pure water filtration line
With a long experience in water treatment profession, Viet An owns a team of good technical staff who are capable of constructing and installing lines very quickly, very well, bringing the ability to operate the water filtration line for Ms Van extremely quality.
Each Viet An bottled water filtration line will have a 1-year warranty period and long-term maintenance. In order to use the VACA2000 pure water treatment line for the longest time, Ms Van should note:
Properly operate the filtration line, according to the instructions of the Viet An technical team
Carry out warranty and maintenance of the filtration line at the time indicated in the user manual
Need to replace filter materials, filter cores on time, using genuine products provided by Viet An. It should be noted that quartz sand should be replaced every 3 years. Activated carbon changes every 2 years. Cationic beads change every 3 years. Safety filters need to be changed periodically after 12 months of use. RO membrane should be changed periodically after 24 months of use. UV lamps need to be changed periodically after 24 months of use
Do not arbitrarily disassemble the filter line when the cause is unknown
Need to ensure adequate water flow source, ensure stable power source for water filtration lines to operate
During the use of the filtration line system if there is a problem or need support for warranty or maintenance of the machine, Ms. Van and all customers please call the call center of Viet An customer care 19006013 for the fastest support. Thank you for choosing to trust and accompany Viet An.
Viet An always wants to bring users a clean water source to use, so the company has many promotions to customers from time to time, each different area. To find out what the company currently offers when buying bottled water filtration lines, please quickly contact our care department via the hotline: 0949 41 41 41 for advice and support.