Exporting water filtration line and bottle filling machine and jar filling machine for Mr Binh in Can Tho
The demand for consultancy, installation of water filtration lines, filling machines have been increasing day by day. Not only in big cities like Hanoi and Ho Chi Minh but it has spread to all provinces across the country. Can Tho is currently facing many challenges in ensuring water security and sustainable development. Due to climate change and sea-level rise faster than forecast, causing many extreme weather events. The exploitation of water resources in the upper delta and a number of other impacts have changed the flow, reduced the amount of sediment, intruded saline intrusion into the region, negatively affecting the socio-economic development of the region. The negative side of economic development activities with high intensity has many consequences such as environmental pollution, serious ecological imbalance.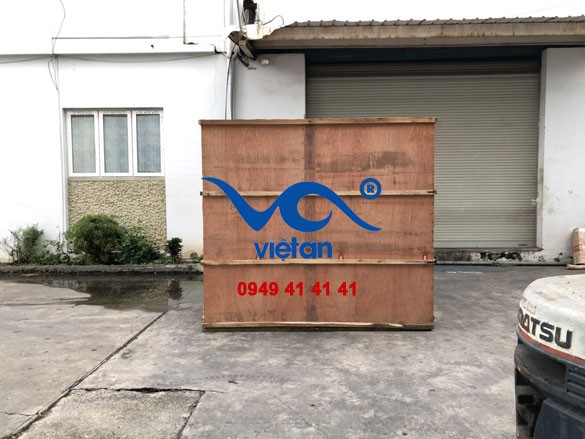 Filling machine is about to export to Mr Binh
With the problems of water resources, Mr Binh decided to invest in the jar and bottled pure water in Can Tho to serve the needs of drinking water for the people here.
Why should Mr. Binh choose Viet An water filtration line and filling machine from Viet An to install in Can Tho?
When he had an idea to build a bottled water production facility, Mr Binh started to research the market and learn about reputable suppliers. Through online information as well as being introduced, he came to Viet An for advice on the system of bottled water filtration lines with appropriate capacity. After the meeting, exchanging with the advice from professional staff, Mr. Binh decided to sign a contract to buy 2000 liter / hour pure water filtration line and 2000 bottle automatic filling machine / h and automatic extraction of 100 bottles / h with Viet An General Trading Joint Stock Company under the contract No. 1016/2019.
Viet An is one of the prestigious brands with a firm position in the field of import and distribution, providing ice machines and pure water filtration lines, filling machines, ... Viet An is proud to bring To give customers the best quality products. Although there are many types of bottled water filtration systems launched with many designs and diverse origins, Viet An is still the most popular and trusted product in Vietnam.
Highlights of the water filtration line and bottling and bottling filling machine that Mr Binh chose
Water filtration line 2000 liter / h: The price is not too expensive compared to other water filtration products of the same capacity on the market, it is made of composite, does not rust, and can work well up to over 10 years. It takes him a long time to replace the filter cartridge, about 1 year on average. Components in the filter element are good, do not put more toxic substances into the water. Mr Binh only takes 3.3 numbers for an hour using a pure water machine of 2,000 L / h. In addition, there is one special thing to note: It is our industrial water purifier product with a capacity of 2,000 L / h that can combine perfectly with the filling machine, thereby greatly reducing labor costs operate a machine.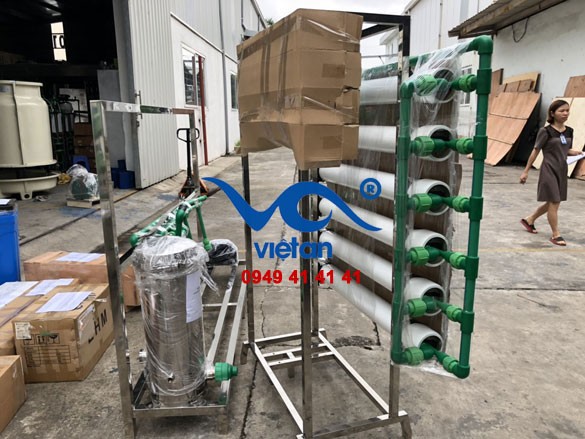 Water filtration line is about to export to Mr Binh
The combination of the water filtration system with a medium filling system to ensure the production of pure bottled water, jar water that meets the standards set by the Ministry of Health and has brought tremendous value to the facility business.
VACGF bottling filling machine 2000 bottle/h: The latest technology applied 2019 integrates 3 stages of automatic scouring, filling, and capping, VACGF2000 is closed to many bottled drinking water production and business units. The capacity of 2000 500ml bottles per hour will surely help businesses producing and trading bottled and jar water of Mr Binh improve their competitiveness and ensure the quality of finished water products meet food safety and hygiene standards.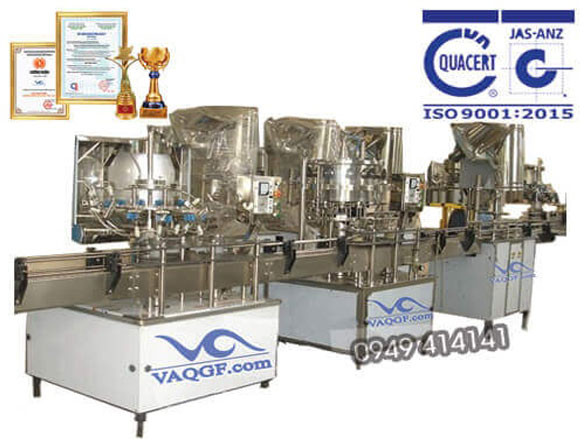 VACGF 2000 bottling filling machine
VAQGF100 bottle filling machine: The number of 100 corresponds to the capacity of 100 bottles of 20 liters / hour. The machine is manufactured and assembled in the USA, Taiwan, and Shanghai according to ISO9001: 2015. VAQGF 100 is imported and distributed by Viet An General Trading Joint Stock Company nationwide. With 3 stages of automatic scouring, filling, and unscrewing the cap automatically. With these 3 stages, Mr Binh's business will save a lot of production costs, but the productivity increases many times compared to conventional types of filling machine.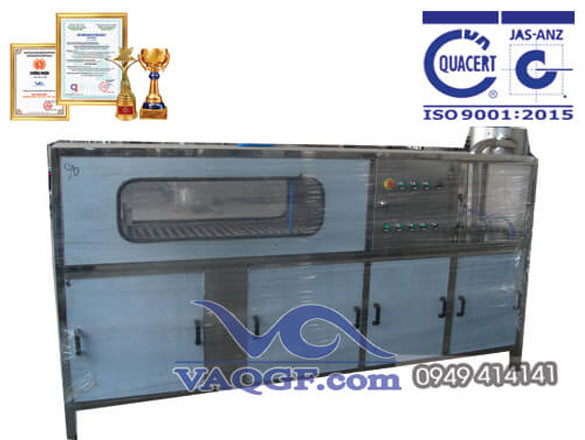 VAQGF 100 bottle filling machine
The process of installing water filtration lines and bottling and bottling machines in Can Tho
When Mr Binh signs a contract to buy a water filtration line, produce bottled and jar water in Viet An, Viet An will inspect his installation ground survey. Consult the work to be prepared, support equipment. After that, he will install and operate and hand over to Mr Binh. Instruct him to sample water after filtration to conduct the test.
In order to facilitate the installation of the water filtration system and filling machine system. Mr Binh should note that should carefully prepare the infrastructure, stable power system. Source water system ensures capacity, piping system from tanks to filtration line system.
There are many businesses currently competing with Viet An, but what we have in other companies is not:
Customer care policy:
- Providing door delivery services in 63 provinces and cities with the earliest time.
- We always have 24/7 on-site staff ready to support and answer any questions from our customers, just customer call, we will give you the right solution.
- Frequently apply for many promotions. You only need to leave information we will apply promotions for customers.
- The company will promptly exchange and notify customers when there is a change in the price during implementation.
- Professional staff, professionally trained on products as well as legal, so will provide customers with quality products and the most enthusiastic and thoughtful advice.
Thank Mr Binh for believing in choosing the products of Viet An! Our company increasingly perfect the price as well as upgrade modern machinery, warranty, quick maintenance so that you and all customers can rest assured when ordering at our company! Please contact Viet An today to own a water filtration line, the most perfect filling machine.