Exporting water filtration system 3000 litres for a customer in Laos
Currently, the 3000-litres water filtration system has dominated the market of industrial water purifiers and has become one of the top-selling products, favoured by consumers. Products are assembled and distributed exclusively in Viet An - the brand has many years of experience in the supply of water purifiers, as well as ice making equipment.
On February 22, Viet An General Trading Joint Stock Company exported VAIA3000 - 3000 litres/hour water filtration system to Mr Ly A Nu in Laos according to the signed contract No. 011/2019.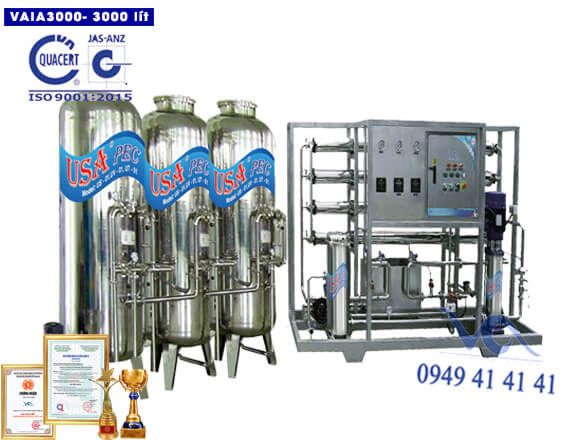 Water filtration system 3000 litres/hour
Laos is a small country with little population but has important resources and fertile agricultural lands favourable for the development of a market economy. The geographical location between China, Thailand and Vietnam makes Laos use strategies to enhance diplomacy in bilateral relations. Every year, in Laos, many foreign delegations come here to visit and travel.
It can be seen that this is a huge potential market for Mr Ly A Nu to decide to invest in the industry of producing pure water in Laos to serve the needs of people and tourists.
The difference in water filtration system 3000 litres in Laos
- The water treatment system has the ability to purify all polluted water sources, containing many impurities, toxic chemicals left in the water, giving customers the purest water droplets, containing many minerals, Safe and healthy.
- Assembled at Quang Minh Industrial Park in Hanoi, applying advanced production technology and automation, suitable for different environmental conditions.
- Thanks to the powerful engine and extremely large capacity, fast water filtration speed, the 3000-litres water filtration system RO technology can operate effectively continuously for hours and hours without water shortage or not have clean water.
- RO pure water treatment and treatment system with monolithic design according to industrial structure. Compact, delicate, easy to transport and install, does not occupy much use space.
- Low power consumption.
- Clock displays clearly, specifically, LCD parameters. Along with intelligent circuit system will minimize bad situations caused by objective conditions, protect the RO pure water treatment system.
- The price of RO purified water treatment system is extremely reasonable.
- Components and accessories are imported from countries with modern industry, the system is made of stainless steel 304 - with anti-corrosion properties and good anti-fouling and waterproofing properties, so it will help the machine to be durable. By the time, easy to clean, limiting the need to replace components.
Criteria to help Mr Ly A Nu buy  Viet An water filtration system 3000 litres
Viet An General Trading Joint Stock Company specializes in construction and installation of water filtration systems to meet direct drinking water standards of the Ministry of Health. With a technical team with many years of experience, Viet An is committed to bringing Mr4 Ly A Nu the best quality products at extremely preferential prices.
Quality is always the leading core value that Viet An is aiming for, we are constantly improving and innovating to bring you the absolute guarantee of quality products.
Viet An is the only production line water filter according to the international standards ISO 9001-2015 offers the latest and the most superiority today.
The water source of Viet An's 3000-litres water purification system meets the standard of 6096/1004 in accordance with the regulations of the Ministry of Health and is granted the US AAMI certification for the required clean water.
During operation, it is inevitable that problems, unexpected incidents, with Viet An's warranty policy: each water filter line can be warranted for 12 months to help Mr Ly A Nu Save repair costs.
The team of counsellors is available to answer any questions from customers at any time.
Note to use the water filtration system
Carefully read the user manual as well as the notices that Viet An's technician installs.
Note: It is necessary to check whether the power supply is suitable and stable. It is recommended to place the device in a dry, flat, well-ventilated place and keep a safe distance from other equipment in the factory, avoiding direct sunlight.
Mr Ly A Nu should monitor the maintenance schedule to replace the filter core and maintain the equipment on time. Ensure the water quality as well as the performance of the device.
If you need to install a water filtration system 3000 litres in Laos, please contact Viet An today!