Glass bottle capping machine
Today in order to improve production output the application of industrial machinery is absolutely necessary. Through this article, Viet An would like to introduce to customers a new technology glass bottle capping machine. The machine is used for swirling and capping plastic bottles, aluminum bottles, glass bottles, vodka bottle caps, bottle caps of pure water ...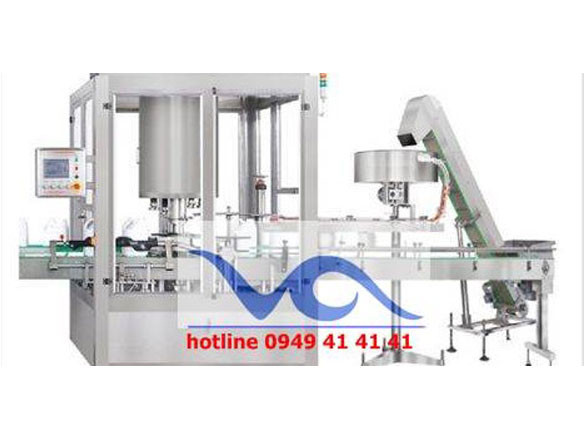 Glass bottle capping machine is one of the devices that apply the most advanced and modern technology today. Therefore, it possesses many outstanding advantages so it is very popular.
Along with the development of modern technology, there are many new inventions launched to meet the needs of consumers in daily life, in production ... In particular, the machine is rated as one of the breakthroughs in the technology field. It contributes to reducing time and effort in the beverage, food and cosmetic industries to produce the market.
Glass bottle capping machines
Currently, Viet An is providing 2 lines of glass bottle capping machines which are automatic and semi-automatic machines (hand-held and semi-automatic machines fixed).
Automatic:
The automatic glass bottle capping machine is a perfect accomplishment, certainly safe operation and easy maintenance of equipment. Therefore, it is widely used in automatic lines of closing types of liquids such as alcohol, beverages, pharmaceutical industry ... it is one of the initiatives on bottle capping machines possessing the most outstanding advantages.
Equipment is applied to large and medium-sized production lines. The application of automated equipment will help businesses bring high productivity as well as build a professional production line. Automatic glass bottle capping machine can operate independently or in combination with other equipment to improve production efficiency.
Automatic glass bottle capping device has the following main characteristics:
Automatic operation machines bring productivity and quality
Operation machine saves power
100% stainless steel material is shiny, helps increase longevity, easy to clean
Compact design saves installation area
The machine operates smoothly and endlessly.
Automatic operation saves labour costs
Semi-automatic machine:
Process: Semi-automatic operation, just need 1 worker to control the machine, hold the bottle to put in the rack of the machine. bottle screwing machine leads corkscrew to the head of the button screw. After closing the lid, the rack is lowered, the worker picks up the bottle and puts it in another bottle. The operation is carried out in continuous circulation for the whole process.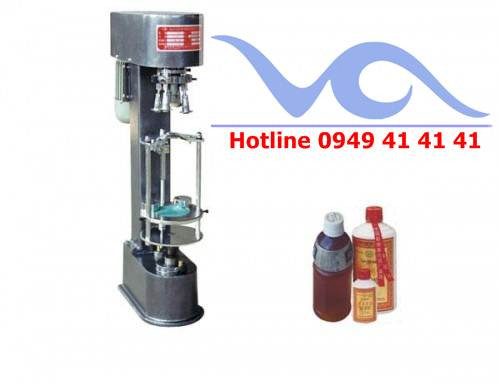 Semi-automatic glass bottle capping machine (hand-held or fixed) is a device for small and medium production units.
The use of bottling equipment will assist producers to save production time and bring higher productivity.
Semi-automatic glass bottle capping device is designed to be simple, compact, easy to operate, with a cheap price so it is easy to recover capital.
It is recommended to use a semi-automatic glass bottle capping machine with other manual semi-automatic devices to achieve high efficiency such as:
Filling Machine
Date stamping machine
Shrink film machine
Advantages of glass bottle capping machine
The machine is an indispensable device of business establishments or beverage factories. The machine completely replaces the method of screwing the bottle cap by the previous manual twist method. Because, with manual methods, the product does not guarantee tightness and thus does not guarantee safe hygiene for beverage products.
For automatic machines
The machine is controlled by a PLC screen with a common display, the amount of water on the tank can automatically adjust. The filling and capping process will automatically stop when there is no bottle.
Thanks to the glass bottle capping machine, large and small businesses improve their productivity, saving labor costs.
The machine is designed with 304 stainless steel material with durability up to 20 years, making it easy to clean and clean.
Run fully automatically, save fuel
For cosmetic, food industry ...
Saving production investment costs
Increase production profits
For manual machines
Material stainless steel 304 durable
Specialized machine for fastening cap of plastic bottles and glass bottles. Tighten, beautiful. The machine has 2 types of plastic bottles and glass bottles to replace each time the cap is tightened
The low bottle capping machine is suitable for capping PET bottles and glass bottles
Simple, gentle operation
The finished product is completely closed
Compact design, easy to move
Semi-automatic glass bottle capping machine with low investment, quick recovery, quick replacement, high capping efficiency.
Experience in selecting glass bottle capping machine is highly effective
- Prestigious address: still an important factor. At present, there are too many suppliers of glass bottle capping machines in the market that are not guaranteed, with high prices. But when you choose a reputable unit you will be completely assured of product quality and price.
- Determining the size of the company: With automatic bottling equipment, it applies to units with large and medium production scale. And the automatic bottle capping machine applies to small production units.
- Specifications: When buying glass bottle capping machine, customers need to pay attention to machine specifications such as power consumption, machine capacity, machine material, place of production, ... to choose the best equipment, save production costs for your business.
Viet An Trade Joint Stock Company is one of the leading companies in Vietnam to supply filling machines, bottle capping machines, bottle shrinkers ... with ISO 9001-2015 standard when you Coming to Viet An, you will feel secure in terms of quality, price as well as excellent after-sales incentives. For more information about glass bottle capping machine, please contact hotline: 0949 41 41 41. Viet An sincerely thank you!