Handing over water filtration line 1500 litres to Mr Hai in Quang Binh
Viet An is one of the leading companies in the supply of 1500 litre water filtration lines. With nearly 20 years in the water treatment industry in Vietnam - Viet An is committed to bringing satisfaction to all customers. There are now large companies using Viet An's product lines such as Samsung, Diana and Vinamilk. Thanks to the application of the most advanced RO water filtration technology, our water purification products are committed to ensuring the standard output water: colourless, odourless, 100% pure, but still contains all the essential minerals for the body.
On March 8, 2019, Viet An General Trading Joint Stock Company installed and handed over VAIA1500 - 1500 litres/ h water filtration system to Mr Hai in Quang Binh according to the contract No. 017/2019.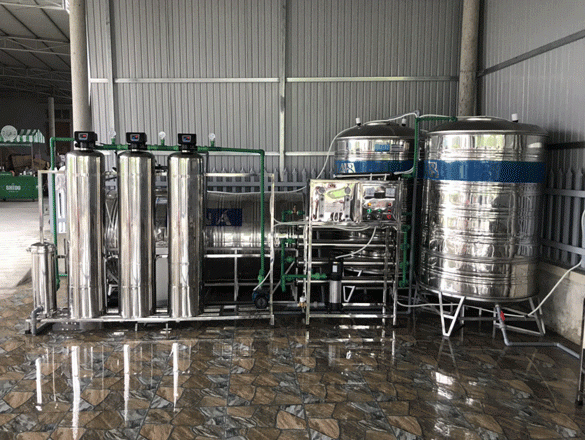 Installation and handover of water filtration system1500 litres in Quang Binh
Cause of using water filter line 1500 litres
When the situation of water resources is increasingly polluted by population growth, by the speed of urbanization and industrialization. Worries about health conditions do not guarantee before the statistics of the people status infected with diseases related to the use of unsanitary water, the use of fine water filtration systems purity becomes very necessary.
Quang Binh is one of the cities with many factories, enterprises and industrial zones, so the discharge of waste gas and wastewater directly into the environment makes the water source more and more polluted. So the people of Quang Binh want to find suppliers of pure and hygienic clean water bottles to use.
Outstanding features of water filtration line 1500 litres/h
- All components of VAIA1500 - 1500 litres/ h water purification line are imported products with a clear origin, all are imported from genuinely advanced countries such as the US, UK, Italy and Japan. , Korea should help save the maximum cost and contribute to increasing the life of the filter line. On average, a 1500 L / h filter line will have a shelf life of over 15 years.
- With the reasonable price for Mr Hai, the 1500-litres water filter line can handle many water sources from tap water, well water, groundwater, ... into pure water.
- Compact design with easy water filter column, absolutely safe to use, also capable of withstanding saltwater, brackish water should be suitable for water treatment in coastal areas and areas In rural areas and the time to use this filter column is also very long.
- The line of application of advanced RO water filtration technology has the ability to turn untreated water into pure water to meet the demand for use and protect human health.
- The water filtration process of completely closed, automatic lines with crude filtration system, the heavy metal filter, detoxification, decolourization, deodorant, sterilization system twice with ozone and UV ultraviolet lamps, system Bacterial filter system helps finished water to meet food hygiene and safety standards, 6-1-2010 / BYT standard.
Mr Hai's interests when order water filtration lines at Viet An Company
Viet An currently has a nationwide system, Wherever your unit is, Viet An can completely meet for you.
After the unification, Viet An sent a technician directly to Mr Hai's place in Quang Binh to survey the terrain. Understanding the terrain as well as the water source, the technicians will provide solutions on the type of machinery as well as the most suitable capacity.
Viet An fully supports customers in transportation and installation. Moreover, the warranty in Viet An is also very attractive: Full product warranty for the first year and product support for the next 14 years.
The maintenance period of the line, as well as the replacement of water filtration materials, they are all provided by Viet An in the instruction manual when handing over the product to him.
Thank you for choosing 1500 litres water filter line of Viet An!