Handing water filtration line 1000 litres to customers in Long An
After signing the contract to supply 1000 litres water filter line - VACA1000 with Mr Nguyen Viet Thang in Long An. On January 23, 2019, Viet An Commercial Joint Stock Company has completed the installation and officially handed the filter line to Mr Thang.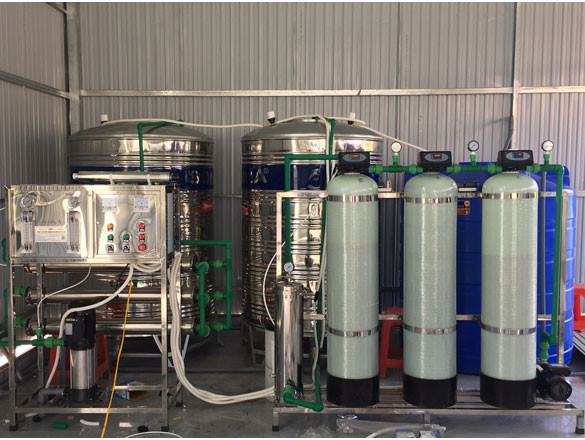 Demand for using 1000 litres water filter line in Long An
The process of industrialization, urbanization, production and living activities of people in Long An province has seriously affected water resources. According to statistics, 90% of current water sources are polluted at different levels. This is the cause of diseases that are difficult to treat for humans. In particular, the use of this water source when cooking can make the food ripen, it cannot retain the true taste, can even endanger human health. Therefore, people need to be equipped with water filtration systems to protect human health.
Recognizing the importance of clean water, Mr Thang has installed a 1000 litres water filtration line with modern technology, which has helped provide clean, quality and safe water for urgent needs in Long An now.
VACA 1000 pure water filter line is standard
The pure water filter system of 1,000 L / h composite auto valve is assembled by genuine imported water filtration equipment from the USA, Japan, Netherlands, ... with high quality, high reputation, applying current technology The most modern today - RO reverse osmosis technology. The size of 0.0001 micrometers is capable of removing 99% of chemical components, heavy metals, harmful bacteria in water. Ensuring to create pure water sources in accordance with standards issued by the Ministry of Health on food safety QCVN 6-1: 2010 / BYT. In particular, the water source is slightly sweeter, more pleasant to drink than other types of water on the market will attract many potential customers and highly competitive in the market to increase production business efficiency, gain many benefits. profit.
Criteria for evaluating 1000-litres water filtration line:
 + Pure water filtration line applying the most advanced RO water filtration technology today.
 + Quality auto valve stainless steel water filter column.
 + Water filtration speed is fast, stable, safe and hygienic.
 + The line has the function of saving water source, saving power consumption. The circuit stops automatically when pure water is filled with the tank or automatically closes when the water level falls below the specified level.
 + The system operates with low noise, friendly to the environment.
 + The system has a clock that displays the conductivity or total dissolved solids of pure water, LCD display.
 + 1000 litres water filter line is designed modernly, safely, easy to operate as an intelligent control circuit, and also displays the operating status and warning when incidents occur.
 + Finished water can be drunk directly, meeting the water standards of the Ministry of Health.
Viet An is the best choice of Mr Thang
Viet An is the leading company in the field of industrial water purifiers, with more than 10 years of experience in the market, Viet An has supplied more than thousands of products for water filtration lines for households and business units, hospitals, ... in cities and provinces in the whole country such as Hanoi, Ho Chi Minh, Hai Phong, Long An, Can Tho, ...
With the commitment to always bring our customers more benefits, we have increasingly improved our staff and customer service levels. When buying goods in Viet An, customers will be assured of products and parts replacement, filter replacement services, repair after warranty, because we always give you genuine products with processing Best warranty and after-sales service.
After completing the installation and handing over the water filtration system to Mr Thang, Viet An also supported him on related issues such as applying for permits, designing labels, checking water samples,... His business unit can officially go into operation.
The selection of products of 1000 litres water filtration system in Long An is the best, effective, quality, bringing high profits and cost savings for Mr Thang. If you are in need of investing in the production of ice cubes, bottled water, bottled water, please contact 0949.41.41.41 for free advice!