Handover 5-ton ice making machine and 1000-liter water filtration line in Khanh Hoa
With the application of modern European technology, 5-ton ice making machine and 1000-litres water filtration line of Viet An General Trading Joint Stock Company producing, importing and distributing high-quality products are always favoured and chosen by customers choose the top.
After signing the contract on July 7, 2019, on January 28, 2019, Viet An Company has completed the IVA5T ice making machine - 5 tons and the water filter line VACA1000 - 1000 litres/ h for Mr Nguyen Thanh Son in Nha Trang.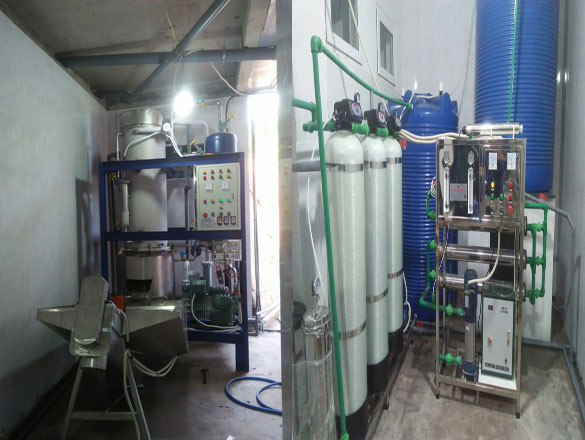 Why should we use 5-tons ice cube making machine and 1000 litres Viet An water filtration line
IVA5T ice making machine - 5 tons
 + Although there are many brands competing with Viet An - but our company still stands in the first position and creates a certain impression and confidence for consumers. Viet An is committed to bringing Mr Son outstanding products in terms of quality, but still ensuring the cost factors.
 + Exquisite design, durable: When hearing about 5T / day capacity - many people will think that the machine is very bulky, difficult to use and move. But with a 5-tons ice cube machine, it is very compact, flexible in transportation and easy to use. Made of genuine imported stainless steel from advanced industrial countries in the world such as America, Italy, Japan, ... it helps the machine possess shiny, easy-to-clean outer shell, not afraid of being lost worn over time.
 + Powerful cooling system: The machine is applied cooling technology combining wind and water. Operating all day long with such a large volume of stone will certainly make the machine very hot but thanks to the air-cooled system, the engine is cooler, increasing working efficiency. On the other hand, thanks to the optimal cleaning technology will help destroy bacteria as well as toxins harmful to users' health.
+ Power saving: Although having an outstanding capacity, up to 5 tons of ice cubes per day, but Viet An 5 ton ice making machine only consumes very little power compared to other ice cubes - It helps Mr Son save considerable costs. Equipped with a power-saving system, especially the outer protective shell from stainless steel - so the ability to keep heat stable, the cooling is pushed faster.
 + Warranty: In Viet An, Mr Son is supported with a long-term warranty for 12 months. Also free shipping and free installation.
1000L water filter line - VACA1000
 + Smart water filter system, fully self-contained, automatic so the purity water meets the standards of the Ministry of Health on food hygiene and safety, and meets the FDA international standards of the US.
 + Compact and flexible industrial design make installation simpler. The machine is designed to operate 24/7, for maximum performance and stability.
 + 1000 litres of Viet An water filtration line is now equipped with a powerful and advanced RO technology filter compared to other brands in the market, thus can handle all input water sources despite being Heavy pollution, in addition to thoroughly eliminating debris and harmful substances in the water - ensure that the filtered water can be taken directly.
 + High-quality accessories, imported from countries with modern and leading industries such as the US, Japan, ...
 + The product has high durability, heat resistance, good waterproofing, improve the service life of the machine.
 + The machine will automatically turn off when the water source is weak or when the water is full, it will save power, and the machine will operate very smoothly, effectively prevent noise, when there is an alarm, it will alarm - help users feel safe, comfortable to use.
The components of 5-ton ice making machine and 1000-litre water filtration line
Viet An's ice making machine basically consists of the following main components:
Compressor: Imported from the US or Japan, has an influence and a particularly important role for the performance of ice making machines.
Refrigerant: R22 / R404A refrigerant imported directly from France or India.
Condensing system: Converts, condenses gas in the compressor into liquid form.
Cooling tower: Cool and reduce the temperature of the water.
Ice mortar has a round cylinder and is made of stainless steel.
Pump system: Includes cooling water pumps, ice tower water pumps (using Japanese technology), water pipes ...
Intelligent automatic circuit system, most are imported from Korea.
Viet An's water filtration line consists of the following main parts: Pump system, heavy metal filtration system, odour-colour detoxification system, limestone reduction system and water softener, RO filter system, system bactericidal and bactericidal systems, electrical systems
After handing over 5-ton ice making machine and 1000-litres water filtration line, Mr Son rated Viet An as one of the most prestigious and leading brands in the field of distribution and import of ice cubes and ice machines. Water filter, ... Viet An has brought me the highest quality products with attentive, dedicated and professional care. If you want to buy Vietnamese products, please contact the hotline: 0949.41.41.41 for support.