Handover ice cube making machine 0.4 ton to customers in Kien Giang
The ice cube making machine has dominated the ice machine market and has become one of the best-selling and favourite consumer products. Products are manufactured and distributed exclusively at Viet An Trade Joint Stock Company - a brand with many years of experience in the supply of water filtration systems, as well as ice-making equipment.
On March 11, 2019, Viet An General Trading Joint Stock Company installed and handed over IVA0.4T ice-making machine to Mr Luong at Van Dien under contract No 018/2019 in Kien Giang.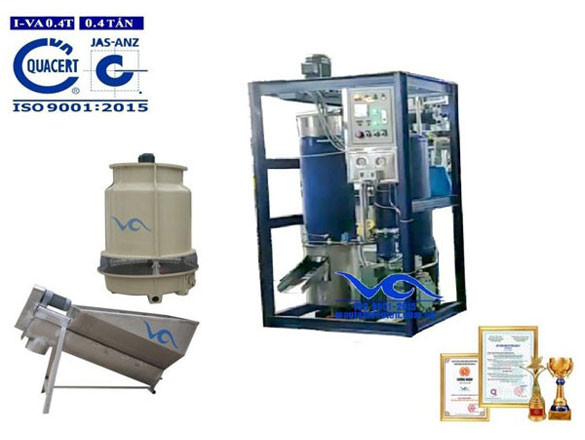 - Survey and practical advice
After receiving the information, Viet An Company sent technical staff to directly visit Mr Dien's house to survey the water source as well as the installation location.
  - Consulting and bringing practical solutions
After surveying the actual installation location, the technical staff will advise and exchange with Mr Dien to choose the machine capacity and installation location to suit the purpose of use, as well as aesthetics. and the most cost-effective.
  - Viet An Company quotes and signs the contract
After quoting and finalizing the best price for Mr Dien, Viet An and he signed a sales contract No. 018/2019.019.
Why should a pure ice cube making machine 0.4-ton be used?
Kien Giang is well known as the most famous cultural and tourist land in the Mekong Delta region. The beautiful scenery of Kien Giang is praised through "Ha Tien cross-bay". To this day Kien Giang is well-known for its famous tourist attraction, Hon Phu Tu and Phu Quoc Island. In addition, Kien Giang also has economic potential with immense resources on fisheries. The economic situation, as well as the development of tourism, led to an increase in demand for ice cubes in Kien Giang.
When the need to use ice for refreshment is increasing, it is also when the ice does not meet the standards of food safety and hygiene, it is discussed. The implication of using dirty stone is that the health of people goes down, which is that many people suffer from mild gastrointestinal diseases, then buy medicine for self-treatment and heavy treatment. There has been a lot of information to guide people to use clean ice of clear origin but sometimes for personal benefit, people ignore those recommendations. Perhaps the ice production and business units are afraid to make big investments in buying making machines, producing clean ice cubes imported abroad because their prices are quite high. But now that problem no longer worries people. Therefore Mr Diem decided to buy 0.4-ton ice cube making machine.
Outstanding features of IVA0.4T tablet ice maker
- Ice making machines 0.4 tons of ice cubes per day have extremely simple technical designs, Compact size, high aesthetic.
- Operation does not require skilled workers.
- High durability, low maintenance and maintenance costs.
- The machine produces 0.4 tons of ice cubes per day produced according to the latest US technology 2018 extremely energy efficient.
- Complete and easy-to-find replacement equipment.
- The machine runs smoothly without hearing a noise.
Warranty, preferential when installing Viet An products?
Warranty: 12 months. When carrying out the product handover, Viet An will provide all the necessary papers, machines, equipment and accessories to facilitate the needs of customers such as: Checking the machines, transportation We run and test it, then when the machine is operating stably, we will conduct the instruction and transfer to you, so that you can really rest assured our products.
Preferential regime: Check periodically maintenance, free all warranty and repair costs for customers during the warranty period.
0.4-ton ice cube maker is provided and installed by Viet An Company as a quality product. Depending on the locality and environment, our staff will design different machine installation locations.