Handover the water filtration system 1000 litres in Nam Dinh
After Mr Tran Van Toan signed the contract No 004/2019 to buy a 1000 litres water filtration system with Mr Nguyen Trong Tan, on 24 January 2019, Viet An Gentra Joint Stock Company installed and handed over the machines to Mr Toan at Nam Dinh so that he can start his own business.
Why does Toan need to use a 1000 litres water filter system?
Clean water is one of the very good drinks in the purification process of the human body. Every day, you need to supply 2 litres of water to be able to provide the necessary and stable mineral content. It can remove toxins, purify the skin and keep your skin healthy and full of life.
In addition, society is more and more modern, crowded and crowded land also makes the water environment heavily polluted. If only boiled water is used for drinking, there are still many other dangerous impurities that cannot be removed. That is also the reason why many people now need to use purified water more and more.
Wishing to bring safe and clean water for everyone to use Mr Tran Van Toan installed a 1000 litres water filter system to sell to the market.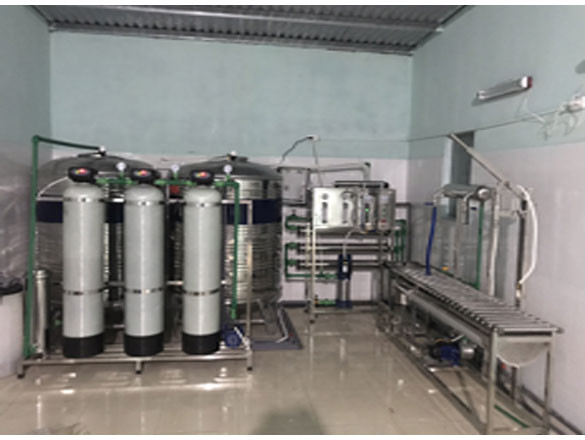 Operating procedure of water filtration system 1000 litres
The source water is pumped into the reservoir by the pumping system and put into the raw processing system including 3 composite filter columns including:
Filter column 1: it is a metal processing device, containing multi-purpose filter materials to remove alum, remove iron, heavy metals, organic impurities, remove sediments, suspended solids, ...
Filter column 2: it is a carbon processing device, with filter material is activated carbon capable of reducing odours, bad smell of H2S and oxidizing agents, organic substances in the water to protect materials for rear-mounted devices.
Filter column 3: it is a device for hardness treatment, water softening by ion exchange method, water hardening components such as Ca, Mg, ... are retained along with some other cations. After processing through a cycle the filter material will saturate and return to its original state by reverting to the automatic valve, the water after filtering through the system <17 mg/litre is the basis for membrane filtration RO reverse osmosis.
Refining device: water after filtering through the raw filtration system will be put into the sludge filter system, then put into an intermediate tank. Here there is an intermediate pump that will push the water into a 1-micron scale sludge filter to completely remove suspended components, sediments larger than 1 micron in size, reducing turbidity, helping Clean filter to protect RO membrane.
RO reverse osmosis membrane filter - this is considered the "Heart" of a 1000 litres water filtration system - it is the device that plays the most important role in determining the quality of finished water. Water from the intermediate tank is pushed into the RO filter system by the high-pressure pump and processed through RO membranes. Capable of removing metal ions in water and processing up to 99% of the bacteria in the water. Make high purity water. Water quality depends mainly on osmotic pressure and water quality after filtering through RO membrane pre-treatment equipment.
Where to buy VACA1000 water filter line?
Viet An Company is an experienced unit in the field of distribution of water filtration and water treatment systems, including Designing consultancy for construction of pure water production system, consulting on construction line design. Production of bottled water, semi-automatic and automatic bottling, ... with many different capacities. When investing in a pure 1000 RO / hour RO filter line in our company, we have a commitment:
All products at the Company are imported, with CO / CQ stamps (certification of origin) clear and complete.
Consultation based on the nature of the water source before making a suitable solution completely free.
Check the water sample analysis first before proceeding to install the system.
Support maintenance throughout, lifelong when installing a 1000 litres water filtration system of Viet An.
Highly specialized techniques, quick and flexible troubleshooting.
Regular customer care to ask, consult with customers, still serve customers enthusiastically after shopping in Viet An.
Installation process and warranty of Viet An for Mr Toan
Warranty: Viet An VACA1000 line will have a 1 year warranty period. Besides, Viet An will continue to support equipment maintenance for customers in the following years.
Installation process:
+ Consulting
+ Survey and design: After consulting, Viet An will send the technical department to Mr Toan's house to conduct field surveys, advise on the location of installation of a 1000-litres water filtration system so that it is most suitable.
+ Installation: When completing the above stages, Viet An carried materials and equipment to the area and installed water filtration lines in accordance with the agreement on the signed contract. The cost of installing and shipping is completely free for Mr Toan.
When we handed over the 1000 litres water filtration system to Mr Toan, we were very excited and excited. Viet An would like to wish Mr Toan's pure drinking water production facility to develop and be more successful.