Ice cube business is the number 1 choice for summer in 2019
Summer is an extremely suitable time to trade ice cubes - an area considered to be high income, bringing a lot of profits to producers. This article will share an ice business experience and what you need to know when you want to embark on this business project.

Ice business is number 1 choice for the summer in 2019
Vietnam is a country heavily affected by global climate change. In particular, in recent years, summers across the country in our country have fluctuated with bad trends, the highest temperature sometimes reached over 40 degrees Celsius. That is the reason why the ice business the throne. It can be said that selling clean ice has never been so profitable!
Learn about the ice business
The fact that you see the ice selling points is busy, ice production without timely providing customer demand on the peak summer days is not stranger. In summer, the temperature in big cities seems to be much higher. Part of the reason for this is due to climate change, partly because of the urban effect with Asphalted road and greenhouses. All these factors make people even indoors feel dry in their airways, and thirsty. That is the reason why all beverage businesses are big or small, they are very crowded with customers. What could be better than getting refreshed in the hot summer!
If in the South there were two distinct seasons of rain and sun, and the North had four seasons of Spring - Summer - Autumn - Winter, the boundary between seasons in the North is gradually changing. Summer is coming earlier and lasted quite a long time and the heat is very intense. That is the reason why the previous ice production and business establishments were overloaded, not enough to supply the needs of the people. In addition, these facilities have used outdated technology, which does not guarantee food safety. The problem here is the need to have more production sites and provide new ice cubes, apply modern technology and ensure "clean" for the consumer.
Viet An ice making machine - is the optimal solution to produce clean ice
With the responsibility of putting customers first and the criteria "When we provide satisfaction and true gladdening to real customers, we will be able to make a profit." Viet An understands that taking care of our customers is the most important thing for us. So when you buy ice making machine products of Viet An, you will get 12 months warranty and lifetime maintenance.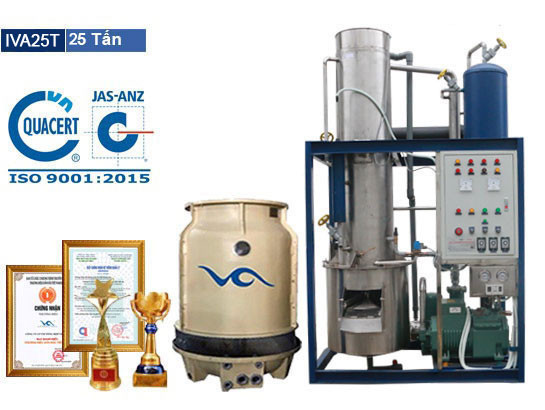 Viet An's Ice making machine - the perfect choice for you
Meeting the needs of the market means you will make a profit. Clean ice business is a potential market, worth it for you to invest profitably. And Viet An's ice making machine is also a prestigious brand, a very suitable choice to accompany your business.
Firstly, the business unit of ice cube production system should plan the area of ​​supply and choose the machine with the appropriate output. This means a great deal, helping ice dealers to reduce the cost of maintaining freezers or cold storage. At the same time, good control of output also helps good ice quality, does not old or smell due to long storage.
Secondly, the quality of ice needs to be circulated in the market. Ice is the type of product used immediately without processing, so if there is an infection, it will affect the intestinal tract of the patient quickly. Therefore, ice needs to meet output standards, both to ensure consumer health, and to help the ice business unit survive long in the market. Viet An's ice making machine is manufactured on modern technological lines according to European standards of ISO 9001: 2015 and has been certified as pure ice by the Ministry of Health and the General Department of Metrology and Quality.
Moreover, with 4 nationwide branches and a well-trained technical team, the 12-month warranty period and lifetime maintenance will definitely make you satisfied with our after-sales service.
Viet An shares our experience in the clean ice business
- Capital: The amount of capital to prepare for a clean ice business depends on the size you want to do. Large scale will require a lot of capital and vice versa. The important thing is that you need to calculate carefully, do not try to scale up, invest a lot of capital but not save money. If so, after trading in this field you will become a debtor.
- Machinery system: There is no need to buy a machine that is too expensive but absolutely should not buy a machine too cheap, the product will be of poor quality, affecting consumer health. On the other hand, you will spend a lot of repair costs during use because the damage can occur frequently. This will cost you more money than you would have to pay for expensive equipment initially. One suggestion for you is to use Viet An's ice making machine, affordable price and good quality. Many positive feedbacks from customers who have used such evaluation products.
- Water source: You need to ensure a clean, hygienic water source so as not to affect the health of consumers. This is a prerequisite issue, deciding on the reputation of your business when producing clean ice business. If you use river water or groundwater, make sure they are not used for eating. You need to design the attached water filtration line to improve the quality of the water source, ensuring the implementation process is hygienic.
- Business registration: This is an extremely important operation that you definitely cannot ignore. It will be a premise for your business to go smoothly and legally.
- Ground: You do not need to rent the premises right near the highway, both expensive and dusty, just need to find a spacious location, near water sources, convenient transportation for moving goods is okay... Stay away from places like cemeteries, petrol, factories, waste disposal, livestock areas ...
- Workers: If you are a first-time clean ice business, hire 2 to 3 experienced workers, they will both perform their duties and teach how to make new workers. Thus, you will save time and cost of training a lot more workers.