Ice making machine 7 tons and 10 tons exported to Vung Tau for Mr. Thanh
Clean ice cubes are increasingly popular in daily life and especially in the hot season. Ice making machine is an ideal product for Ms. Thanh, when she wants to create her own clean, pure ice without having to depend on external ice trading facilities.
Ice making machine 7 tons and 10 tons for Mr Thanh
In recent years. In Vung Tau, there is a modern life with a developed scientific and technological foundation, the people's living standard is improved, the economic life is developed but at the same time it is accompanied by environmental pollution, air pollution and especially is water pollution. That motivates people to choose the best for the body, choosing clean foods, and safe, natural drinking water that is healthy and beautiful. To solve the problem is considered the most urgent today. Mr. Thanh has decided to sign a contract for 127/2019 ice machine of 7 tons and 10 tons with Viet An to ensure the supply of ice cubes and clean water meeting food safety standards in Vung Tau Province.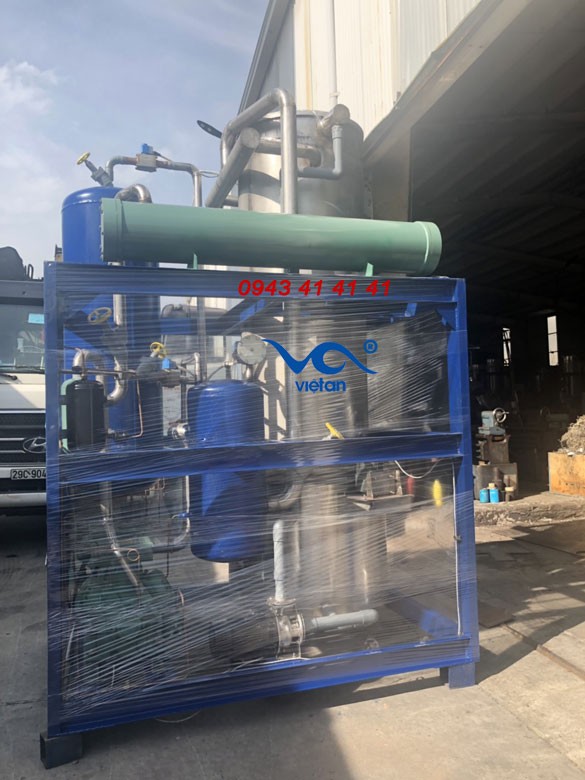 Ice cube making machine for Mr. Thanh
Viet An is a supplier of Vietnamese quality ice machines
Nearly 20 years of construction and growth, Viet An company received the gold medal of high quality Vietnamese goods in 2009, the Golden Lotus Cup of high quality Vietnamese goods in 2009, the gold medal of the leading brand of Vietnam in the year. In 2015, Viet An brand certificate was granted ISO9001-2015 certificate for the production process of water filtration lines and ice machines, and especially, representatives of the Vietnam Small and Medium Business Association met with the public newspaper and wished the Tet holiday. President Truong Tan Sang on January 12, 2016

With a staff of young and dynamic. We always try to be more and more perfect in terms of quality, price and after-sales regime, the best maintenance warranty for you to feel secure when choosing. Come to us you will receive caring service dedicated.
The company's products have always received the trust and acceptance of the people, along with the thoughtful service, warranty, maintenance, customer care services that brought the company back. become the leading choice in providing products of industrial ice machines, pure water filters, filling machines and many other types of machines.
With modern and advanced technology, the product reaches high quality, saves energy, costs for users, so the ice cube machine system is competitively priced. These are the advantages of iNox 7 tons and 10 tons ice making machine for export of Viet An, widely popular on the market today
New technology that brings many benefits to Mr. Thanh is applied in 7 and 10 ton ice cube making machines
100% new technology - applied only in Viet An ice machine
As we mentioned above, 7-ton and 10-ton ice making machines are applied the latest technology in 2019, and energy-saving helps Mr Thanh's business reduce costs significantly, with new components. This is absolutely not the case with any ice maker - the use of new components makes the ice machine work reliably. Although the cost of Viet An's new technology ice cube machine is higher than some of the same capacity products on the market, it is because we use research, and apply modern technologies and new components 100% - unlike some other companies using used materials, so their production cost will be cheaper than Viet An ice making machine provided. The following are outstanding advantages, it must be said that it is worth the money and bowl of rice for customers to invest in ice making machine of Viet An:
100% new compressor: is considered as the heart of 7 and 10 tons ice cube making machine. Compressors in ice machines have extremely important functions. It converts solvent from liquid to gas. When using a new compressor, the ice making process will operate more stable, the durability of the ice machine is also increased. Specially set by Viet An for ice making machines. Currently, on the Vietnamese market, only the ice making machine of Viet An has a 100% new compressor. This compressor has been tested extremely strictly. Each compressor is tested with absolute accuracy without any small errors. The role of the compressor such as Control cooling capacity for ice machines, control and save power consumption. Increases the service life of durable equipment, longer, control the temperature and keep safety of the cooling system stable, helping the machine operate smoothly, run smoothly, make less noise.
Air separation system: This is a completely new applied part by Viet An and no unit has this part. In the past, before this part was available, the pipes of the ice machine would be designed in the style of the chicken gut - but when this technology was applied they would help minimize the pipeline, the ice machine was designed more neatly. Because when the compressor works, it is an air compressor. So the compressor that pushes out must be gas, and the suction must be air. The gas that is ejected is hot air and the air that is drawn in is cold air. Therefore, the inlet gas must not be contaminated with liquid (water or oil). If the suction air is contaminated with liquid, it will lead to a decrease in compressor durability. Viet An's air separation system has the ability to remove fluid and return it to the air way. Prevent the compressor from becoming infected. Helping the compressor not defective and the service life of the compressor is much higher.
Condenser: This product is directly imported by Viet An, committed to always have the best price. Condensers in pure ice machine are responsible for condensing superheated gas behind the compressor into a liquid state refrigerant. The operation of a condenser has a decisive effect on the pressure and temperature of the condenser and thus affects the efficiency and safety of the entire refrigeration system in the ice machine. To ensure the best performance of the machine, customers should pay attention to cleaning the condenser at least once a month, or as directed by the supplier.
Cooling tower: With the role of transferring excess heat of the water to help cool quickly and save energy. The good cooling system helps ice machine operate stably and durable.
INox pump system: made of 304 stainless steel, imported exclusively by Viet An. Currently, only ice making machines of Viet An use iNox 304 pump. All ice machines on the market use cast iron pumps so the price will always be cheaper.
Automatic electrical system: 7-ton and 10-ton ice making machine has an automatic electrical system. Helping the machine operate the entire process of ice making, automatically disconnects when there is an electrical problem, automatically adjusts ice making time to have a satisfied hollow core.
Through these advantages, Mr. Thanh and you can easily see that the price of ice making machine Viet An is not expensive compared to what an ice machine can create for businesses. Viet An ice making machine uses the latest technology. Exclusive ice making technology only Viet An has. Therefore, electricity cost is greatly reduced. Thanks to the above mentioned advantages, Mr Thanh can only recover investment capital and get high profits within a short time. Thanks to these modern technologies and components, 7 and 10 ton ice making machines can reach up to 20 years.
To produce hygienic ice cubes, Mr Thanh should pay attention
Preparing treated clean water: This is the most important step in the process of making ice because clean water creates new clean ice. To have transparent and long-lasting ice products, Mr. Thanh needs to prepare clean water for ice making machine.
Choosing quality ice making machine: Choosing a clean ice machine is not easy when there are many products of many companies on the market as well as fake brands of some brands. making consumers very confused. However, when he chose Viet An, Mr Thanh could be completely assured and confident about the quality of the ice making machine. After selecting the device, you need to clean the device before operating and place it in a spacious place to avoid heat or sunlight affecting the quality of the product.
During production, attention should be paid to the temperature and quality of the ice cubes: During production, regular attention should be paid to the temperature and transparency of the product to make appropriate adjustments.
Packaging must comply with hygiene and safety rules such as protective equipment, gloves, etc. Packing workers need to adhere to hygiene and safety such as wearing protective gear, masks, etc. Having isolated packaging room and good cold room temperature to prevent the product from melting when not yet distributed.
Besides, Mr. Thanh should also note that the use of ice machine should be:
Installing the machine in a cool place away from sources of heat will directly affect the quality of ice cubes and the cooling capacity of the machine causing loss of power.
Water supplied to the machine must be treated through a water filtration system that has inlet pipes and appropriate waste water.
Regular maintenance of ice cube machines will increase the life of the machine and avoid minor failures that fail to detect for a while that will affect the machine. If the machine does not work for a long time, he needs to remove the trays and water supply lines to clean and prevent mold and bacteria from growing.
Thank Mr. Thanh for trusting and accompanying us with Viet An. We are committed to giving you the best and thoughtful after-sales service. Customers wishing to buy ice machine can contact our hotline 0949 41 41 41 or our nearest branch for advice and support. Viet An sincerely thank you!