Install ice making machine for Mr Hai in Ninh Binh
Viet An General Trading Joint Stock Company - The No. 1 unit in Vietnam specializing in providing ice machines, water filtration lines, water treatment, bottling filling machines, ... More proud 10 years of experience, Viet An constantly strives to deliver to customers the products with the best quality and service. With more than 10,000 products for thousands of small and large units at home and abroad, Viet An always receives positive feedback from customers. This is a great motivation to push Viet An to try and develop more.
Seeing the strong development potential of Mr Hai's ice cube making machine in Ninh Binh, Viet An has been selected for Viet Nam and signed an IVA5T 5 ton / 24 hour ice cube making machine.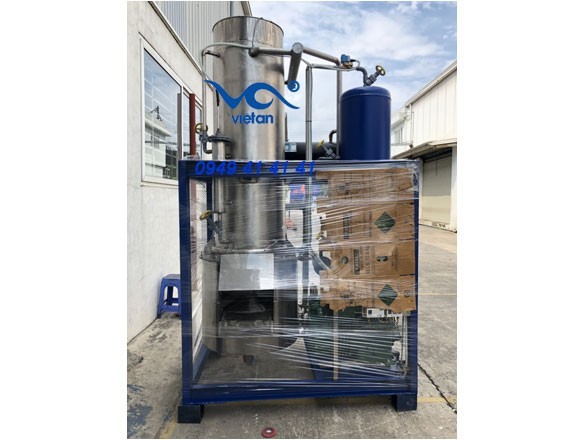 Viet An ice machine prepares to export to Ninh Binh
Ninh Binh has a convenient location of inter-regional transportation convergence for developing goods circulation with other localities in the country. Regarding tourism infrastructure services, Ninh Binh has conditions to diversify forms of tourism: ecology - relaxation, culture - history - spirituality, adventure tourism and sports. These are the favourable conditions for the best ice cube production facility.
The process of installing ice making machine for Mr Hai in Ninh Binh
Based on the contents of the 112/2019 contract that Mr Hai has signed with Viet An, the Company has transported IVA5T ice making machine to the installation address in Ninh Binh. Every stage of transporting, installing, checking technical operation before using and handing over to Mr Hai are fully responsible for Viet An company. We will send our professional technical staff to show you how to operate the machine properly and accurately.
On May 8, 2019, Viet An has exported ice making machine for Mr Hai to the address in Ninh Binh to conduct installation and instructions on how to operate for him. Due to his factory of ice making behind the house, when transporting to Mr Hai's house, Viet An had to carry out crane an ice making machine with a long-sleeved crane to make it easier.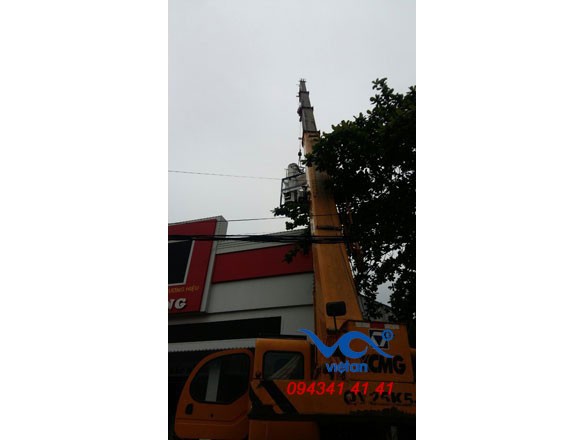 The process of installing an ice making machine for Mr Hai
Put the ice making machine and associated equipment into the correct position.
Install cold water tanks, water filters, ice bucket loads.
Install water pipes from the pump, take the water line to the water components of the ice making machine.
Electrical connection for electric equipment: water pump, bucket, cooling tower fan.
Charging gas for ice machines
To facilitate the installation process, Mr Hai needs to prepare in advance:
3-phase power source - 380V
Source of water inlet
Water tank
Factory premises
Plumbing to the machine installation location
After the installation is complete and has clean water inlet, every stage is completely automatic. Mr. Hai only needs to press the start button to operate and wait for the finished products to be pure ice. The control panel is also very easy to use and simple with an indicator light system that helps Mr Hai to easily operate and monitor the working status of the machine.
A special thing in Viet An is to please every customer. Although customers require installation in difficult locations on the way to the entrance, we have the most suitable solutions to help customers solve all problems.
Good features of Viet An ice cube making machine products
IVA 5-ton ice making machine has a capacity of up to 5 tons a day.
Because this is a product line designed with INOX 304, Mr Hai can be completely assured about the usage time - on average, this device can work well with a time of up to 20 years.
Thanks to the copyright purchase, Viet An brand ice making machine - so IVA ice machine with 5 tons has the ability to save maximum power up to 45% compared to other conventional machines - calculated 1 year Mr Hai can save up to hundreds of millions of operating costs.
The price of 5-ton ice machine is extremely preferential - Mr Hai can refer to Viet An 5-ton ice machine compared to other products with the same capacity currently on the market. Our prices given are extremely reasonable.
Versatile control panel system, very easy to use - even for customers who have never experienced refrigeration.
Thanks to the good combination with the cooling tower, ice making time is greatly shortened.
The solvents for making ice are both R22 and R404A - they are completely safe for the user and the surrounding environment.
Viet An preferential for Hai when buying a 5-ton ice machine
Commitment to 100% pure ice cubes
Viet An offers IVA5T ice machine warranty - 5 tons for 12 months and life-long maintenance.
100% refund if Mr. Hai finds out that the ice machine is a fake or fake product - the quality of the ice is not as committed.
Free shipping and installation policy.
Discount card discount - worth tens of millions of dong - if Mr. Hai introduces acquaintances to buy the company's products.
Free packaging system when buying ice cube machine in Viet An.
Viet An has more than 10 years of experience in pure ice machine, our products are genuine commitment, with clear inspection stamps. Permanent maintenance, lifetime product advice. Support for replacement parts and home repair costs.
With all devotion, Viet An wishes to bring Mr Hai as well as customers the best quality ice making machine. Any issues need advice, please contact the hotline: 0949.41.41.41 for the most complete answer