Installation and handover of 750 liter water filtration system in Ho Chi Minh
750-litres water filtration system is a product of scientific progress in the field of water treatment today. As one of the leading units in providing modern machinery and equipment, Viet An General Trading Joint Stock Company has been trusted and selected by many consumers.
When people's lives are enhanced, economic development, the need to protect health through the use of clean water most beneficial to human health is also high. This has opened up the great business potential for units producing pure water. Therefore, Viet An General Trading Joint Stock Company was selected as the supplier of VACC750 water filtration line for Kanna Company.
Under the contract 002/2019 signed, March 5, Viet An General Trading Joint Stock Company has installed and handed over 750-litres water filtration system to Kanna Cosmetics Company.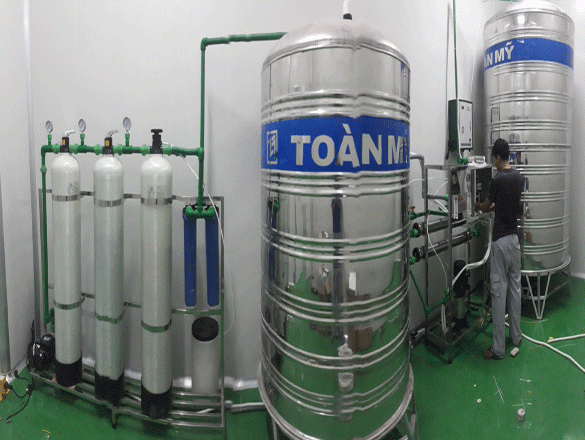 Installing and handing water filtration system 750 litres in HCM
Kanna Cosmetics Limited Company was established in 2016 and is now a multi-industry, multi-jobs at 18 Vo Thi Thua, Khu phố 3, An Phu Dong Ward, District 12, Ho Chi Minh City. The main business - production field of the Company is wholesale of other household appliances and many other fields.
Strength of 750 litres water filtration system
Director of Kanna said: "Talking about the advantages of the VACC750 water filtration system, we must mention the following points:
The VACC750 is a modern line that uses RO technology in the production of pure drinking water, providing a pure, safe, and healthy water source.
Filter system works according to the reverse osmosis principle, easy to use and operate. Pumping and disconnecting can be automated, which saves significant operating and hiring costs.
Quality water filtration line has a long life, less maintenance and repair. Long-term use for up to 20 years.
The capacity is 750 L / h, producing a large amount of pure water to consumers.
Viet An water filtration line is capable of saving 10 - 30% electricity compared to other common water filtration products.
Installation process, handover 750 litres water filtration system to Kanna Company
The process of installing and handing the VACC750 line to Kanna Company of Viet An is an important and complicated stage so we always arrange skilled employees. Specific steps for installation and handover are as follows:
Step 1: After signing the contract and preparing everything needed, Viet An staff will transfer the equipment to the location 18 Vo Thi Thua, Quarter 3, An Phu Dong Ward, District 12, Ho Chi Minh City Chi Minh, at the same time, quickly and effectively install the Company so that the Company can soon go into production.
Once installed, Viet An staff will give detailed instructions to the person in charge of this system to understand the production process and promptly reflect the problems encountered when running the machine.
Step 3: Discharge the entire 750-litres water filtration system installed to test the machine as well as run the ice-making machine. After that, Viet An will directly hand over to the Company.
Step 4: After installation and handover process is completed; Our company also conducts machine maintenance so that the water production process is safe and effective.
On March 5, 2019, after completing the installation and handing over the system of water filtration lines to Kanna Company, Viet An also supported the company in related issues such as applying for permits, designing labels, water sample test, ... His business can officially go into operation.
Being able to contact and work with Kanna employees, we firmly believe that the company's drinking water products will reach farther. Thank Kanna Company for using our 750-litres water filtration system in Viet An!