Installing 8 ton ice making machine and 1000 liter water filtration line in Bac Giang
Being produced and applied with the most advanced modern technology of Europe, 8-ton ice making machine and water filtration line of 1000 litres/h are products that are assessed to meet ISO 9001: 2015 standards.
When in the summer, the heat of the sun rises markedly, the demand for ice cubes and pure water increases rapidly, but it also attracts the purchasing power of ice cube making machines and water filtration lines in the provinces in a very dynamic. In Vietnam in general and Bac Giang in particular, the field of ice production and trading are quite new while the demand for using ice cubes in this province is skyrocketing.
On 1/3/3019, Viet An Commercial Joint Stock Company exported IVA8T - 8 tons ice making machine and VAIA1000 water filter line for Mr Dung according to the signed 008/2019 contract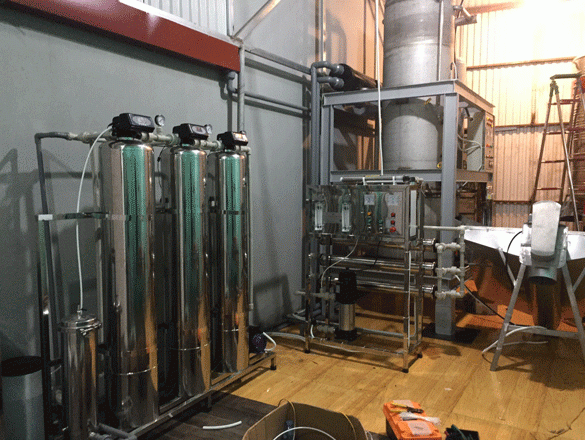 The preeminence of 8-ton ice cube making machine - IVA8T
With a capacity of up to 8 tons of ice making, it will help meet all needs of business and ice using in Bac Giang province.
IVA8T ice making machine is a model with compact size but outstanding ice-making capacity. So Mr Dung has assured that the device does not waste the installation area.
Although the body is made of iron material, it can be used well for up to 5 years. With this iron design, the product will be cheaper than a device with a stainless steel structure of about 70 million VND.
Diversified ice mortar system, Mr Dung has set the ice tube size to 34 mm to suit his business purposes.
The control panel system of the simple 8-ton ice making machine is extremely easy to use, the buttons are all accompanied by notes.
With ice-cold refrigerant is R22, not only speed up cooling but also absolute judgment when using.
When the machine operates, it makes less noise, because the product has been fitted with a high-tech silencer, made from Japan.
It has a good cooling tower system.
Why did Mr Dung choose a 1000 litre water filter line of Viet An?
+ Good products, high durability
Production process and assembly of VAIA1000 filter lines always ensure the most rigorous ISO 9001: 2015 standards today. The entire system of filter columns, filter materials, filters, pumping systems ... they are genuine products with high durability. So the water purification process is always stable, water quality is always ensured, less maintenance.
+ The outlet water is pure water that meets the standards
The advantage point VAIA1000 is the use of an automatic valve system, this is a valve manufactured directly in the United States with high durability. They will automatically adjust the filtration process based on the filtered water flow. When washing dirty, large-sized impurities that are clinging to the filter core will be excreted through the sewage, helping to protect the filter and create stability of the quality of finished water as well as keeping get the sweet taste of water. The finished mineral water after operating the filtration system is tested and tested by a competent authority, so it always meets the standards.
+ Ensure hygiene safety standards
1000 litres water purification line uses 2 times sterilization method, 1st time with UV ultraviolet lamp and 2nd time with ozone machine so the mineral water after filtering is taken to the tank waiting for the filling process to ensure no Any bacteria can invade, absolutely safe.
Instructions for effective use of 8-ton ice cubes and 1000-litres water filtration lines
There is a saying "The durability of a product depends on the user", so if you want the 8-ton ice making machine work well - then Mr Dung should pay attention to the following characteristics:
- Read the manufacturer's enclosed instructions carefully. When you have a problem, you should contact Viet An immediately to get immediate support from a team of technicians.
- Regarding water source: Mr Dung can use tap water or water through the pure filtration process.
- Periodically check the maintenance, cleaning and cleaning of 8-ton ice cubes and 1000-litres water filtration lines.
- It is recommended to leave the device near the water source, to make the ice production process easy.
Mr Dung has combined VAIA1000 water filtration line with a system of semi-automatic filling machines to ensure the process of producing bottled and PET bottled water is faster and safer.
After installing 8-ton ice cubes and 1000-litres water filtration lines of Viet An. Viet An would like to wish Mr Dung's production facility will succeed. In addition, Viet An is having preferential policies for customers to buy ice making machine and water filter line in Viet An