Installing a 2-ton ice making machine for Mr. Hoang on Bach Long Vi island
After Mr Hoang signed the contract on 093/2019 with Viet An General Trading Joint Stock Company. Recently, Viet An has carried out the installation and handing over of 2 tons of ice cube making machine to Mr Hoang so that he could conduct his ice cube production and trading activities on Bach Long Vi Island (Hai Phong).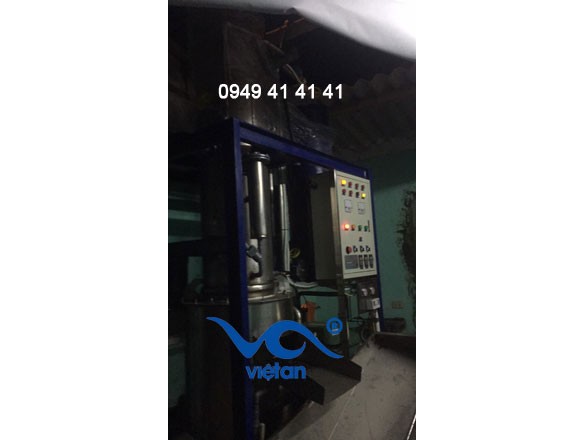 Bach Long Vi Island is an island and a district of Hai Phong city. This is the most remote island in the Bay, located in the middle of the bay. The island is located on one of the eight major fishing grounds of the bay and plays an important role in Vietnam's strategy for economic, security and defence development in the Tonkin Gulf.
Mr Hoang chose the business of ice cubes here as a very reasonable idea, there are very few establishments in Bach Long Vi who dare to invest in ice-making machines to produce to meet the needs and consumption use. The market for producing ice cubes is scarce while the demand for using ice cubes for production, daily activities, etc. is always high. Therefore, building a business production model and investing in an ice machine here is a very feasible business model and has the opportunity to expand and develop.
The advantages of Viet An ice making machine
The durability of the device can be up to nearly 20 years.
Viet An's product prices are always about 15% lower than other ice machine companies because of the optimization of ice making processes.
Low power consumption.
The 2-ton ice cube making machine is made of 304 stainless steel, which prevents oxidation.
Although it is an ice making machine, Viet An company also installs a water treatment system with a closed - automatic process to help the finished product always be of a good quality water source.
Viet An can use R22 refrigerant as a catalyst, these refrigerants are absolutely safe for the human body (all are approved by the Vietnam Pharmaceutical Department).
Another advantage of the product is the large ice storage system with perfect cooling capacity, which helps to preserve ice before use.
Water filtration line comes with an ice making machine for Mr Hoang
VAMĐ400 water filtration line - This is a specially designed filter line. With high quality 304 stainless steel filter column with high durability. Suitable for the tropical monsoon climate in Vietnam. Application of RO filtration technology can remove up to 99.9% of impurities, toxins, viruses and bacteria from the water supply. In order to provide the source of pure, super clean water for an ice making machine.
Benefits when using VAMĐ400 when Mr Hoang uses.
Proactive quality of finished ice
Ensuring food safety and hygiene
Meet the rigorous demands of consumers
Improving technology, ice production process.
Overview of the 2-ton ice making machine
It can be said that this is one of the extremely important equipment, greatly influencing the stable operation of the 2-ton ice machine. Besides, the compressor also has a close relationship with other components, as long as the compressor has a problem, the whole process will be stopped immediately.
Compressor's mission: continuously sucks refrigerant in gaseous form to compress to high pressure and push into condensing system. Therefore, compressors need to be large enough to be effective.
Uses:
Control the productivity and safety of the cooling system.
Reduce power consumption, increase the life of the equipment.
Anti-noise, anti-vibration, relatively high durability.
Viet An instructed Mr Hoang to use and install the ice machine correctly
- Power source: Because this is a 2-ton ice-making machine, the input power source must be good to prepare 3-phase power, the wires must be solid, made of insulating material, good insulation.
- Water source: Mr Hoang has used water from the water filtration line to make ice, the water source used for pure ice machine needs to ensure and safety for the health of users.
- Installation location: It is very important to install the machine because if you install the machine in humid places, the temperature is too high, there is direct sunlight as well as places with a narrow, rugged area. - it will affect the performance of the product.
Mr Hoang should periodically check the maintenance, cleaning, and cleaning of machine parts, replacing equipment components according to the time specified by the manufacturer.
With a modern and advanced technology application equipment such as Viet An 2-ton ice cube making machine, there is no reason for you to hesitate when buying them for your business. Please contact Viet An immediately to own this quality ice making machine. Above are some shares of Viet An about handing over ice machine installed at Mr Hoang's house on Bach Long Vi Island. If you have any questions, please contact us via the hotline: 0949.41.41.41.