Installing a 4-ton ice cube making machine for Mr. Luyen in Hai Duong
After signing the contract of 129/2019 to buy ice machine in Viet An, Mr. Luyen was installed and instructed by Viet An in accordance with the plan drafted in the contract. With Viet An IVA4T ice machine, Mr Luyen can be completely competitive in terms of guaranteed quality and the cost of ice cubes is also minimized.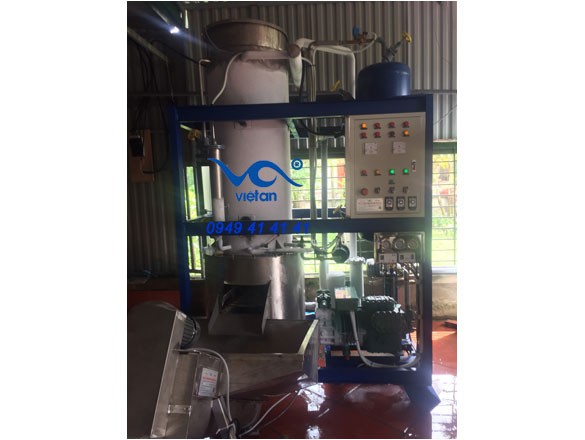 Ice cube machine installed for Mr Luyen in Hai Duong
Viet An is considered a leading company in importing, supplying and manufacturing all kinds of pure ice machine in Vietnam with the cost of less than 200 VND / kg of ice produced. It can be said that, with a modern, safe and efficient production process, Viet An's ice cube making machine helps Mr Luyen's ice-making facility save significant costs as well as provide guaranteed ice cubes most quality.
Viet An ice making machine solves business worries
Viet An ice machine has helped many restaurants and refreshments in Hai Duong eliminate many big worries from the cost of investing in ice making machines, the cost of making ice cubes to proactively cleaning clean ice sources and solving the situation the state of "sold out and price squeezing".
Using Viet An ice making machine, the business units can be completely assured by the production line standardized by US technology, meeting ISO 9001: 2015 standards, and structural components. The device is carefully selected from countries with the world's leading industries such as the United States, Japan, and Korea ... with clear import certification labels.
Quick ice making speed, only 35-40 minutes is 1 batch of clean ice, ready for use. Power-saving technology, reducing up to 60% of the cost compared to buying stone outside. The stone production process is completely closed. A coarse filter is built into the machine, helping to prevent impurities that are harmful to human health. The quality of the finished ice cubes from Viet An ice making machine has been certified as clean, pure and meets the quality standards - the Ministry of Health.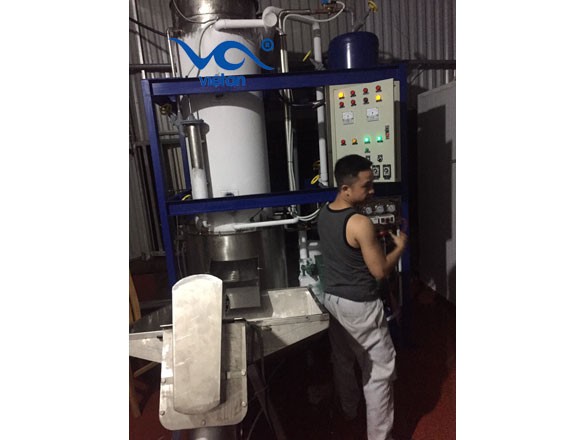 The process of consulting IVA 4T ice making machine for Mr Luyen
 - Actual survey: After receiving the information, Viet An Company sent technical staff to directly from Mr Luyen's house to survey the common ground such as water source, installation location.
 - Advice and solution: technical staff will consult, discuss with Mr Luyen to choose the machine capacity and installation location to suit the purpose of use, as well as aesthetics and economy.
Ice size that Mr Luyen choose
Choosing to buy IVA 4T Viet An ice machine also advises Mr Luyen on the most suitable size and Mr Luyen offers a choice of 34x40 (mm), this is the average size suitable for drinking fresh water. , iced tea, drinking wine... Mr Luyen's choice is perfectly reasonable because Hai Duong is a province with high demand for ice cubes in summer, people are familiar with moderate size ice because they can be used for many purposes
Currently, Viet An has 3 different ice sizes for customers to choose because each region will be depending on the needs that choose the most suitable ice size:
- Type 1 size 44 x 47 mm suitable for drinking beer, soft drinks .... this type has the advantage of long-melting ice but has a slightly too large ice size sometimes causing much trouble.
- Type 2 size 34 x 38 mm is also suitable for drinking wine, ice tea... With moderate size ice easy to use in drinks.
- Type 3, size 18 x 23 mm, is best suited for drinks such as coffee, juice, smoothies .... brings fast cold for drinks, although the melting speed is faster than the 3 types above.
See more: Water filtration line
In order to ensure clean, pure ice, we recommend that Mr Luyen needs to follow the following procedures
Source of input water: This is the most important step in the process of making ice because clean water creates new clean ice. In order to have transparent and long-lasting ice products, we need to provide pure water for IVA 4T ice making machine.
During production, attention must be paid to the temperature and quality of the ice cubes. During production, regular attention should be paid to the temperature and transparency of the product to make appropriate adjustments, sometimes people should check the quality of ice cubes after being made.
Packaging must comply with hygiene and safety rules: Packing employees need to adhere to hygienic safety such as wearing protective clothing, masks, etc. Having isolated packaging room and good cold room temperature to prevent the product from melting when not yet distributed.
Power source: Mr Luyen needs to prepare 3pha (380V) power source so that IVA 4T ice machine can work best.
With IVA 4T model, Mr Luyen will quickly gain control of the ice market in Hai Duong because of the capacity, quality and durability of the machine, not only that, in a short time, Mr Luyen will pay back the investment and quickly from IVA 4T ice-making machine.
Certainly, with this IVA 4T ice cube making machine, Mr Luyen will soon dominate the market and consumer confidence, not only that, in a short time, he will recover the initial capital and profit from the ice-making machine.
In addition, when Mr Luyen buys an IVA4T ice-making machine, he will enjoy many promotions, with many attractive gifts, hoping his ice-making facility will grow one day more and more. Thank you for choosing to trust and cooperate with Viet An.