Installing and handing VACC400 water filtration line in Hue
VACC 400 is one of the purified water filtration systems applying the most advanced RO industrial water filtration technology. With a completely automatic, closed water filtration process, the reverse osmosis filter mechanism with a membrane size of RO membrane is 0.001 micron so ensure the finished water meets the standards of 6-1-2010 / BYT on bottled drinking water. Also because of its ability to filter water quickly and cleanly, many people have chosen to own this industrial water filtration line.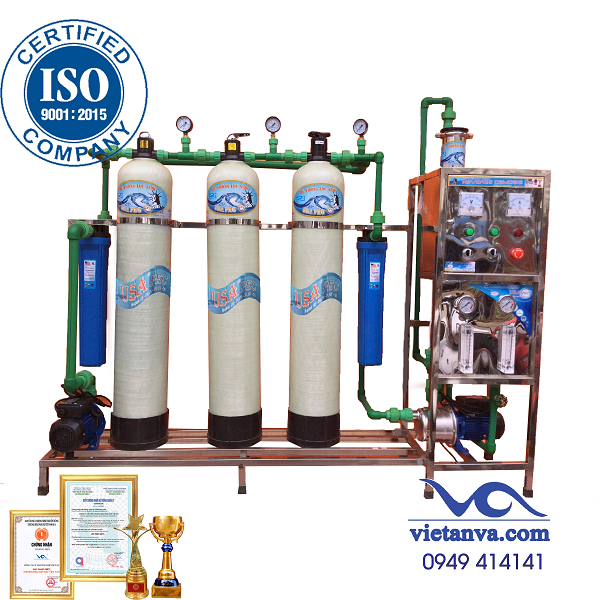 VACC 400 pure water production line was imported and assembled by Viet An General Trading Joint Stock Company at the largest factory of Viet An in Quang Minh Industrial Zone - Me Linh - Hanoi with an area of tens of thousands m2. The production line is exclusively registered under the trademarks VA, USApec, Vinaro.
Outstanding advantages of VACC400 water filtration line Mr. Quang chooses
Currently, there are many manufacturers and suppliers of water filtration lines, but not all facilities are reputable and quality, so customers need to make objective and thorough choices to make a plan best choice.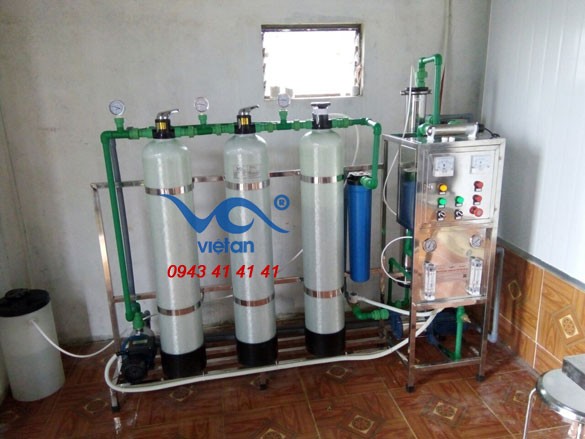 Installing and handing VACC400 water filtration line to Mr Quang - Hue
Recently, I learned that Viet An General Trading Joint Stock Company Mr Quang in Hue has decided to choose and sign a contract of 103/2019. On May 13, 2019, Viet An has installed and handed over the VACC400 water filtration line to him exactly assigned in the contract. VACC400 water filtration line has many advantages such as:
Use composite filter columns that are able to withstand saline and brackish water
Application of RO water purification technology to remove 99.9% of impurities mixed in water
Components of the chain are imported from advanced countries such as the United Kingdom, USA, Netherlands, and Korea
Registered exclusively trademark USApec, VA, Vinaro at the Vietnam Intellectual Property Department
Application of advanced water filtration technology saves up to 40% of power consumption
Designed in a compact industrial design
Using the second sterilization method by UV lamp
Control panel of the water production process is fully automatic
See more: Bottle filling machine, jar filling machine
The water purification process of VACC 400 pure water production line
The source water is pumped up and stored in the upstream basin, so that the water is exposed to the air and has time to precipitate to facilitate post-treatment.
The water is pushed through the filter MMF (Multimedia Filter) size 400 x 1600 mm with the effect of reducing iron, manganese, heavy metals ... pH balance.
The water continues to be pushed through the filter of ACF (Active Carbon Filter) size 400 x 1600 mm with the effect of deodorizing, eliminating toxins made in freshwater.
After deodorizing water, it is continued to be passed through the water softener WSF (Water Softener Fillter) with size of 400 x 1600 mm to remove metal ions, toxins, clear and sweet water by exposing the resin. ion exchange Na +. All the salt in the water after softening is converted to sodium salt and the metals Ca, Mg, Fe are trapped in Cation resins.
The water after treatment is stored in an intermediate water tank of 1.5m3 to ensure a quantity of water through the main system producing pure water. If done well, the front treatment stage will ensure longevity for reverse osmosis membranes.
Reverse osmosis system RO
From the water tank is pushed through the filtration system. Here, the water removes a part of suspended impurities, precipitates and stabilizes the impurities to create favorable conditions for the next water treatment process. Continued water is pushed through the main system producing pure water RO capacity of 1200 liters / h. Water through the RO system is the water that removes metals, eliminating microorganisms to form pure water.
The water is then passed through bactericidal equipment to kill bacteria and put into the finished product tank 3m3. From here, the water is put to use.
Sterilizing system for UV, Ozone and filling
The water after being processed into pure water is stored in the third 1.5m3 tank of pure water to continue through the ultraviolet sterilization system and Ozone includes 3 20 "purification flasks to filter again. Suspended impurities are left before the water runs through ultraviolet light to kill bacteria, helping water to ensure quality of microbiology and physical chemistry. From here, water is taken to the filling system to create a finished product that is ready for use.
The water source after going through this VACC400 pure water production line will create pure physical-chemical - microbiological water according to the TC 6-1/2010 standard bottled drinking water. From here, water is passed through the filling room to complete the product.
With this VACC400 water filtration line, Mr. Quang can completely rest assured on the quality of output products for his facility and fully meet the stringent requirements of the Ministry of Health. Hopefully, his facility will grow stronger and stronger and have more opportunities to cooperate with him. customers wishing to buy Viet An water filtration line please contact the hotline: 0949 41 41 41 for advice and support. Viet An sincerely thank you!