Installing contract IVA 2T ice cube making machine for Mr. Thieu
The IVA 2T ice cube making machine produces 2000kg of ice cubes per day manufactured by Viet An is an extremely important breakthrough in 2019 - the most advanced technology in Vietnam's field of refrigeration exports. Ice cube machine is researched and manufactured by Viet An Company. This is one of the leading enterprises in Vietnam specializing in importing and distributing production machines, filling machines, purified water filtration lines or ice-making machines with diverse capacity and safe product quality. and achieving great efficiency greatly reduce costs and save maximum power.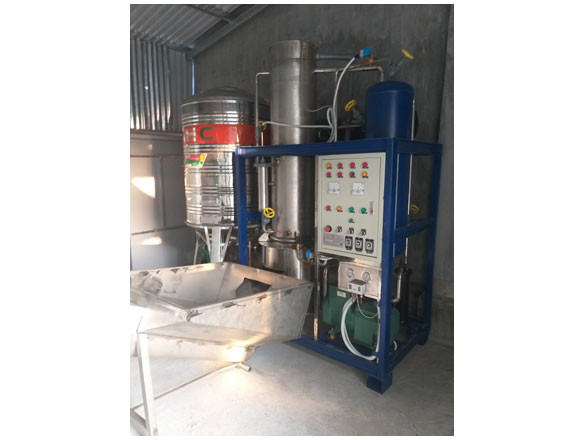 Ice making machine IVA 2 tons installed for Mr Thieu
Finding information through website vietan.vn, Mr Thieu decided to look to Viet An factory to learn about IVA 2T ice making machine, when he saw the great advantages of machine, Mr Thieu decided to sign a contract MĐ2019PY 042 IVA2T contract with Viet An General Trading Joint Stock Company.
The reason why Mr Thieu chose the IVA 2T ice making machine of Viet An company
The IVA 2T ice cube making machine has an extremely fast cooling capacity and an intelligent controller to produce ice cubes quickly. Using technology of water condensation, with modern air circulation, ice making machine of 2 tons is capable of cooling on a large scale. All components of the machine are 100% new, Mr. Thieu shared:
"- Viet An Company has a clear website address and headquarter.
- Enthusiastic product advisor attitude, when customers call to ask for advice.
- Policies on good, long-term warranty service.
- The IVA 2T ice cube making machine body and related parts are constructed with 2 two materials: High quality stainless steel 304 stainless steel and polypropylene synthetic fiber compound. These materials have the advantage of being able to resist oxidation, helping to increase the life of the machine.
- IVA 2T ice machine product has a sticker up to the circulating standards of the competent authority.
- Capacity operates as committed.
- Broken ice machine components are easy to replace. "
The manufacturing process of IVA 2T iNox ice cube making machine for export
The operation of the ice making machine of Viet An is completely automatic and closed cycle, just need to perform a few simple operations with a smart, convenient control panel located on the right side of the machine. This panel consists of two rows, the top row is the power on and off button and the rocker immature button. The row below is 4 status indicators including error lights when a technical problem occurs, defrost indicator when a batch of ice cubes is completed, the indicator is freezing and finally the source indicator.
The IVA 2T ice cube making machine is very compact, the size of the machine is 1250x1000x2700 (mm) when operating without making any noise, you can place it anywhere near the water supply in the campus of yourself.
see more: pure water filtration line
IVA 2T ice making machine is suitable for Mr Thieu's needs
The need to use ice for refreshments in hot and sunny days is increasing, then it is time that the ice does not meet the food hygiene and safety standards to be discussed. The consequence of using dirty ice is that the health of people goes down, that is, many people with minor gastrointestinal diseases buy medicine for self-treatment and seriously have to go to hospital for treatment.
There has been a lot of information instructing people to use clean, clear-cut ice, but sometimes for personal gain people ignore those recommendations. Perhaps the ice production and business units are afraid of investing heavily in buying clean ice making machines and importing overseas ice because their prices are quite high. But now that problem no longer worries people.
Mr Thieu shared with us a lot of dirty ice production facilities, he felt uneasy about witnessing those scenes, so he decided to buy ice machine to ensure safety and health for the people in the locality where he lives.
With the size of ice, he chose 47x80mm, this size is suitable for drinking beer, soft drinks ...
Certainly, with this IVA 2T ice cube making machine, he will soon dominate the market and consumer confidence, not only that in a short time, he will recover the initial capital and profit from the ice machine.
Please contact Viet An General Trading Joint Stock Company when you want to own iNox ice machine for export of the best quality pure IVA2T. Customers will enjoy the privileges of dedicated and professional customer care services by enthusiastic, experienced staff in the professional field.