Installing ice making machine for Ms. Dao on Binh Ba Island
After Ms Dao signed the contract of 111/2019 to buy ice machine with Viet An Joint Stock Company, we carried out the transportation to the address according to the contract signed to installation for Ms Dao. so that she can get into production in time for the scheduled time.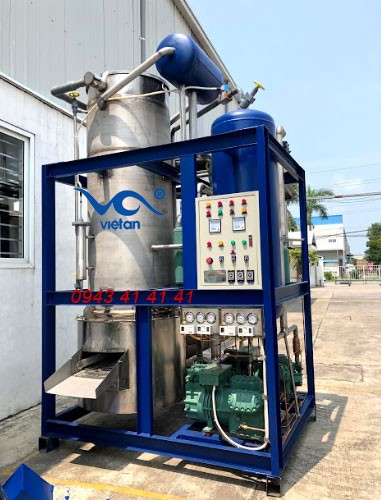 The address for installing the ice machine is Binh Ba Island - a small island with an area of ​​over 3km² in Cam Binh commune, Cam Ranh city, Khánh Hòa province, Vietnam. The island is located in Cam Ranh Bay, about 60km south of Nha Trang city, 15km east of Ba Ngoi port (Cam Ranh). Binh Ba Island is one of 4 point - a pristine beach resort in Khanh Hoa, also known as Vietnam's Maldives.
Ice making machine 1 ton and 2 tons of Viet An suitable for her needs
Ms Dao buys 1-ton and 2-ton Viet An ice cube making machines to meet the growing demand for ice cubes on the island - because this is a tourist site that is currently growing strongly, attracting goods every year. Thousands of new tourists come to the island. Understanding this potential of economic development, Ms. Dao's production base will surely thrive thanks to Viet An's quality ice machine products.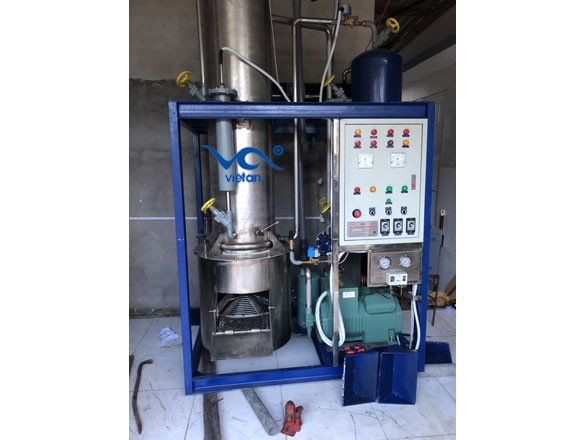 Not only that, the need to use ice for refreshments on hot days increases, but it is also the time when the ice do not meet the hygiene and safety standards of the food being discussed. The consequence of using dirty ice is that the health of people goes down, therefore many people with minor gastrointestinal diseases buy medicine for self-treatment and severe must go to a hospital for treatment.
There has been a lot of information instructing people to use clean ice, clear-origin ice, but sometimes for personal gain people ignore those recommendations. Perhaps the ice production and trading units are afraid of investing heavily in buying clean ice-making machines and importing overseas ice because their prices are quite high. But now that problem no longer worries people.
Ms Dao shared with us a lot of dirty ice production facilities were born, she felt uneasy about witnessing those scenes so she decided to buy Viet An's ice making machine to ensure her health. Health and safety for the people in the locality where she lives.
With the size of selected ice, Ms Dao chooses 47 * 90mm and 18 * 20mm, this size is suitable for drinking beer, soft drinks ...
The components come with ice making machine and water filtration line for Ms Dao
Ms Dao's ice making machine chooses with the ability to produce ice quickly, safely and with quality assurance, heat treatment and the best stable performance of the industrial ice making machine. Ice made with sizes suitable for use such as drinking tea, soft drinks, beer, coffee, smoothie, ...
Pure ice-making machine parts and components are imported from leading countries in technology so the machine does not make a loud noise, the ice machine has the air-cooling system and the control panel automatically brings convenience, safety and health to users.
The ice making machine is very quick to make perfect ice, ensuring food hygiene and safety standards by the water intake is cleaned through the most modern disinfection technology. With components attached to the 5-ton ice machine help ice maker operate with the highest efficiency.
G3 charging bucket
Viet An ice cube packing system is made of 304 stainless steel, which is one of the top markets today. This packaging system is being sold at a price of VND 15,000,000 for ice cube machines with a capacity of 1 to 3 tons. If you use a larger capacity ice cube making machine, a larger ice pack packing system will be used.
10c Cold storage
After producing ice cubes very quickly melted by ambient temperature, before shipping to consumers, Ms Dao needs to be carefully preserved to ensure the best volume of ice. The use of cold storage in-store ice cubes will help the ice production process be more stable and productive, ensuring ice for a long time until consumption and use.
VACC400 water filtration line with a capacity of 400 liters / h of composite auto valve filter column of Viet An is a genuine imported product, which is assembled and managed according to the most stringent international standard ISO 9001: 2015. Exclusive registered trademark VA, USApec No. 250969 and 250970 at the National Office of Intellectual Property of Vietnam.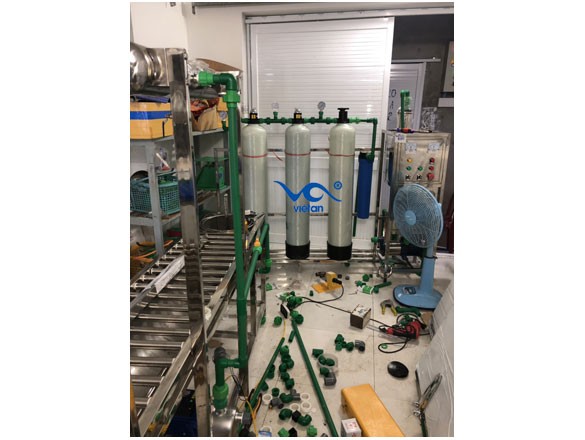 VACC400 has the ability to turn dirty, unsanitary water into pure, clean water to serve the needs of use, production and business and contribute to the protection of human health. With a completely closed water filtration process, the components that make up the 400 liter bottled water filtration line are all imported from advanced countries like the US, UK, Japan, and South Korea ... so they have time to use. In the long run, the water purifier works stably.
VAMCB 60 semi-automatic bottle filling machine with a capacity of 60 bottles / h has many outstanding advantages compared to similar products on the market, the components of the system are made entirely from iNox, the head system. The filling head is imported directly from European countries to help the dispenser with 3 times higher efficiency than usual. Each filling head has a valve to regulate the inlet water flow so that it will completely ensure that the bottles are extracted with the same level of water.
Dry machine
screw cap machine
VATDS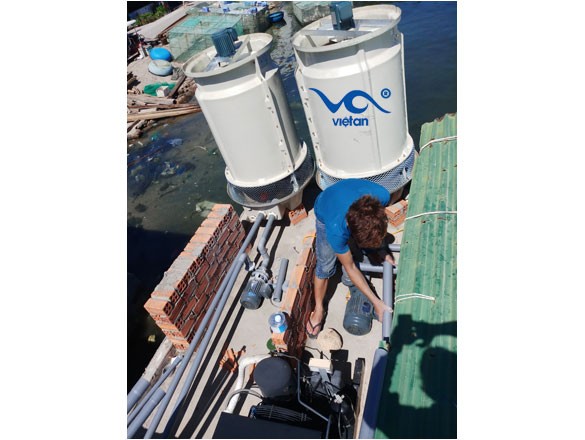 Technicians are conducting the system installation for Ms Dao
Thank Ms Dao, for her confidence in choosing IVA 1T and IVA2T Viet An ice cube making machine, hope that her business will soon develop and hope to have more opportunities to cooperate with her.
Customers who want to buy ice cube making machine of Viet An do not hesitate to contact us today to enjoy the preferential policies nowhere else, all questions answered via the hotline: 0949 41 41 41 Viet An would like to express our sincere thanks to customers who have always accompanied and trusted!