Installing VACA1500 water filtration line for Mr. Thang in Can Tho
The rapid development of the economy has led to severe environmental pollution in many places. Wastewater from untreated factories and facilities is discharged directly into the natural environment, causing harm to the health of people in the provinces and cities across the country. Especially the source of wastewater from factories, domestic wastewater is not strictly treated, leading to a significant reduction of clean water sources. In order to minimize this problem, the use of water purification lines for households, business households and companies is an urgent issue to be implemented immediately.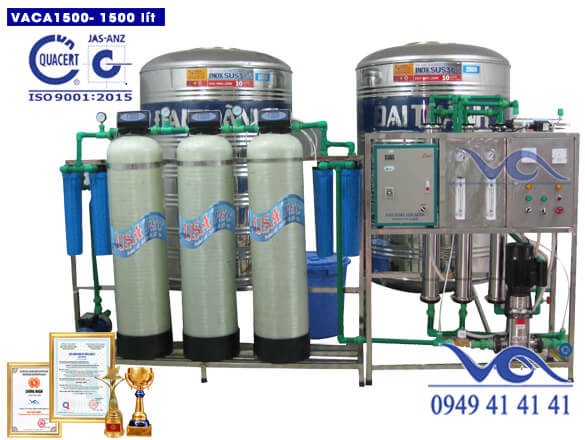 VACA1500 - 1500 liter / h purified water filtration line
After Mr Thang signed a contract of 1038/2019 with Viet An General Trading Joint Stock Company on supplying 1500 litres - VACA 1500 water filtration line, Viet An has recently installed products for Mr Thang in Can Tho to You can carry out water production activities to serve the needs of your company to bring the purest water.
The process of installing a 1500 litre water filtration line in Can Tho for Mr Thang
The process of installing and handing over the VACA1500 line to Mr Thang is an important stage so we always arrange highly skilled technicians. The installation and handover steps are as follows:
After signing the contract and preparing everything necessary, Viet An staff will transfer machinery and equipment to the location in Can Tho and install quickly and effectively so Mr Thang can come in soon manufacturing.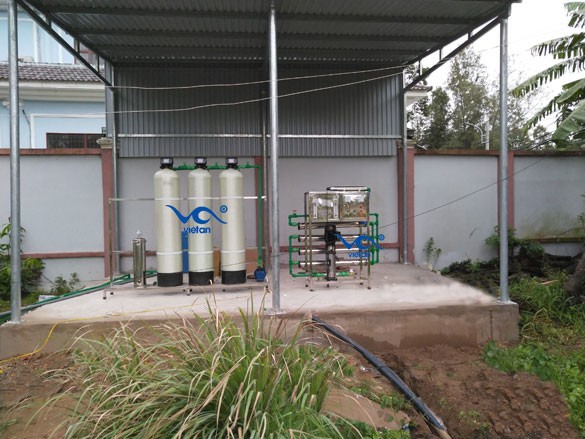 Photos installing VACA1500 water filtration line for Mr. Thang
For customers when starting to prepare the ground for installing the water filtration system, it is only necessary to prepare such a simple ground. When the technician installs the water filtration line, the customer will build the rest.
After installing the 1500 liter water filtration line, Viet An staff will give detailed instructions for the person in charge of this system to understand the production process and promptly reflect the problems encountered when running the machine.
Rinse the entire system assembly line just to test the machine as well as test run VACA1500 water filtration line. After that, Viet An will hand it over to Mr. Thang directly.
After installation, handing over. Our company also maintains and maintains machines so that the process of producing bottled and safe water is safe and effective.
Our company will support maintenance and maintenance for him quickly, answer questions during the use he encountered by calling directly to hotline 1900 6013 or sending a message via the warranty group on Zalo - Support 24/7 support for Mr. Thang and all customers.
See more: Bottle filling machine, jar filling machine
VACA1500 water filtration line - the most modern water filtration technology
VACA1500 filtration line is the best water filtration product line available today. Manufactured directly in the United States with a system of components imported from the United Kingdom, USA, Netherlands, Korea ... with high durability. RO water filtration technology applied in the VACA1500 pure water filtration line can filter many different types of water into pure water meeting the Ministry of Health's 6-1-2010 / BYT pure water standards and FDA standards of USA. The production and assembly process of VACA1500 filter line always ensures ISO 9001: 2015.
The ability to filter water is smart, super-pure, so the water after being processed through the VACA1500 filter system will drink directly.
Super-fast water filtration capacity, 1500 liters of pure water per hour is many times higher than other conventional water filtration products
Products are registered trademark USApec, VA at the Department of Intellectual Property of Vietnam No. 250969 and 250970.
The closed, automatic water filtration process always ensures the stability of the filtered water quality as well as the taste of the filtered water.
As genuine water filtration products of high quality, the time to use the VACA1500 pure water filtration system can be up to 15 years.
Products are exclusively distributed in Vietnam by Viet An General Trading Joint Stock Company, the No. 1 company in Vietnam in the field of import and distribution of US water filtration lines. With a very good after-sales policy, always accompanying the production and business establishments during the use process which is different from other units that only sell after finishing. Viet An has a 1-year warranty policy for customers who buy and install VACA1500 pure water production line, long-term maintenance. And especially the free shipping policy nationwide installation. Warranty and maintenance procedures of Viet An took place quickly.
Instructions for effective use of the VACA1500 water filtration line
Mr Thang should pay attention to the following issues so that the water filtration line can operate most effectively
Read the manufacturer's instructions carefully. When having problems, please contact Viet An immediately to get support from a technician team immediately.
Regarding water sources: Mr Thang may use tap water or bore well water.
Maintenance, cleaning, and cleaning of parts of the 1500 liter water filtration line should be carried out periodically according to the instructions of Viet An.
It should be placed near water sources, to help the process of ice production become easier.
Some Viet An issues can support Mr. Thang on related issues such as applying for licenses, designing labels, testing water samples .... etc. Thank Mr Thang, for your trust in choosing Viet An Company to install the VACA1500 - 1500 liter / h water filtration line for his company. I hope your company will prosper and have more opportunities to cooperate with you.
Over nearly 20 years of construction and growth, always striving to improve constantly to meet all the needs of our customers. Whether you are in any province of the country that needs to use industrial water filtration lines with full capacity, please contact Viet An at 0943 414141 for a good service. Viet An sincerely thank you!
See more: Ice machine 7 tons and 10 tons exported to Vung Tau for Mr. Thanh