IVA5T 5 ton ice cube making machine for export to Dak Nong for Ms Lan
Today, the production of ice cubes is a "hot" industry in the market with high profitability and quick capital recovery. For those who recognize the great potential of this manufacturing industry and boldly invest, look for a high-capacity industrial ice maker. It is even better if it is a machine capable of cooling quickly, saving energy and stable performance. Ice maker 5 tons - IVA5T is one of the perfect suggestions for you.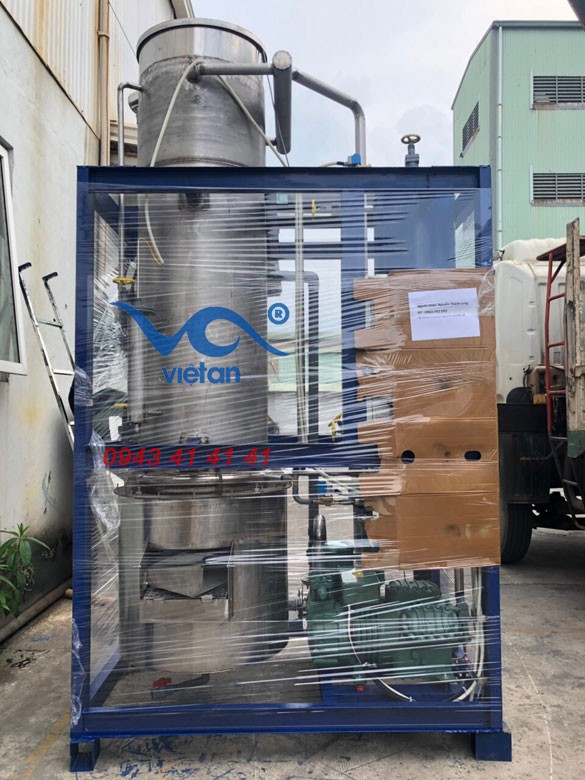 Ice machine made of 5 tons exported to Dak Nong
Proud to be the manufacturer and supplier of the largest ice making machine in Vietnam, Viet An ice making machine is always trusted and welcomed by companies, factories and people. Finding information on the internet, Ms Lan came to Viet An to find out and make the best choice for her ice business idea. Seeing many practical benefits, she decided to cooperate with Viet An. On July 25, 2019, Viet An General Trading Joint Stock Company proceeded to export ice-making machine of 5 tons - IVA5T to Ms Lan under the signed contract of 082/2019.
Ice machine 5 tons - IVA5T iNox for export
About Viet An, the company provides the best quality 5 ton industrial ice machine
Viet An General Trading Joint Stock Company was formerly known as Viet An General Trading and General Company. Equitized since September 2009. Our company specializes in manufacturing, importing, distributing into the market of ice making machines, water filtration lines, bottle blowing machines, filling machines and many other products with brands VA, USApec, Vinaro No. 1 Vietnam.
Viet An Company received the gold medal of high-quality Vietnamese goods in 2009, the Golden Lotus Cup of high quality Vietnamese goods in 2009, the gold medal of the leading brand in Vietnam in 2015, and the certification of Viet An brand. ISO9001-2015 certificate for the production process of water filtration lines and ice making machines, and especially, representatives of the Vietnam Association of Small and Medium Enterprises met with the press and congratulated the State President Truong Tan Sang on 12- 01-2016.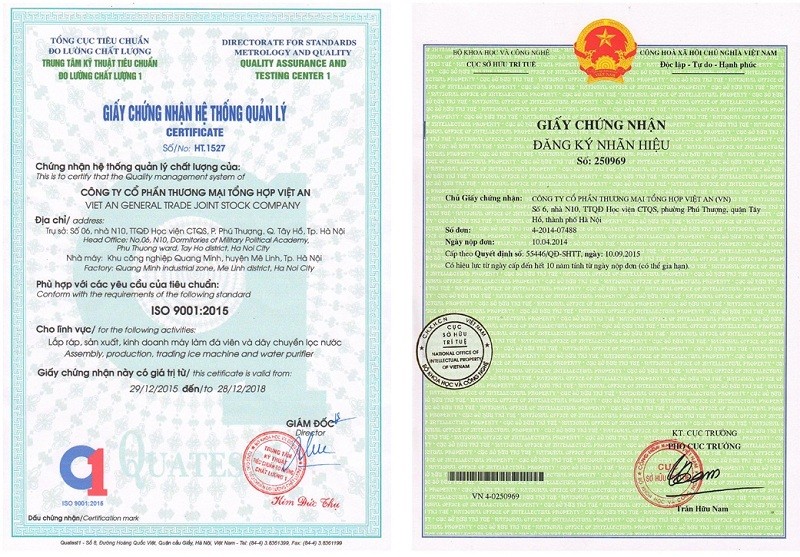 Not only that, the certificates of merit of the mass organizations have created more motivation to help Viet An to firmly step on the chosen path. Accompanying us is the enthusiastic sales consultant business team, ready to meet all your needs. All staff are the top design engineers in Vietnam. We always give customers the best drawings, installation, warranty in the shortest time.
Advantages of Viet An ice machine
- Superior cooling system, producing ice in the shortest time to save time and cost. The machine is used in combination with an advanced line of water filtration for safety and health, with automatic alarm system, automatically disconnecting when there is an incident.
- Material manufactured by iNox 304 heat treatment ensures the best heat transfer performance.
- Ice machine is designed compact, quality, stable and durable operation, high performance, energy saving, easy to operate.
Depending on local needs, each customer will have their own size designed by the company. Industrial 5 ton ice cube maker produce all kinds of ice cubes with the following sizes:
Large stones: 47 x 80 mm. Often use to drink beer, soft drinks ...
Medium large ice: 38 x 45 mm. Often use to drink iced tea, ...
Medium small ice: 34 x 40 mm. Often use to drink iced tea, ...
Small ice: 18 x 23 mm. Often use to drink coffee, juice, water preparation.
The size of Ms Lan's ice is 47x80mm, this is the size that she can supply to beer and soft drink shops.
The outstanding structures of Lan's 5-ton ice machine are selected
Applied the latest modern technology 2019 - Air separation system (only available in Viet An)
Unique air separation system only available in Viet An ice making machine. Because the operation of the compressor is related to oil and gas to ensure that the compressor is not liquid infected, Viet An has applied this system. When the compressor operates, the gas that is ejected is hot air and the air drawn in is cold air. Therefore, the inlet gas must not be contaminated with liquid (water or oil). With this part, the pipe of ice making machine will be designed more neatly and the operation cycle will be faster. Ensuring the compressor will achieve the longest service life, avoiding breakdowns and importantly thanks to this component, customers will reduce ice making time - reducing electricity costs in the long run will help customers save. tens or even hundreds of millions from year to year.
100% new imported compressor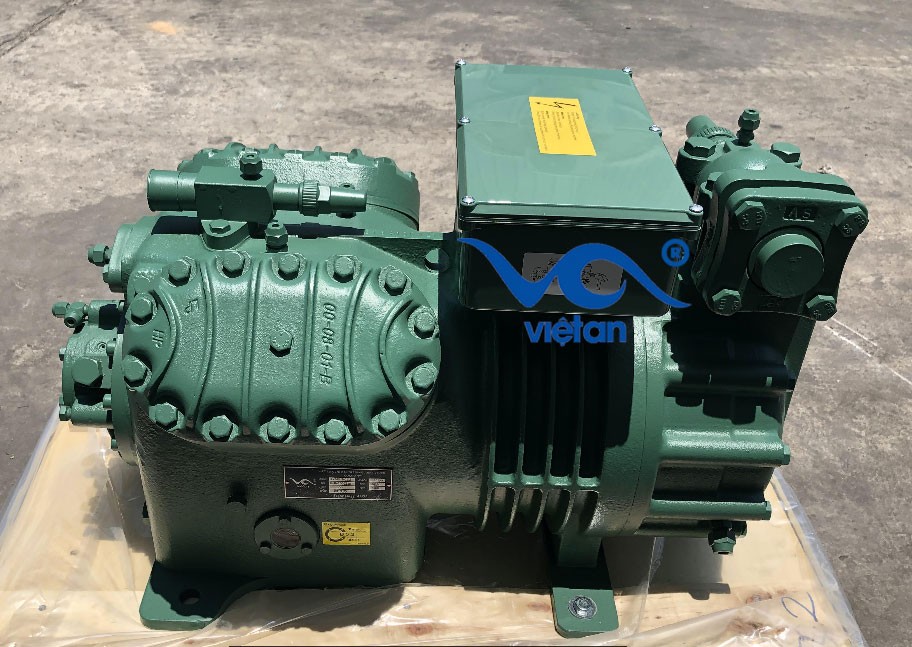 Compressors are considered to be the most important part of an ice making machine. The first highlight we want to mention is that there are no new compressors in the market, they are all old compressors, which is why Viet An ice cube making machine has a long service life. More than the other models, the error also occurs very rarely.
This compressor has been tested extremely rigorously. Produced on fully automatic CNC system, automatic cutting, stamping, and molding. It is then transferred to the high pressure testing section of the compressor. This unit uses the best high pressure testing technology in the world imported from Germany.
With the control of cooling capacity for ice machines, controlling and saving energy consumption for businesses. Helps the device's longevity last longer. Controlling the temperature and keeping safety of the cooling system is stable, helping the ice machine operate smoothly, run smoothly, make less noise.
With an important function so the compressor works well, Ms Lan's ice making machine will also work stably. If the compressor goes wrong, the entire system will be affected, which will also incur additional costs, power costs and your time. So the problem of choosing a new compressor to avoid risks is what you should consider.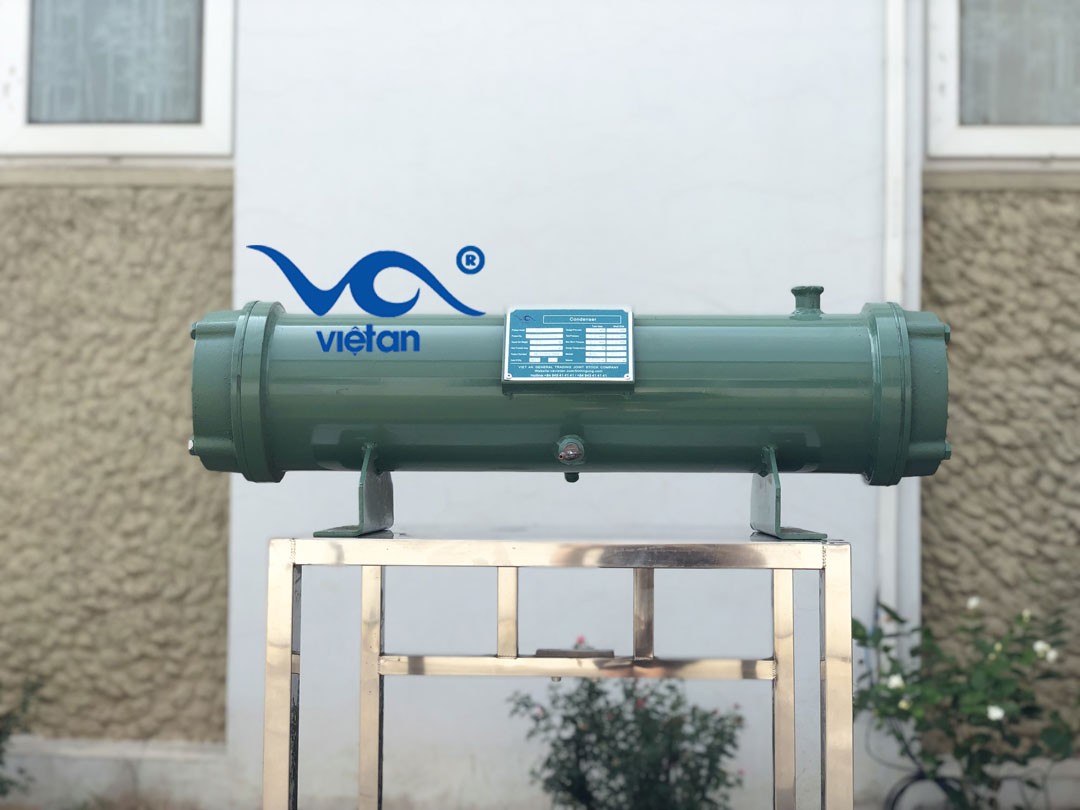 Condenser new imported 100%, in pure ice machine condenser is responsible for condensing superheated gas behind the compressor into a liquid-state refrigerant. The operation of a condenser has a decisive effect on the pressure and temperature of the condenser and thus affects the efficiency and safety of the entire refrigeration system in the ice machine. When using this condenser to ensure the production process is stable and long-term, customers should pay attention to cleaning this device regularly as directed by the supplier.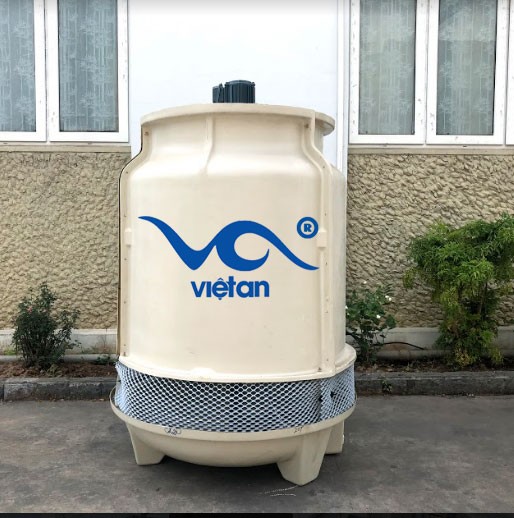 Cooling tower works based on the evaporation of water into the atmosphere to eliminate heat in the water, so it will not waste much electricity, limit the loss of machinery lubrication, and contribute to preserving the living environment. At the same time, the cooling tower reuses the water source in a closed process so it saves water, does not pollute the environment. In addition, the use of this water cooling device also saves a lot of electricity because businesses will not have to install and operate large air-conditioning systems, causing less negative impacts on the environment. This is a device manufactured by Viet An, so it has an attractive price.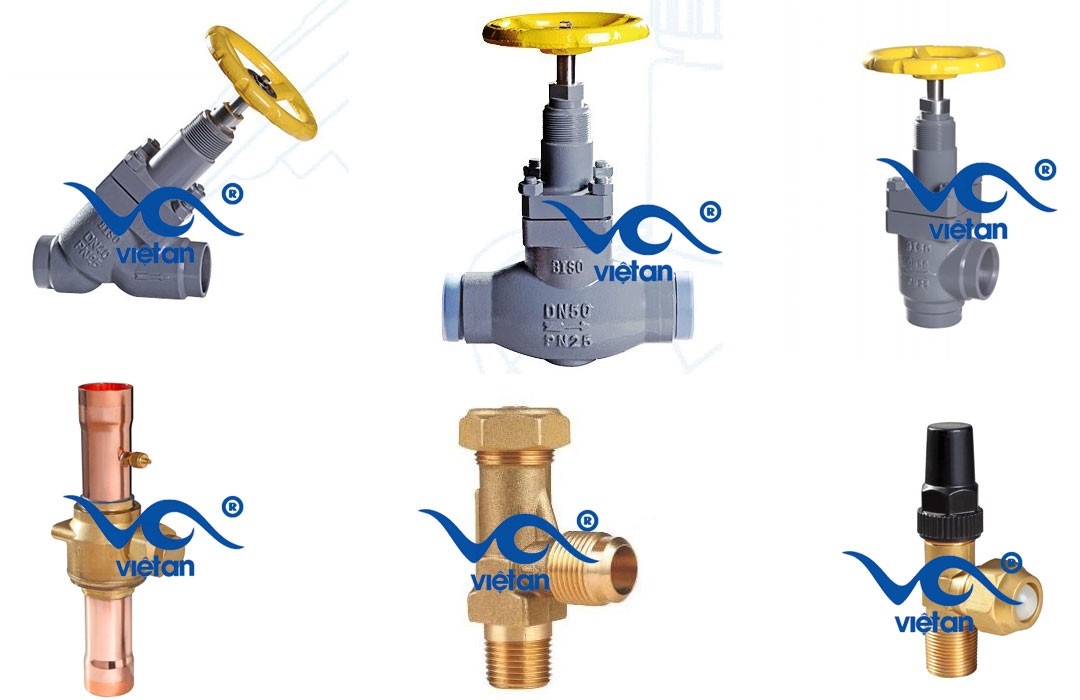 Viet An's interlock system is 100% imported, not domestic valves, so durability is guaranteed.
Automatic electrical system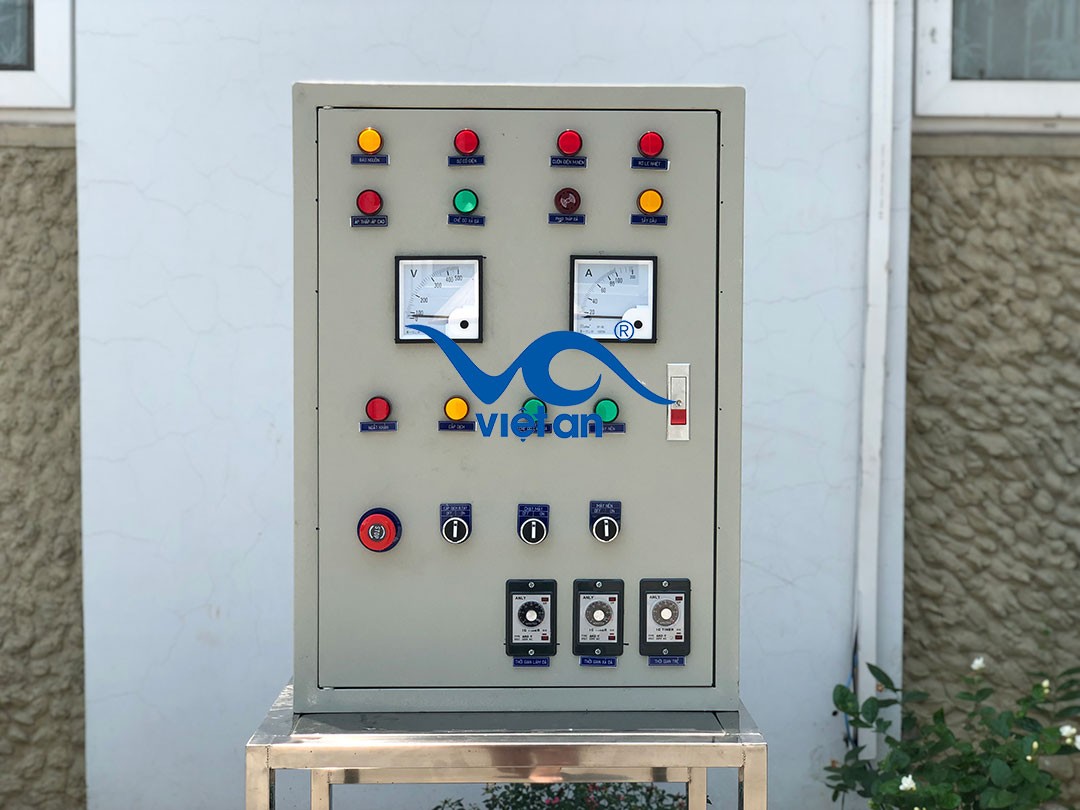 Automatically disconnects when something goes wrong, automatically adjusts the porosity according to customers' needs. With the automatic operation process closed, all just need to by on/off button.
iNox pump system
The pumping system for Viet An ice machine is made of 304 stainless steel, imported exclusively from Viet An. Currently, only Viet Nam's 5-ton ice making machine uses iNox 304 pumps. All ice making machines on the market use cast iron pumps so the price will always be cheaper. That means the durability will be lower.
Viet An offers Ms Lan when she buys a 5-ton ice making machine
Committing ice cubes to produce 100% pure purity.
The company will help customers know when to clean the machine via SMS messenger.
100% refund if supplying fake ice machine - the quality of making ice is not as committed.
Viet An has a warranty for all products for 12 months.
The shipping policy is to install the machine for free in 63 cities and provinces except for islands.
Discount card deals - worth tens of million.
The methods of payment for pure ice machine products range from bank transfer to direct receipt.
Many attractive gifts come.
Viet An General Joint Stock Company is proud to be the first unit to produce an automatic clean ice machine for public health. Each ice machine made by Viet An Company is a message that the company wants to send to customers and businesses: "Please respect your health more, listen to the voice of the body - by using clean stones from Viet An ice making machine ".
Certainly, with the potential market in Dak Nong, Ms Lan will quickly payback and bring her production base to further development with the 5-ton ice machine - IVA5T, hoping that Viet An will have many opportunities for cooperation with you more. Thank you for believing in the choice to accompany Viet An!