jar water production line
In recent years, the market of supplying bottled drinking water production line has been constantly exciting and growing continuously. And bottled water consumed a large amount each year especially during the summer. There have been a lot of businesses growing and growing thanks to the bottled drinking water business.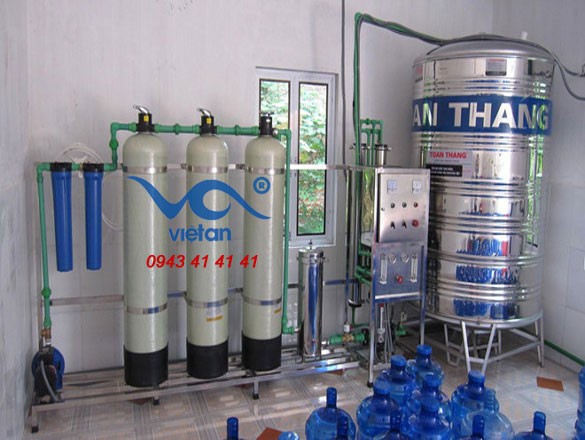 Modern bottled water production line
The bottled water production line is the line that uses reverse osmosis membranes only for water particles to pass through, so the output water quality ensures maximum purity. Bottled water production line is made of large-scale bottled pure water.
Before using the bottled water line, it is imperative to conduct a comprehensive groundwater test to find suitable filtration methods to treat the water source whether it is contaminated with heavy metals, contaminated bacteria, radioactive substances ... to ensure the standards of water.
The process of producing bottled water consists of 4 main systems
Water pretreatment system has the effect of filtering coarse, removing organic substances, heavy metals, softening hard water and helping protect the RO system.
RO water purification system: Including RO membranes with a gap of 0.0001micron membrane, which effectively removes toxic substances, bacteria and viruses from water sources - giving the purest water to outlet water quality meets the drinking-water standards of the Ministry of Health.
Ultraviolet disinfection system: in the process of storing pure water, the possibility of re-infection in the air for pure water is possible. Therefore, it is necessary to sterilize water before filling to prevent safe reinfection of water sources when bottling finished products.
Bottled-finished filling and pouring system: with a convenient semi-automatic or automatic design, there are 3 main stages: washing, filling and capping the bottle to form an automatic line to reduce labor and labor cost savings.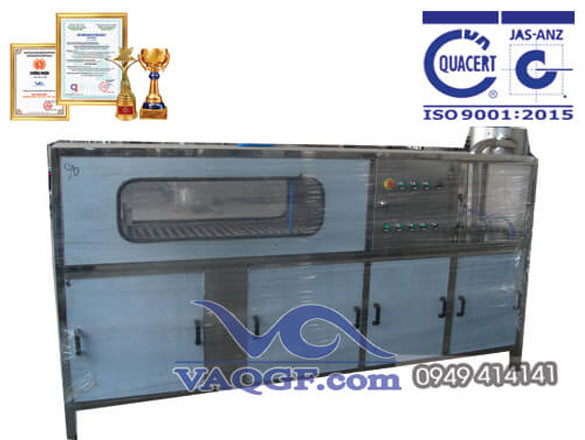 Bottle filling line
Sharing experiences in trading bottled water production lines effectively
Firstly, find the location to determine the opening of factories and workshops. It is best to avoid areas near cemeteries, petroleum depots, chemical factories, ranches, waste disposal areas ... If not registered business lines of bottled water, businesses also You need to quickly do that.
Secondly, find a good source of water, if you need to drill a well, perform the process of overall water source testing. It is necessary to build water towers and water supply piping systems, preparing electricity sources capable of meeting water sources.
Thirdly, when buying a water filter, it is necessary to ensure the best quality. It must have a reputable brand, be trusted by experts and users. In particular, consider your financial resources to know when.
Fourth, consider the size of the business operation is small, medium or large. If on a large scale, it is necessary to invest in an automatic bottling line, prepare consumable supplies such as bottle cover, shrink film, label ...
Fifth, the brand identity, logo, brand, personnel recruitment planning and training. Invest in facilities to transport products, prepare financial resources to ensure good service for the plant's operating needs for at least the first 6 months, when revenue is not really available.
Sixth, investing in backup generator equipment, cost of opening bottled water factory. On average, a facility operating in this area has at least 60 to 100m2 or more, in terms of price, depending on the different areas. Regarding business registration, the average will cost about 3 to 5 million. 10 to 15 million for tanks, water filtration lines from 60 to 200 million or more than 1 billion ..., in addition to some other costs. The more you plan in detail, the more effective it will bring.
See more: Viet An's bottle filling machine
Viet An's bottled water production line
In order for the system to operate stably and increase life expectancy, in the process of using you should pay attention to carefully check before operating.
You should check that the valve is closed and opened in the correct position after the test is complete, you should turn on the pump switch to see if the pump works properly. You check the amount of water into the tank to ensure it is not enough
If you hear a strange pump noise or an insufficient amount of water, check to see if there is a problem.
You should pay attention to the flow of water through the filter column, if the line of drinking water treatment using mechanical valves, it is necessary to adjust the 3-door valve to rinse the filter column. Otherwise, it will affect the quality of the finished water as well as the service life of the filtration line.
With the above bottled water production line, we are confident to provide customers with a modern water treatment system and meet the technological process as well as the best product quality as required by the people consumption