Mini ice making machine
Mini ice cube making machine is no stranger to many people because of their useful features in everyday life. These mini models are suitable for households, small businesses selling ice tea, coffee, soft drinks... When buying these mini models you will not have to spend too much investment costs but still meet your business needs well.
Ice cubes are indispensable ingredients in the preparation of drinks and the most interesting thing is the purity of finished products. Ice cubes not only require a high quality of food safety and hygiene, but they will also make the drink more wonderful. Just thinking of a glass of water with crystal-clear ice is enough to make you feel "craving" right! Let's join Viet An to give you a completely new experience of the world of drinks and contribute to protecting consumers' health every day by using mini ice cubes making machine.
Features of mini ice cube making machine
Equipped with ultra-powerful engines with diverse machine capacities, they are compactly designed for fast and safe ice making a performance with high output per day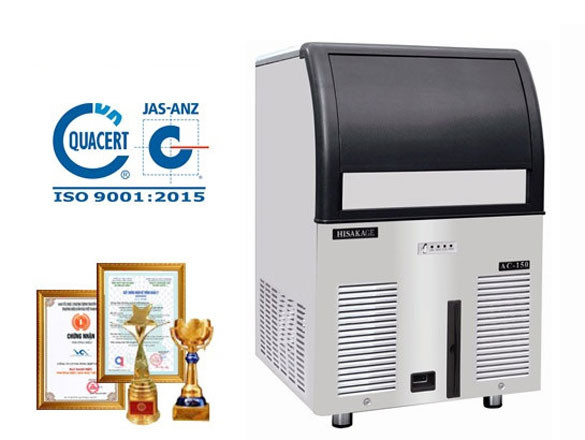 The process of producing ice cubes of mini ice cubes machine is automated, fully closed, intelligent control system so you will not spend much time nor use manual methods to operate machine.
Beautifully designed, more sophisticated and still retains a compact design to help users save space, easily transport or install.
Power on and off switches are arranged at eye-level places, easy to identify, extremely convenient, simple for anyone including new users.
Super-fast ice making the speed of mini ice cube making machine.
The mini ice maker has fast speed ice making. Produced on the most advanced modern technology line, Viet An mini ice maker has super fast ice making speed. After only 15 to 20 minutes of operation, the machine has completed a batch of pure ice, quality guaranteed. The only thing you need to do is press the start button, wait and shovel the ice to use. This is probably the preeminent feature that any customer wants because most ice making machines today take a lot of time, effort and cost to complete the batch, or right It takes a lot of complicated installation and commissioning to put it into operation.
Ice quality is guaranteed to be 100% pure
Pure ice is a product that meets strict standards of physical and chemical quality. Only after being tested based on the criteria of heavy metals as well as other criteria including microbiological criteria, can the new product be recognized as pure according to QCVN 10: 2011 / BYT standard. The quality of ice cubes produced by mini ice cubes is processed through the refining process provided by Viet An JSC.
Suitable business model using mini ice cubes
Small and medium-sized business units are suitable for using mini ice cubes
- Water shops, coffee shops, beer shops specializing in refreshments
- Places for entertainment, karaoke, bars
- The places are crowded with people like hospitals, schools, stadiums, fairs.
- Establishments producing, processing and preserving aquatic products, or exhibiting sale like supermarkets, factories, processing workshops.
- Laboratories, locations for chemical and thermal studies.
If you need to use ice cubes not too big or want to use for many stores in your business chain, mini tablet ice machine of Viet An is the ideal choice for you. Please contact Viet An immediately to learn and equip mini ice cubes for your business!
Notes when installing mini ice making machine of Viet An
Location of the machine: you should place the machine in a place near the water source to reduce pressure on the pump system. Besides, the machine also needs to have certain distance limits to the surrounding surfaces, especially the back of the machine so it is open. Also avoid dusty, humid locations ...
Maintenance: when buying ice machines or any electrical equipment, do not forget to monitor the warranty period, the machine's maintenance, and especially carefully read the device manually. In the process of use, it is also advisable to clean the machine regularly so that the quality of ice cubes is always guaranteed.
The above is the necessary information for any customer who needs to learn about the machine to buy tablet ice machine. If you want to buy mini ice cubes, please contact Viet An Joint Stock Company via phone number: 0949 41 41 41. Viet An would like to thank!