Price of VA bottled water filter line
Between the chaotic market of water purification technology, which water filter device is the most optimal? The study became difficult for those who have been intending to buy a water filter line for production and business. We are Viet An General Trading Joint Stock Company would like to give some information and price of VA bottled water filter line with the most modern technology.
Price of VA bottled water filter line
With each different capacity will have a different price. On average, a bottled water filtration system will cost from several tens of millions to several billion VND.
Currently, Viet An supplies bottled water filtration system including:
- Filter system using composite valve
- The composite auto valve column filter system
- Filter system using stainless steel column mechanical valve
- Filter system using auto valve inox column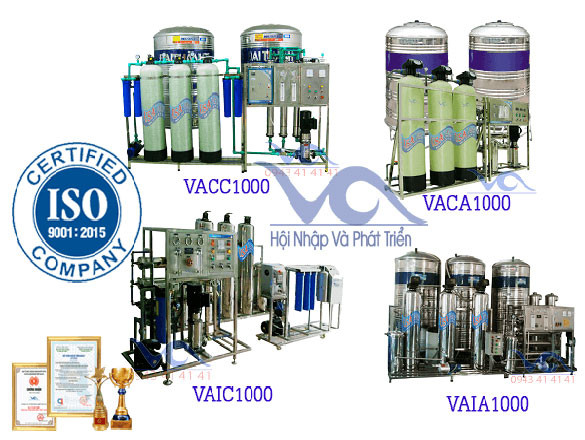 Price of VA bottled water filter line
Detail of VA  bottled water filter line 150 L / h - 70,000 L / h
Production process: According International standard ISO 9001-2015
Push pump system, booster pump system
Air disinfection system
The heavy metal filter system
Detoxification system, decolourization, deodorant
limestone reduction system and water softening
RO water filter system
Flow measurement equipment, electrical system
Frames and Other accessories
Advantages of RO technology in water filtration lines
RO technology is the most advanced and thorough water filtration technology available today. Because the grid of RO membrane filters of 0.0001-micrometre size, like the mechanism of human kidneys, will produce completely pure water products.
- Remove all heavy metals, residual chlorine, impurities, bacteria in the water.
- After filter, the water is ready to drink immediately, the water tastes good, sweet, pure and sterile.
- Using VA bottled water filter line suitable for many home water sources, well water, tap water, river water, brackish water, ... they can all bring pure water. Because of this feature, RO water purifiers are popular to this day.
Viet An Company with experience and knowledge of technology specializes in providing the leading VA bottled water filter lines on the market today. We are committed to superior product quality with all genuine components imported from countries with developed industries such as UK, USA, Japan, Korea, ... We always keep quality products Top products and your satisfaction are the motivation for us to try our best.
All components parts we import are genuine with stable operation lines over 15 years. Filter materials, imported activated carbon types provide the ability to filter and treat water thoroughly. Save power consumption compared to other models in the market because we always apply the latest innovations and use genuine pump system with enough capacity, sufficient flow and energy saving.
Fully automatic control system with safety in operation and maintenance is optimal. The body machine stable and durable, anti-corrosion, rust. The machine runs smoothly and peacefully with warranty and customer care after for sale.
Customer care program before and after sales of Viet An
Before handing over the bottled water filter line, VA's technical staff will:
- Check the input water sample for free to ensure the best operation for the water filtration line.
- Surveying the construction consultants, building details with technical drawings for customers.
- Detailed advice on administrative, legal and related papers for customers.
- Consult brands, stamps, labels, codes, barcodes, ... in the most detailed way for you.
When signing the contract and handing over the pure water filter line to the customer:
- Fully hand over papers, machinery and accessories for the production of bottled pure water to customers.
- Operate lines and test run as well as guide and transfer technology with customers.
- Proceed to print stamps, labels, brands, codes, barcodes, ... for you (if you have needs).
- Take water samples from finished products and send them to customers for testing at preventive medicine centres.
Especially with after-sales warranty:
- Check for periodic maintenance for customers during the warranty period, and after the warranty period expires (as required).
- Free warranty and repair costs for customers during the warranty period.
Please contact our hotline: 0949.41.41.41 to receive a detailed quotation of VA bottled water filter line as well as receive the benefits from Viet An.