Process of opening ice cubes workshop
Hot summer season, the demand for ice cubes are also high when the opportunity for ice cubes business is paid attention, so the process of opening an ice cubes factory is much concerned. If you are planning to try the ice cube business model by opening the ice maker & business, try following our post.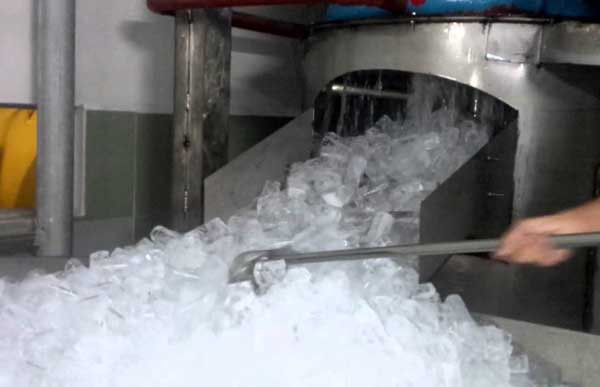 What are the factors that need to be prepared in the process of opening a standard ice cube workshop?
You need to determine for sustainable and long-term development when opening an ice cube workshop, as long as you are committed to the quality of ice cubes that are hygienic, pure and stable in volume, I believe Surely you will be successful.
For the process of opening a workshop, the layout of the site and the structure of the ice factory is important:
- Having large enough space, convenient for production, avoiding the possibility of contaminating water sources to make ice and ice water.
- There are walls separating production facilities from outside
- The engine room area, the area containing petrol and toilets must be separated, ensuring no contamination to other production areas such as ice making tanks, Water tank makes ice, out tank for ice mould, ice storage, ice delivery distribution area
- The workshop must have a solid structure, a sturdy roof, without leaks, a hard flat, bear weight, non-slip foundation, easy to clean and designed to ensure good drainage.
- The surface of ice making tank, water tank for making ice water, ice making tank must be designed to be 60 cm higher than the workshop floor, with a step up and down to ensure convenient for production.
- The lid of ice making tanks must be made of non-toxic materials, which are solid, tight, flat, free of water and easy to clean.
- The drainage system must ensure good drainage
- There are tanks to disinfect sterilization boots in front of the workshop.
Electricity and water are suitable for the process of opening a factory
- Water for ice production and water used for making ice water must be clean water as prescribed by the Ministry of Health. Absolutely do not use antibiotics, chemicals banned for use in ice production
- Water supply systems such as tanks, pipes, faucets must be made of stainless materials; Designed, conveniently arranged and easy to clean
- If the establishment uses other water sources for other purposes, this water supply system must be arranged separately from the water supply system used for ice production, not to cause crossover
- The electrical system must ensure safety, avoid the impact of the environment.
Equipment and facilities for ice production
- Gas storage equipment, gas pipes must ensure safety and not leak
- The surface of equipment and tools in direct contact with ice water must be smooth, easy to clean. The ice-contact surface of ice moulds and ice making equipment does not rust
- Means of transporting ice water must have a suitable structure, easy to clean, made of hard material, durable, stainless, non-toxic materials that can infect products.
- Ice storage must have a smooth surface without water, good insulation, easy to clean, layout and structure to avoid the possibility of infection from workers.
Apply for a certificate about food safety needed for the process of opening a workshop.
In order to obtain a food safety certificate, the place (where ice production and trading) must meet the following requirements:
- To be built far away from sources of pollution: not near polluted landfills, sewers, ditches are polluted ...
- Having enough clean water or clean sea water: water from the tap water, well water
- There is guaranteed power for production
- No stagnation or flooding.
Packaging workers need to comply with hygiene safety such as wear gloves, wear protective gear, masks, ... to ensure that ice cubes are clean to consumers. Not only that, when opening an ice cubes workshop you need to prepare the product packaging to be clean, clearly mark the label, information about the date and place of production of the establishment.
In particular, the ice cube factory must have an isolated packing room as well as a suitable cold room temperature to avoid melting products, affecting the quality of ice cubes before being distributed to consumers.
Choosing to buy ice cubes as appropriate
This is an important issue in the process of opening a workshop because choosing an appropriate ice maker will bring many determinants to long-term business. Depending on the scale of production conditions, each enterprise unit will buy ice cubes with capacity from 1 ton to 100 tons.
However, in the market, there is a lot of floating ice cube making machines of unknown origin. So you need to have reputable facilities with long-term brands to buy good machines as well as being consulted for the best warranty, maintenance and after-sales modes.