Providing 3-ton ice making machine in Hue
Hue is the city of Vietnam. With flat terrain, diverse river systems, abundant natural resources and favorable climate, Hue has developed an increasingly strong economic, cultural and social development. Industry, construction, and growth services actively attract large investments from many domestic and foreign enterprises. It can be seen that this is a huge potential market for many people to invest in the ice cube manufacturing industry.
On March 16, 2019, Viet An General Trading Joint Stock Company installed and handed over the 3-ton ice machine - IVA3T to Mr Sau in Hue under the signed contract of 030/2019.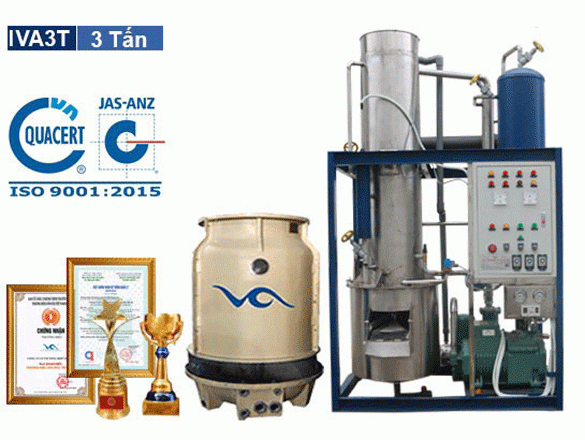 3 tons ice cube making machine
Mr Sau chose the 3-ton ice-making machine of Viet An
Mr Sau shared: "On the market today there are many types of ice making machines, from many different brands, from affordable to high-end, with diverse designs, and the quality is not fixed - but I still Looking for ice machine of Viet An company - this is a perfect choice for me as well as other business owners.
The ice produced by Viet An 3 tons ice making machine, of good quality, dissolve 4 times longer than the poor quality ice and do not leave cloudy dirty when dissolved. The ice is completely pure, because it is fully automatic, closed cycle, without any human intervention, so I can feel assured of the quality of the ice.
Power saving is a common trend in industrial equipment production. The economical use of electricity not only benefits me in the long run, but also helps to increase the life of the device, contributing to improving the national benefits. Viet An ice machine helps to save maximum power consumption.
Compact design, modern, so it takes no installation space and is suitable for many different uses. The machine uses US technology with components and accessories imported from many countries around the world.
The main function of an ice making machine is 3 tons Viet An
Ice machine has cabinets made of stainless steel.
Viet An stainless steel ice cube machine makes ice water fast, safe and clean.
Stable performance, famous imported compressor.
Low noise and strong cold.
Air-cooled system.
Automatic control system.
Water is cleaned by sterilization technology.
An ice making machine is made of stainless steel and heat treatment ensures the best heat transfer performance.
Corrosion-resistant, easy to clean.
The production process of ice making machine of Viet An
The operation process of Viet An 3 ton ice making machine is completely and automatically closed cycle, so we just need to perform a few simple steps. With a smart control panel and convenience located on the right side of the machine. This panel is divided into two main rows, the first row (the top row is the power on/off switch and the ice's young, old control button), the second row (the bottom row is 4 status indicators, error when a technical problem occurs, defrost indicator when a batch is completed, the indicator light is freezing and finally the power indicator.)
The operating procedure of Viet An ice cube making machine is very simple. The water after being purified by a pure water filtration line to remove impurities, dirt, sediment before leading into the ice machine's trough. The circulating pump will then draw water up along the pipe into the ice tray and the freezing process will take place here.
Using refrigerant R22 is a substance commonly used in our country's chillers today to ensure safety for human health, thanks to the good quality of the finished product and eco-friendly.
After transporting, handing over and installing the 3-ton ice-making machine - IVA3T for Mr Sau in Hue, Viet An wishes his pure ice-making unit always grows continuously in the near future. !