Pure water production line
The pure water production line is a product that has helped many individuals and organizations start-up, develop the economy, create jobs and most importantly contribute to improving the quality of life for people.
We all know that water is an indispensable ingredient for the existence and development of people. Every human body needs water. Therefore, focusing on the production and trading of bottled and jar water is an extremely potential industry and never worries about no output.
Nowadays, people's lives are constantly improving. Instead of the need for a warm coat, people now have the need to eat well and wear nice clothes. Focusing on eating and drinking on people always requires a very high quality of drinking water put into the body. The pure water bottles, 20-liter water bottles have been selected by many people for their convenience as well as to ensure safety for human health. Preventing diseases related to unsanitary water usage.
What function does the pure water production line have?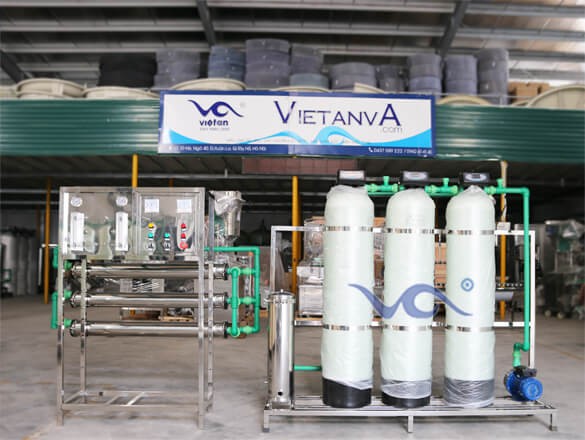 Completely eliminate bacteria, toxins, toxic substances and water
This is the latest product line specializing in industrial pure water filtration today. Application of RO, nano No. 1 water purification technology in water treatment. The underground water, natural well water which contains many bacteria, iron, toxic substances ... not good for human health will be completely treated when going through this industrial water filtration line.
The water filtration process is closed, with many stages helping
Completely remove heavy needles, impurities, increase water sweetness
Toxic substances, colors, odors, and strange flavors will be treated and completely removed
Water no longer contains limestone so it becomes softer
Water is not strange colors and become throughout
Bacteria and viruses mixed in water are also completely removed
Diseases that exist in water sources will be treated by the filtration line
After all the non-water is treated, you will have a pure water source, meeting the 6-1: 2010 / BYT standard of the Ministry of Health.
Benefits of using industrial pure water production line
+ Own the world's No. 1 modern water purifier
+ Eliminate 99.9% of toxins, bacteria and viruses in the water
+ There is a source of super clean, pure and safe water to use
+ Low investment costs, high economic efficiency
+ Save electricity, save water
+ Can handle many different water sources
+ Suitable for many large- and small-scale production facilities
+ High durability over 15 years
+ Less warranty or maintenance
Highlights of the VA pure water production line
Modern filtration technology
VA water purifier production line is manufactured on the most modern technology line in the world. With the application of filtration technology appropriate to the quality of water in Vietnam
System components such as pumps, columns, filters, valve systems modern, intelligent, stable performance.
Intelligent control panel can operate the whole water filtration process
Further reference: Pure water production line provided by Viet An
ISO 9001: 2015 standard
All components of the water production line are imported from the most advanced countries in the world such as the US, Italy and Japan.
The assembly process is strictly monitored according to ISO 9001: 2015 international standards
Quality standards of products are affirmed and committed
Water quality meets standards
Finished water after being processed through VA pure water line system is quality tested to meet drinking water standards 6-1: 2010 / BYT of the Ministry of Health.
Application scope of a purified water production line
Everyone needs to use pure water to ensure personal health and family members. Those with more economic conditions can choose to install water filtration lines for the family. And those who want to do business choose to use the higher capacity.
Before the diverse user needs, this product is also produced in a variety of capacity to meet. Currently, the production line has a capacity of 150l to 70,000 liters with all kinds of automatic valves, mechanical valves or composite filter columns or stainless steel columns.
Can be used to produce bottled water. Producing bottled water, producing pure water...
Prices for production lines of pure water are also varied from over VND 20 million to several billion.
Address supply genuine water production lines in Vietnam
Spending a considerable amount of money to own a product capable of creating pure water, everyone will want to own a genuine, high quality product, with a clear warranty and maintenance policy.
Before choosing a supplier, customers need to carefully research the information to consider and choose a reputable supplier
Viet An General Trading Joint Stock Company with nearly 20 years of experience in importing, supplying and installing production lines of pure water, industrial water filtration. Always proud to be the No. 1 unit in providing industrial water filtration products in Vietnam. Always branding with product quality and customer trust.
Viet An Company commits that all water production line products supplied by Viet An have clear origin, quality guaranteed with reasonable prices, 24-month warranty, lifetime maintenance.
Always trusted by many partners for using services such as Kim Boi Hoa Binh mineral water company, Vinamil Dairy Company, Diana Bac Ninh Company ...
If you want to own genuine water filtration products, good prices, please contact Viet An for free advice
Address: Lot 43 D1 Street H2-G2 Industrial Zone Quang Minh - Me Linh - Hanoi - Vietnam
Hotline: 0949 414141/0942 414141