Signed a contract to install 10-ton ice machine for customers in Laos
Viet An General Trading Joint Stock Company with branches from North to South in Hanoi, Da Nang, Buon Ma Thuot, and Ho Chi Minh. We have a team of professional engineers with many years of experience in the field of import - manufacturing of pure ice machine lines, water filtration lines, filling machines, bottle blowing machines ... etc. Recently, Viet An had the opportunity to welcome the customer in Laos to come and visit the 10-ton ice-making machine manufactured at Viet An's factory in Quang Minh Industrial Zone - Me Linh - Hanoi.
Viet An is a unit that always put credibility first, which is why we have developed in the long term. With nearly 20 years of development received and trusted by the market, more and more customers who have signed a contract for the first time come back when they choose to buy the next product in Viet An without any other units.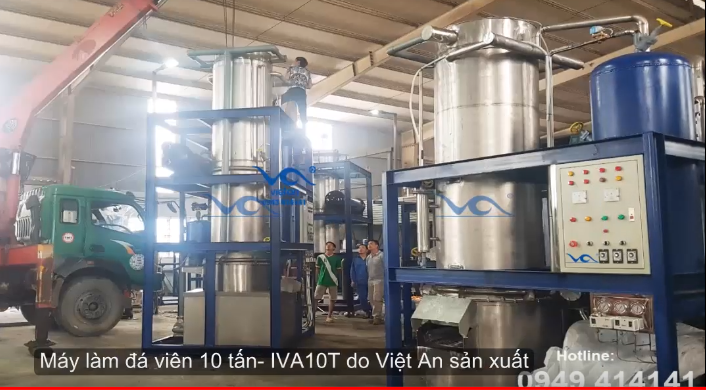 Not only trusted in the country but also echoed in Southeast Asia when Viet An is one of the 10 strongest brands in ASEAN in its business sector with strong financial strength and integration deep into foreign markets. Many customers in Laos, Cambodia, Myanmar ... have come to Viet An to buy ice machine for serving their local ice needs.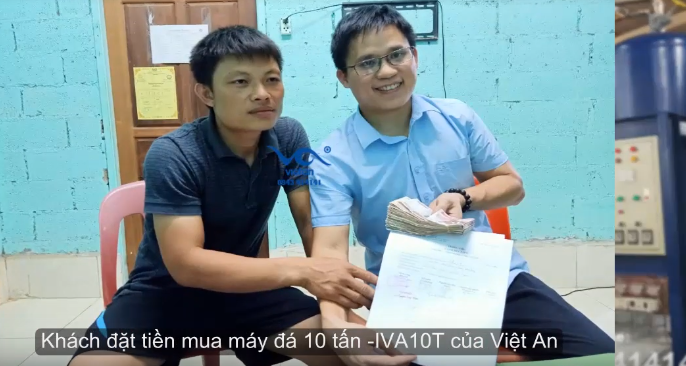 The operation and growth process of Viet An has received awards
In 2009 Viet An received the Gold Medal for high-quality Vietnamese goods for bottled water, jar water and golden Lotus cup for its pure water filter product.
In 2015 Viet An received the exclusive brand certificates '' VA '' and '' USApec '' for ice machine products and pure water filtration lines issued by the National Office of Intellectual Property on September 10 / 2015.
In 2015 Viet An received the award of '' Top 100 leading brands in Vietnam in 2015 '' by Consumer Newspaper.
Viet An is honored to be the 19/100 leading enterprise in Vietnam.
January 12, 2016 Viet An honored to represent the Vietnam Association of Small and Medium Enterprises to receive the medal of President Truong Tan Sang at the Presidential Palace.
On 11/29/2016 Viet An General Trading Joint Stock Company was also honored to receive the Certificate of Merit as one of the enterprises with good achievements in the fight against fake of the Association Against Counterfeiting and Trademark Protection Vietnam VATAP brand.
January 7, 2017 is one of the top 100 enterprises in Vietnam to meet with President Tran Dai Quang.
See more: Water filtration line for ice making machine
New technology creates perfect quality for 10-ton ice machine
Power saving: Despite having an outstanding capacity, up to 10 tons of ice a day - Viet An's 10 tons ice machine consumes very little power more than other models. - help you save significant costs.
Compressors: Specially designed for Viet An ice machine imported exclusively (in Vietnam, only Viet An uses 100% new compressor). This compressor has been tested extremely rigorously before being installed. It is manufactured on fully automatic CMC system, cutting, stamping, and automatic molding.
Air and liquid separation system: Thanks to the only air separation system only available by Viet An ice machine. Viet An's air separation system has the ability to remove fluid and return it to the air way. Prevent the compressor from becoming liquid infected. Helping the compressor not defective and the service life of the compressor is much higher. With this system, the ice making cycle is greatly reduced, which helps your facility save energy and make ice time faster.
The iNox pump system is specifically designed for Viet An ice making machine to increase the stable operation stability during the ice making process, currently, no unit has this type of iNox pump. made of cast iron so it is cheap and the quality is not stable.
The automatic electrical system is applied with the most modern technology, programmed to install completely operating with only one button to turn on and off automatically when an incident occurs.
The cooling method of the 10-ton ice making machine is of international standard and durable. Ice cube making machine uses the international standard cooling method with R22 solvent imported directly from India, ensuring safety for human health thanks to the good quality of the finished ice.
Simple, compact design: When hearing about the capacity of 10T / day - surely many people will think that the machine is very bulky, difficult to use and move. But with 10 tons ice making machine is very compact, flexible in transportation and easy to use. Made with iNox, with genuine components imported from advanced industrial countries in the world such as the US, Italy, Japan, ... it helps the device possess a shiny, easy-to-clean outer shell, not afraid to wear out over time.
To be able to produce ice machine 10 tons in particular and other IVA ice machines in general. Viet An company we had to explore, research to design exclusive components. Set to make ice machines for Viet An. Making our ice cube machine always more special than quality with an extremely preferential price for every customer when choosing Viet An.
The good feature of IVA10T ice cube making machine that customers choose
- The entire components of the 10-ton ice cube making machine are combined between stainless steel and iron material, so it not only saves costs but also helps the machine significantly improve the service life, on average 1 machine This IVA10T will be available for a period of up to 20 years.
- The design of the 10-ton IVA10T ice cube machine is very simple, not complicated - this is good for cleaning as well as repairing when the machine has a problem.
- The product comes with a 1-ton ice making machine, this machine always has a cooling tower with a predefined size, corresponding to the machine capacity - the tower will help reduce the temperature of the water and accelerate the chilled process.
After installing the IVA10T ice making machine, it will take a longer time for the first batch of ice. However, when the operation is stable, the machine will produce continuous ice on average for 40 minutes per batch or faster.
Commitment when buying IVA10T ice machine in Viet An
- When buying the 10-ton ice-making machine of Viet An Company, customers will experience the most thoughtful care, enthusiastic and highly specialized consulting team.
- Many gifts, high discounts, increased customer benefits.
- Flexible payment methods, easy to pay by cash or bank transfer.
- Transport support to the border, from the Lao border to the customer house, customers will have to charge additional shipping costs. Dispatched skilled workers to take place installation and proficient operating instructions for customers.
- Long-term warranty, good maintenance for ice maker IVA10T.
It can be said that the use of ice cube making machine of Viet An is the top reputable choice, helping to save costs for customers' ice production facilities. Thank customers for trusting and choosing Viet An to sign a contract to buy IVA10T ice machine. Commitment to accompany Vietnam An whether domestic customers or foreign customers, we always have the most dedicated and thoughtful after-sales incentive policy.