Signing a contract to install 5-ton ice making machine in Ha Tinh
Items of clean ice cubes are increasingly popular in daily life and especially in the hot season. The 5-ton ice maker is the ideal product for you when you want to create your own clean and pure ice without having to depend on outside ice trading establishments.
On February 18, 2019, in Ha Tinh, Mr Phan Van Hai signed the contract No. 021/2019 to install IVA5T ice making machine - 5 tons with Viet An Trade Joint Stock Company to provide clean water for his living area.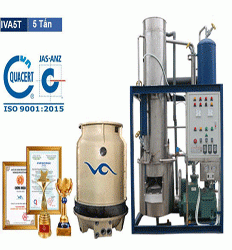 Ice making machine 5 ton
Being rated as one of the most prestigious companies and leading brands in the field of distribution and import of ice cubes making machine, water filtration lines, filling machines, ... Viet An is proud to bring to customers the most advanced products. With attentive, dedicated, professional and best care service will surely make you satisfied.
Why should we use an ice cube making machine 5-ton?
Four reasons why Mr. Hai decided to choose IVA5T ice making machine:
Exquisite design, durable: When hearing about 5T/day capacity - many people will think that the machine is very cumbersome, difficult to use and move. But with 5-ton stainless steel ice making machine, it is very compact, flexible in transportation and easy to use. Made of genuine imported stainless steel from advanced industrial countries in the world such as America, Italy, Japan, ... it helps the machine possess shiny, easy-to-clean outer shell, not afraid of being lost worn over time.
Powerful cooling system: The machine adopts refrigeration technology combining wind and water. Operating all day long with such a large volume of ice will certainly make the machine very hot but thanks to the air-cooled system, the engine is cooler, increasing working efficiency. On the other hand, thanks to the optimal cleaning technology will help completely destroy bacteria as well as toxins harmful to users' health.
Energy saving: Although having an outstanding capacity, up to 5 tons of ice per day, but Viet An 5 ton ice making machine only consumes very little power by about 45% compared to other ice machines. Other members - help you save significant expenses. Equipped with a power-saving system, especially the outer protective shell from stainless steel, the ability to keep heat stable, the cooling is pushed faster.
Warranty: In Viet An, customers are supported with a long-term warranty to 12 months. Also free shipping and installation.
Operation mechanism of ice making machine 5 tons
The operation process of the ice cube making machine is as follows: Water - water treatment system - container - ice making machine - cold storage. From available water sources or well water after being treated to standards, they will be pumped into stainless steel tanks. Viet An recommends that you combine with modern water filtration lines to ensure that the water quality is pure and safe for your health.
Through the process of purifying harmful contaminants, water will automatically be pumped into a container to make ice of appropriate size according to the capacity of the machine, then flow into the ice pipes. ice mortar has an internal structure consisting of many small stainless steel tubes that cool and freezes water on the surface of the pipe wall. The excess water is a barrel of water on the bottom and continues to be pumped upwards. The cooling mechanism of the 5-ton ice cube machine is the R22 solvent direct cooling mechanism - imported directly from India to international standards and safe for human health.
When the ice has solidified - full of ice cubes pipes, the machine will switch to defrost mode. The mechanism of defrosting by putting hot gas into the ice mortar, the temperature in the mortar will increase as ice separates from the pipe wall. Finished ice will be stored in cold storage for preservation.
The components come with IVA5T ice making machine
12m3 cold storage: this is a device that should be used to ensure there is still ice used in case of maintenance of 5-ton ice making machine, power outage, or to store excess ice when not used up. Using a white porous material coated with two layers of thick corrugated iron is also known as a Panel, a safety lock system to ensure stable ice storage temperature between -4 and -9 degrees C, with this temperature ice cubes become soft. So, they are not sticking when delivered to customers.
G5 packaging system: Being produced in stainless steel at Viet An's factory, the system supports Mr Hai's business unit to operate quickly, neatly and effectively in each bag, each big bag distribute for customers.
VAMĐ750 water purification system: Mr Hai uses pure RO water purification system to make ice cubes, water quality meets direct drinking water standards of the Ministry of Health, ensuring fresh water, no Contains bacteria, non-toxic substances for health.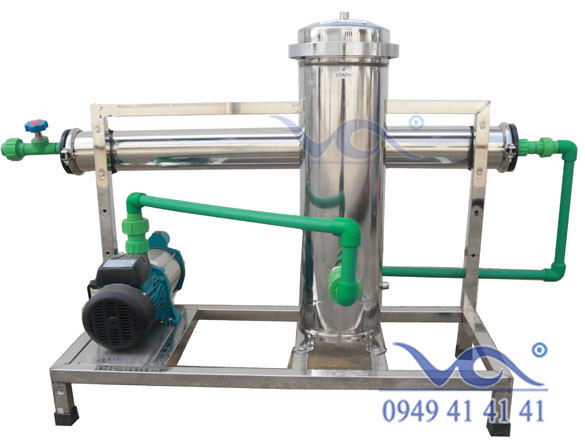 VAMĐ750 water purification system
Viet An had many years of experience in supplying 5-ton ice cubes has provided hundreds of machines installed in provinces across the country.