Something about the contract of installing 2-ton ice making machine in Phu Yen
When the population in Phu Yen province increased, the demand for using 2-ton ice cubes making machine of people here also increased sharply. However, in Phu Yen, there are very few establishments dare to invest boldly in machines to produce to meet the demand for use and consumption. In addition, a small number of profit-producing establishments that have neglected hygiene and human health to produce dirty ice cubes are not safe to use. Such blocks of ice cubes are sold very cheap but they have a negative impact on human health if used long term.
The ice production market in Phu Yen is scarce while the demand for using ice cubes to serve production, daily life, etc is always increasing due to the increasing population. Therefore, the construction of 2-ton ice making machine production and investment model here is a very feasible business model and has the opportunity to expand and develop.
Grasping the demand, in Phu Yen on March 7, Mr Cao Van Thien decided to sign the contract 042/2019 to buy IVA2T ice maker with Mr Nguyen Trong Tan - representative of Viet An General Trading Joint Stock Company.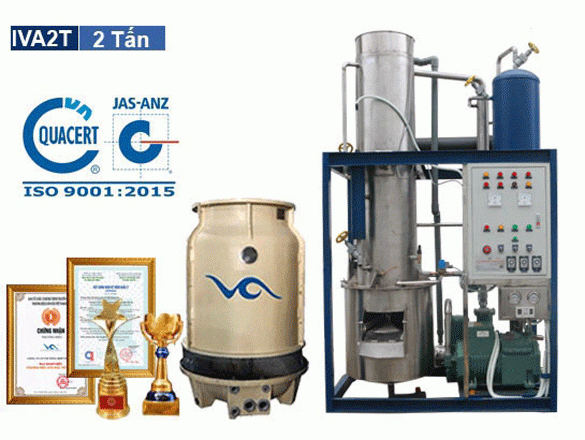 The criteria of Mr Thien choose  Viet An ice making machine 2-ton
Mr Thien decided to buy IVA2T ice making machine of Viet An by the following criteria:
He chose a reputable ice making machine brand and received the satisfaction and favour of many customers who used the product. In addition, the brand must provide sufficient information and certificates of the association's standards for tablet ice machine products.
 + Customers must be entitled to product warranty and maintenance benefits.
 + Ice making machine must work well, productivity must ensure the proper capacity of the machine.
 + Ice making machine must ensure quality, save electricity, ...
After a period of researching and learning about a reputable and quality brand of ice making machine, Mr Thien has chosen Viet An General Trading Joint Stock Company - Viet An is one of the leading enterprises in Vietnam of manufacturing and supplying industrial, ice making machines, water purifiers, ... they are favoured and trusted by consumers.
Compressors are used in Viet An ice cube making machine 2-ton
There are many different types of compressors, so the structure and principles of operation are not the same. After studying and learning, Viet An decided to use a 2-stage screw compressor, with a rotating piston and using oil injection method.
The structure of the device has 2 axes parallel to each other, Spiral helical gear. The two axes are located in the body of Viet An ice making machine, the design of the intakes and push doors are arranged at 2 ends.
Auxiliary valve system for compressors: Steel valves ensure the operation of the compressor is safest. Pressure valves located on oil supply pipes help improve device performance. Thanks to the reasonable design of the central gravity and the position of the screw, the compressor will reduce noise and ensure stability when operating the 2-ton ice making machine
Oil pump system with a small flow rate provides oil with different pressure levels, reducing energy consumption. In addition, the oil pump operates only during the start of the compression device and will stop when the device reaches a balanced operating state.
The preeminent feature of IVA2T ice making machine that Mr Thien received
- All components of the machine make 2 tons of ice cubes combined with stainless steel and iron materials, so it does not only save costs but also helps the machine significantly improve the life expectancy, an average of one IVA2T machine This will be work for up to 20 years.
- The design of the 2 ton IVA2T ice maker is very simple, not complicated - this is good for cleaning as well as repairs when the machine goes down.
- The product accompanies a 2-ton ice making machine, this monolith always has a cooling tower with the specified size, corresponding to the machine capacity - the tower will help to reduce the temperature of the water and accelerate the process chilled.
After installing the IVA2T ice making machine, it will take longer for the first batch of ice. However, when the operation is stable, the machine will make ice cubes continuously for an average of 35 minutes a batch or faster.
Commitment when buying IVA2T ice making machine in Viet An
- When buying products ice making machine 2-ton of Viet An company, Mr Thien will experience the most attentive care service, a team of enthusiastic and professional consultants.
- Many gifts come with a high discount, increase customer benefits.
- Flexible and easy forms of payment: payment by cash or bank transfer. In addition, we also offer low-interest instalment services.
- Support installation and transport to the place in Phu Yen.
- Long-term warranty, good maintenance for IVA2T ice making machine.
It can be said that the use of 2-ton ice making machine of Viet An is the most prestigious choice, helping to save costs for Mr Thien's ice production facility in Phu Yen. Viet An is willing to be a companion to ensure everyone's health.