Supply of 1500 liter water filtration line according to Contract No. 017/2019 in Quang Binh
Although there are a lot of smart water filters has launched in the market today, but the 1500-litre VAIA1500 water filter line of Viet An is still the most favourite product and used by customers. On February 14, Mr Nguyen Tam Hai from Quang Binh signed a contract No. 017/2019 to buy a 1500 litres water filter line with Viet An General Trading Joint Stock Company.
Water is an important source of food for domestic, industrial and agricultural consumption. However, at present, Quang Binh due to the impacts of climate change and water management, exploitation and use activities are not appropriate and improperly implemented, thus lowering the water table, reducing reserves and quality. Groundwater. If this water source is not treated, it will seriously affect people's lives as well as affect production in the province. Installing a 1500 litres water filtration line in Quang Binh to supply clean water to the people is an urgent task.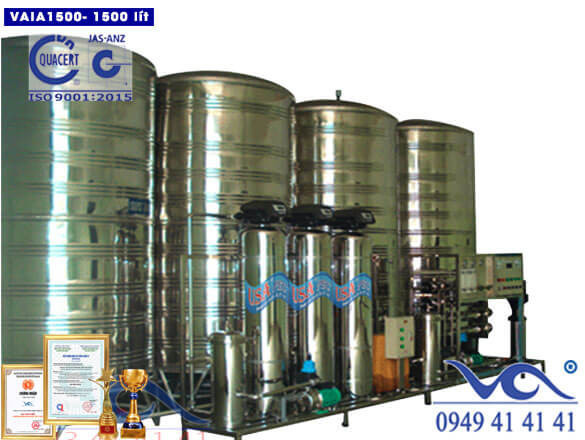 Why is  Mr Hai selected a 1500 litres water filter line of Viet An?
According to the psychology of Vietnamese consumers as well as Mr Hai, when choosing a good water purifier product, it must be evaluated on the following four main criteria:
Product quality guaranteed, providing sufficient information about the benefits of the product
Principle of operation of 1500 litres water purification line: When water passes through the filter column will become completely pure drinking water, eliminating up to 99% of impurities, heavy metal ions and bacteria, viruses contained in water inlet. In addition, the system also adds minerals, balances pH and enriches oxygen for water after passing the RO membrane.
The basic structure of a 1500 litres water filtration line includes:
- The heavy metal removal system
- Activated carbon system
- Limestone reduction system and water softener
- Reverse osmosis filtration system (RO membrane)
- Disinfection system
- Other systems
1500 litres water filter line - Long-term warranty
The VAIA1500 RO water purifier product line is warranted: 24 months of electrical equipment including adapter, solenoid valve, high-pressure valve, low-pressure valve, pump and RO membrane filter.
Viet An is committed to implementing a warranty policy via phone or sending technical staff to repair and perform warranty.
In addition to warranty service, Viet An also has customer care programs, reminds to replace the crude filter periodically to protect RO membrane life and helps Mr Hai always have pure water to use.
Product design
The product line of 1500 litres of water filtration line is evaluated as a product with beautiful and modern designs, not consuming a lot of installation area.
All equipment of the product is covered by warranty stamps prescribed by Viet An.
Good price and publicly listed throughout the system
Products of Viet An 1500 litres water purification line are appreciated by many consumers as high-quality products and at reasonable prices.
Advanced RO water filtration technology of VAIA1500 line
Water purification, pure water treatment is the process of removing impurities, toxins in the water as well as deposits through special filters combined with materials such as sand, gravel, coal ... The size of the impurity filter will depend on the design of each different filter.
Viet An 1500 litres water filtration line uses advanced technology with advanced RO membrane to be upgraded and more effective than previous water cleaning systems. RO technology (reverse osmosis) is the most advanced and thorough water filtration technology available today. Because the RO membrane filters have a size of 0.0001 micrometres, like the mechanism of kidney function, it will produce completely pure water products. Also known as pure water. The filtered eye size of RO membrane is smaller than the size of the bacteria. Therefore, they are able to remove up to 99% of impurities, toxins in the water. This is the preeminent point and is the result of the current development of water treatment science.
Form of buying 1500 litres water filter line in Quang Binh
Form of purchase: When Mr Hai has selected VAIA1500 line, the Company will confirm with him to agree on the way of transportation, payment and installation.
Shipping method: Viet An free delivery and delivery to home for Mr Hai in Quang Binh.
If you are in Quang Binh or in other provinces that want to buy 1500 litres water filter lines, please contact Viet An at the hotline number: 0949.41.41.41
Viet An is always ready to serve the needs of all customers.