Supplying 5-ton ice making machine in Ha Tinh according to Contract No. 021/2019
Industrial ice making machine 5 tons - IVA5T of Viet An has researched and applied the most advanced clean ice making machine technologies of the United States and Japan to create clean ice machines that save 40% electricity. consumption compared to products using Japanese technology, an effective solution to increase competitiveness from an ice making machine and within a few months you can pay back investment the machine.
On March 21, 2019, Viet An General Trading Joint Stock Company exported IVA5T - 5 tons to Mr Hai in Ha Tinh according to the signed contract No. 021/2019.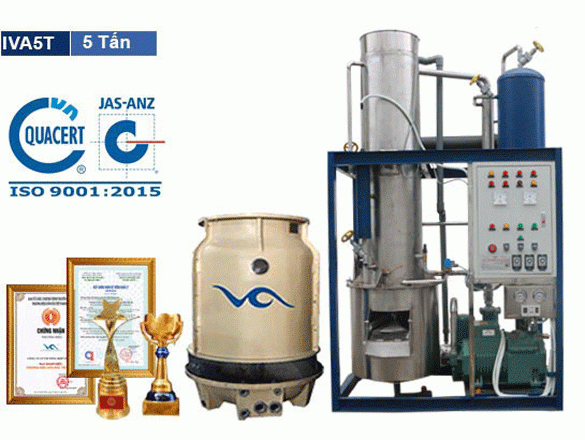 ice making machine 5 tons
Reasons for choosing 5-ton ice making machine - IVA5T
Mr Hai shared: IVA5T Viet An is assembled on US technological line, strictly complies with international standard ISO 9001: 2015, Viet An ensures the best and most modern product in Vietnam.
The industrial ice making machine is applied cooling system, cooling between wind and water with R22 solvent imported from developed countries, so the speed of ice making will be much faster than before.
The ice making process is fully automatic and self-contained, will not take much time to perform manual operations, saving more time.
Extremely attractive price, cheaper than other brands. In addition, enthusiastic and professional consulting services of Viet An will choose the product that you like and satisfaction.
5 ton ice making machine has an industrial design with dimensions of 1.6m x 1.4m x 3.5m, the weight of 1.7 tons is still very easy to install and optimizes space.
The machine operates smoothly, with low noise. In addition, the smart circuit automatically disconnects when there is an electrical problem, automatically adjusts ice making time, so it is very safe to use.
The components are made of high quality 304 stainless steel, which helps the machine resist corrosion, improve shelf life.
Basic structure of 5-ton ice making machine
- Evaporator: The heat exchanger between 2 environments is cold gas and the environment needs cooling.
- Compressor: 2-stage screw form, which works to cool air, gas.
- Condenser: Condensate gas is processed in compressor and then converted into liquid form.
- Refrigerant: R22 / R404A refrigerant gas for good heat transfer and cooling performance, imported from Japan.
- Cooling tower: Water cooling system and blower.
- Ice motar: The water cooling unit becomes ice according to the mold.
- Water pump: With the function of pumping water circulation to make ice.
- Valve system: Electromagnetic valve defrost ice, mechanical valve blocking condenser, ...
Learn about the compressor used in IVA5T
Structure of the device has 2 axes located parallel to each other, helical spiral. The two axes fit neatly in the body of the 5-ton ice making machine, designed the suction and push doors arranged at the two ends of the body.
Auxiliary valve system for compressors: Steel valves ensure the safest operation of the compressor. Pressure valve located on the oil supply pipe helps to improve the device's performance. Due to the logical design of the center of gravity and the screw position, the compressor reduces noise and ensures stability when operating the IVA5T ice cube making machine.
Oil pump system with a small flow rate provides the oil with different pressure levels, reducing energy consumption. In addition, the oil pump only operates during the start of the compressor and will stop when the device reaches a state of balanced operation.
Process of installing ice making machine in Ha Tinh
The process for installing the device for Mr Hai is as follows:
When Mr Hai wants to install a 5-ton ice-making machine in Ha Tinh, he left information and Viet An would contact again for free advice on products to suit the needs of users.
Viet An then sent technical staff to the field survey, consulting the location of IVA5T ice making machine.
When reaching an agreement with Mr Hai on the initial stages, Viet An will conduct the design and installation of the machine in accordance with the standard signed in the contract in order to maximize the cost.
If you are seeking advice on installing or repairing a 5-ton ice machine, please call Viet An hotline 0949.41.41.41 for the best support.