The contract for installing 180 kg civil machines in Thanh Hoa
Viet An specializes in providing 180 kg civil ice making machines with extremely perfect design with high-quality stainless steel material, beautiful design. The product has fast ice making capacity and larger capacity than conventional machines. The 180 kg ice cube making machine is rated as having a powerful engine with outstanding power, especially reasonable price suitable for business needs.
That is the reason that on February 16, 2019, in Thanh Hoa, Mr Hoang Viet Khoa decided to sign a contract No. 020/2019 to install a 180 kg civil ice making machine - VA400 of Viet An General Trading Joint Stock Company.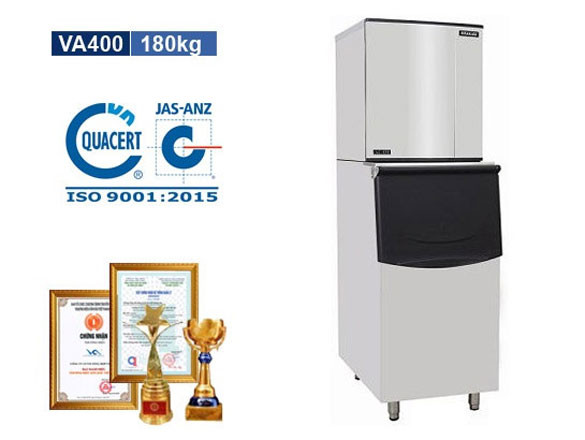 VA400 civil ice making machine
Today, Beverage businesses in Thanh Hoa are restaurants, cafes, milk tea shops, karaoke bars or even small shops. The common feature of these addresses is that they all provide drinks services to the people and most cold drinks cannot be without ice cubes. If the ice quality is cleaner, more uniform in size, the user will feel safe and will appreciate the product. Mr Khoa's supply of ice cubes in Thanh Hoa is a very suitable business model for the market.
Advantages of 180 kg civil ice making machine
Ice making speed is high-speed of VA400 ice making machine (180 kg)
Produced on the most advanced modern technology line, VA-400 ice maker (180 kg) Viet An has super fast ice making speed. After only 15 to 20 minutes of operation, the machine has completed a batch of pure ice cubes, quality guaranteed. This is probably the preeminent feature that Mr Khoa wants to have because most of the ice making machines now take a lot of time, effort and cost to finish the batch or take a lot of installation, complex test runs then commissioning.
Self-closing operation
During the time of operation, Mr Khoa did not need to perform any further action to affect the machine. 180 kg civil ice making machine works completely closed and automatic so he can completely rest assured that the finished ice is made very safe, hygienic and without infected. The closed operation also helps ice production save a large amount of electricity consumption, helping to reduce part of the cost.
Compact design for easy installation
With 150 kg ice storage box, the machine has an extremely compact size, convenient. The shell is made of stainless-steel material to create a beautiful product, anti-rust and anti-dust very effective. With a compact design, Mr Khoa can install the machine in any location. No need for racks or complicated pipelines, seams, no big noise in the operation process is the great point of VA-400 Viet An ice making machine.
What is civil ice making machine 18Kg suitable for any business model?
Ice products of VA-400 ice maker (180 kg) of Viet An have slow-melting properties and keep cold temperatures long. Thanks to this great feature, they are trusted by bars, beer restaurants, karaoke bars, large hotels to use the same drinks that contain alcohol such as cocktails, whiskey, making them longer and colder and make attractive taste. Besides, they also keep cold well for drinks in summer for cafes, refreshments, ...
In addition, high-quality ice also helps the product of VA-400 ice maker (180 kg) capable to pack and sell in the market. Hotels, supermarkets, restaurants can also pack and ice them in freezers to use for large customers without waiting for production ice.
Why did Mr Khoa use VA400 Viet An ice cube making machine?
With the outstanding advantages of the above equipment, it deserves to be the top list in the market of ice making machines today.
Using Viet An brand ice making machine will help Mr Khoa save cost and always take the initiative in clean ice source to serve his needs especially, during the hot and sunny season.
Being applied to modern technology, the machine has a self-contained and automatic operation mechanism without any human impact, so it ensures that harmful bacteria cannot penetrate during the ice making process.
Compared to the same products on the Vietnamese market today, the price offered by Viet An is the best price.
Above are the most basic things about a 180-kilogram civil ice making machine that Mr Khoa chose to install for his facility. With branches nationwide such as Hanoi, Ho Chi Minh, Da Nang, Buon Ma Thuot - Viet An, it will make it easier for customers to access products. Call the phone number: 0949.41.41.41 today for the most specific and accurate advice. Thank you very much!