The contract to supply ice cube making machine 10-ton in Ho Chi Minh
Viet An General Trading Joint Stock Company is proud to be the Number 1 unit of exclusive import and distribution of 10-ton ice making machine in Vietnam. With nearly 20 years of experience, we have installed thousands of pure water production lines, ice cubes making machine whole over the country. Many major partners have used Viet An's products such as Sam Sung Company, Nam Gia Lai Company, ... and many other companies and individuals.
On February 20, 2019, Mr Ngo Thanh Tung visited by Ho Chi Minh Branch - Viet An Trade Joint Stock Company to see the machine. Through the process of researching before and being consulted by Viet An, Mr Tung decided to sign the contract 022/2019 to buy ice making machine - IVA10 10-ton.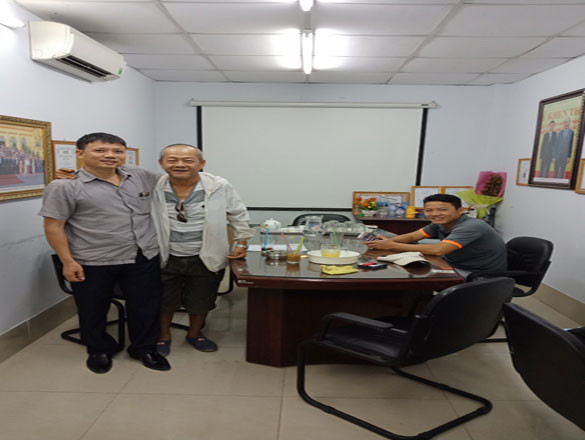 Signed contract No. 022 with customer
The basic structure of ice making machine 10-ton
Radiator fan.
Circulating pump.
Automatic machine control system (helps to customize the ice making time, also the type of ice you want to create).
Throttle valve: it is responsible for speeding up ice making.
The crude filter column comes with the machine to remove impurities in the water source.
Compressor.
Condenser system.
Refrigerant.
Evaporative staging system.
Ice cubes quality of ice making machine 10-ton
About size: ensuring the standard is 18x30 according to the ice mould designed to meet Mr Tung's needs.
Output: maximum of 10 tons/day due to being equipped with extremely powerful and outstanding capacity to allow continuous and stable production of ice cubes, without being stalled or jammed.
Colours: thanks to the water filter that can handle dirt, effectively disinfect bacteria with components made of stainless steel material, the ice cubes will have transparency, can see through the light, it is not stained or cloudy. When dissolved in water, it has not deposits and impurities are harmful to human health.
Time of melting: ice cubes of 10-ton ice cubes making machine - IVA10T has the oldness, better hardness than other devices on the market very much. The ability to keep cold for a long time, when left in the air, at room temperature will dissolve more slowly, help preserve food like frozen, fresh still retain the delicious, perfect taste like the original.
Production process: cold ice of the closed IVA10T ice making machine is completely automatic, automating stages so it will save time, ice cubes always ensure food hygiene and safety.
Mr Tung has combined with VAMĐ2000 RO filter line with modern reverse osmosis technology invented by the United States of Viet An monopoly to make ice cubes with the most perfect quality, ensuring safety for users' health. while saving costs and increasing revenue and maximum profits.
Great use of IVA10T ice making machine
Processing food and drinks: is one of the main effects of ice cubes because of its ability to quickly cool, long-lasting, no taste, so it is suitable for mixing drinks such as smoothy, coffee, tea, ... In addition, cold ice of ice making machine 10-ton is also used to make salads, cold noodles, ...
Preservation of food: for fresh foods such as seafood it is necessary to ensure freshness or frozen fruits and vegetables need to keep crispy, ice cubes are really necessary and useful.
Beauty: an unexpected use right? For girls, this is an extremely effective and rejuvenating skin rejuvenation method that is cheap to use compared to expensive cosmetics. Just 1.2 ice cubes are used regularly every day, after a short time, your skin will be shiny, elastic and always pink, radiant.
Repair service when ice cubes making machine is broken
- When an incident occurs, Viet An will immediately dispatch technicians to businesses areas of Mr Tung - to check and advise the best solution.
- If the device is malfunctioning, it can be handled simply and quickly for no more than 2 hours.
- Announcing the specific price list for each repair service, low price commitment, best quality guarantee.
- After being repaired, technical staff will retest and re-operate the machine, when the machine is running well, it is stable, then pay the service fee and receive the warranty card.
Viet An Company ensures that 10-ton ice cube maker is the best product on the market. Come to our company, you will be able to use the best ice making machine products. In addition, customers also enjoy great deals and excellent after-sales services that are not available anywhere.