The visit to a pressure-filling machine 1000 bottles of the customer in Viet An
On March 3, 2019, General Director of Song Da Beer Company, Mr Nguyen Hong Son, with his family visited Viet An General Trading Joint Stock Company and ordered a 1000-bottle isobarometric filler machine for automatic beer extraction. This system will be installed in Son La City, Son La Province with a capacity of 1000 bottles / h. And on March 5, 2019, Mr Nguyen Cong Hoan - representative of Viet An Company will go to Da River Beer Company to survey and design the factory premises.
The 1000-bottle isobarometric filling machine is the most modern machine on the market today, manufactured on advanced lines. Automatically rinsing, washing the bottle with RO purified water, filling and pouring water automatically, ensuring to meet the requirements of food hygiene and safety of the Ministry of Health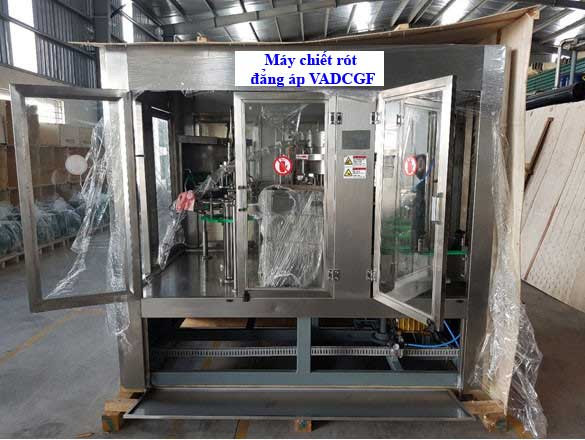 Song Da consulting, investment and production and investment consulting services Co., Ltd. (Song Da Beer Company) was established in 2002 and is located at Group 5 - Quyet Tam Ward - Son La City - Son La Province. The main business of the company is agriculture, forestry, fisheries and some other industries.
Advantages of 1000-bottle isobarometric filling machine
Here are some preeminent points that Mr Son decided to buy an isobarometric filling machine of Viet An:
Machine with inox304 structure, quiet operation, excellent automatic features, low labour intensity.
All direct contact parts are made of stainless steel material used in the food industry, without dead corners so it is easy to clean.
Adopts advanced valve system to control the flow rate of the liquid. It can keep a stable level of liquid in the tank and ensure accurate filling.
Automatically close the valve when there is no bottle in the machine to avoid material loss. Automatic filling with high speed and control of precise material level.
Magnetic torque device is applied in the screw cap head to ensure high-quality screw cap.
1000-bottle isobarometric filling machine adopts an efficient cap filling system and protection device.
There is an overload protection case system, which is used to effectively protect equipment and operators.
Due to the operation of a touch screen, the state of the operating device is clearly shown.
Major electronic devices such as touch screens, PLCs, sensors ... they are used by famous brands.
Viet An is a supplier of the most reliable quality isobarometric filling machine 1000 bottles
At present, there are many units providing poor quality products in the market, losing the trust and confidence of customers. If purchased, it will cause consequences to the production process. So be a smart buyer, go to reputable units such as Viet An General Trading Joint Stock Company to own the most rigorous, ISO 9001: 2015 standard filling products today
Long-term maintenance warranties, quick payment procedures, instalment assistance, top quality and extremely competitive prices.
Dedicated and professional customer care team, Viet An Company has become a reliable partner to provide products such as water filtration lines, filling machines, ... of many companies and big corporations in the country and abroad. With the aim of bringing the best benefits to customers, Viet An is committed that customers will be able to use the best products, enjoy the best deals that no one can get.
When buying, you will be consulted, transported and installed completely free of charge nationwide.
To purchase a 1000-bottle isobarometric filling machine, you can go directly to the branches of Viet An branch: Hanoi, Ho Chi Minh, Da Nang, Buon Ma branches or contact hotline directly: 0949.41.41.41 for free advice! Thank you very much!