Tube ice making machine
What is the USApec-VA technology ice making machine? What stands out to buy USApec-VA pipe making machine? Where to buy an ice making machine and how to use it properly? These are the questions that the customer care department of Viet An Joint Stock Company recently received from customers. Through the article below, Viet An will help customers answer these questions.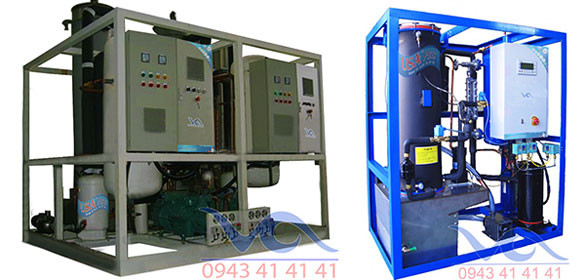 Viet An General Trading Joint Stock Company is one of the leading companies in exporting and importing, supplying and producing all kinds of VA pure tube ice making machine, domestic and industrial water machine. The company's products of making and manufacturing stone pipes always get the trust and reception of the people, along with the warranty, maintenance and dedicated customer care services that have taken the company. The company has become the leading choice in providing pure industrial tube stone machine products, water purifiers, and many other machines.
The USApec tube ice making machine
Ice tube making machine is currently one of the hottest ice products. Specially used to produce all kinds of tube ice cubes with many different sizes to fully meet production needs as well as demand. The machine has a pure water filter system assembled according to the most modern technology of the United States. The production process is ISO 9001-2015, the most strict and elite international standard today. Thanks to the application of superior water filtration technology, eliminating the toxins in the water, ensuring ice meets food safety standards of the Ministry of Health on pure tube ice, contributing to protecting human health.
The USApec pure water treatment is one of the outstanding processing technologies of Viet An general trading Joint Stock Company. With more than 20 years of experience in the water industry, we are a leader in providing solutions, domestic water and water treatment equipment and especially providing pure water treatment equipment. Viet An has received the support and interest of many business units at home and abroad.
The reasons you should choose USApec tube ice making machine
The machine has the speed of making pure ice tube fast, safe and clean.
Cooled machines system by wind
Automatic control system.
Purified water is cleaned with disinfection technology.
Pure ice making machine made of stainless steel and heat treated ensures the best heat transfer performance.
Especially, American industrial tube ice making machine is guaranteed for the northern region and has a power saving of 12% (saving electricity costs on average 25,000,000 VND /machine/year for an investor) compared to conventional machines.
Stable performance, pure pellet machine with high-end compression system, imported from Japan and America.
The noise of the tube ice making machine is low, the device is designed firmly.
Pure ice making machine with air cooling system, ice cube making machine can operate 24/24.
The LCD control system, automatic programming.
The finished ice size of clean ice making machine is diversified.
Pure tube ice making machine is improved, operated and designed to suit the climate conditions and water source characteristics in Vietnam.
Anti-corrosion, easy to clean
Operation system of automatic pure tube ice machine, saving labour.
Some specifications of tube ice making machine
Machine size: 2.2 × 1.6 × 4.9
Weight of ice tube making machine with no load: 4500Kg
Power consumption: 75 (+ -10%) KW / h
Voltage: 380V
Brand, origin: Genuine goods, Company Goods
Tube ice making machine for pure production of tube ice:
Large ice cubes (L): 47 x 80mm and 44 x 80mm, used to drink beer, drink soft drinks.
Average ice cubes (EM): 38 x 40mm used to drink iced tea
Small-medium tube ice cubes (M): 34 x 40mm will be used to drink smoothy and fruits ...
Small ice cubes (S): 19 x 20 mm, using coffee, juice, and prepared drinks.
Where should I buy pure tube ice making machines at reasonable prices?
Being one of the leading companies in manufacturing and importing industrial pure ice tube making machines. We always apply the most advanced technology of ice cube making machine of the countries in the world, products of tube ice making machine of Viet An general trading joint stock company are always the most outstanding products on the market today. Industrial tube ice making machine is the exclusive distribution product of Viet An general trading joint stock company under the VA brand in Vietnam.
To buy the most genuine and prestigious products, please go to Viet An's branches nationwide to get advice and support in the most accurate way.
Hanoi branch
Showroom: 615 Nguyen Hoang Ton, P. Xuan Dinh, Bac Tu Liem,
Phone: 09 42 41 41 41
Ho Chi Minh City branch
Showroom: 40 Nguyen Anh Thu, Tan Chanh Hiep Ward, District 12, Ho Chi Minh City.
Phone: 09 49 41 41 41
Da Nang branch
Showroom: 27 Nguyen Tat Thanh, Thanh Khe District, Da Nang City
Phone: 09 42 41 41 41
Buon Ma Thuot branch
Showroom: 153 groups 7, Khánh Xuân Ward, Buon Ma Thuot City
Phone: 09 49 41 41 41
Viet An Refrigeration Electrical Mechanical Factory
Address: Quang Minh Industrial Zone - Mê Linh - Hà Nội.
Hotline: 09 43 41 41 41
Or customers can contact directly via the hotline to get the best advice from a technician about pure ice making machine.
Sincerely thank!