VAQGF100 bottle filling machine made in Bac Ninh
VAQGF100 bottle filling machine, supplied by Viet An company, applies the advanced production technology, automatically rinses, wash the bottle with pure water and automatically fills and closes the bottle, ensuring the satisfaction of requirements of Ministry of Health's for food hygiene and safety.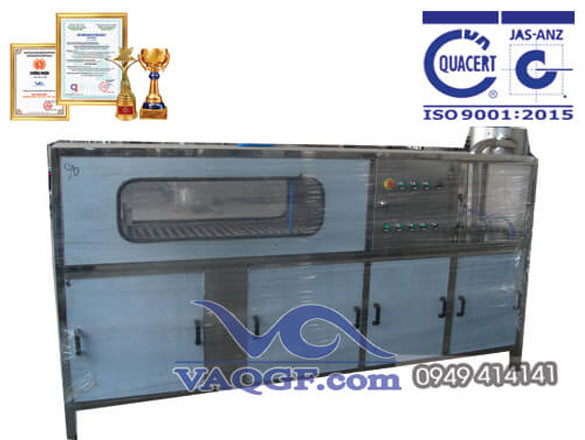 VAQGF100, the number 100 corresponds to a capacity of 100 bottles/hour. VAQGF100 bottle filling machine is manufactured according to the modern technology of the United States and is assembled in the US, Taiwan, and Shanghai according to ISO9001-2015 and is directly distributed by Viet An.
Through searching on the internet and seeing many benefits from the business of pure bottled water, recently on 24/7/2019, Mr Dong from Bac Ninh has decided to sign a contract of VAQGF100 bottle filling machine - 1034/2019 VAQGF100 with Viet An General trading Joint Stock Company. Certainly, with this business model, his facility will grow rapidly and win customers' confidence when using our quality products.
The main stage of 3 in 1 VAQGF automatic bottle filling machine
Viet An would like to offer the automatic stages of the 3-in-1 automatic bottle filling and filling machine VAQGF 100 for customers to know the process of the machine as follows:
VAQGF 100 includes 3 automatic stages: washing the filling bottle and closing the bottle.
Rinse stages: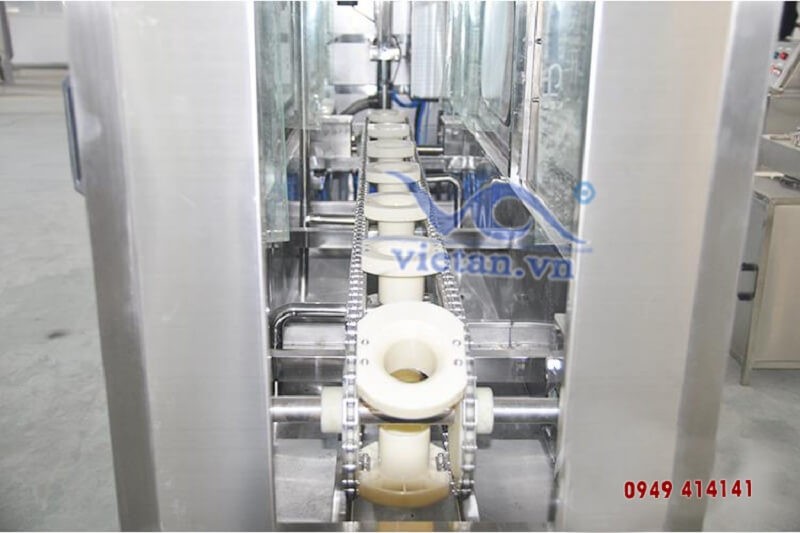 Bottle washing chains
Bottle holder
Motor conveyor
Stainless steel pressure pump 304
The bottle caps that have been withdrawn will be sent to the container holder during the automatic rinsing process of the VAQGF100 bottle filling machine. The jar shell will be fixed and moved by the conveyor chain under the action of the conveyor motor.
Washing stage is equipped with a 304 stainless steel head pump genuine imported from Italy. This pump is used to pump pure water and sterilized ozone into the 5G tank shell to clean the inside of the jar before bringing it to the filling unit.
Bottle filling process: The 3 in 1 VAQGF 100 automatic bottle filling machine has 1 iNox 304 extraction nozzle with extraction effect according to certain norms already installed on the control panel. Pressure spring system carries water to the filling nozzle. Combined with the 304 stainless steel head pumping system creates a potentiometer, creating pressure to filling the water.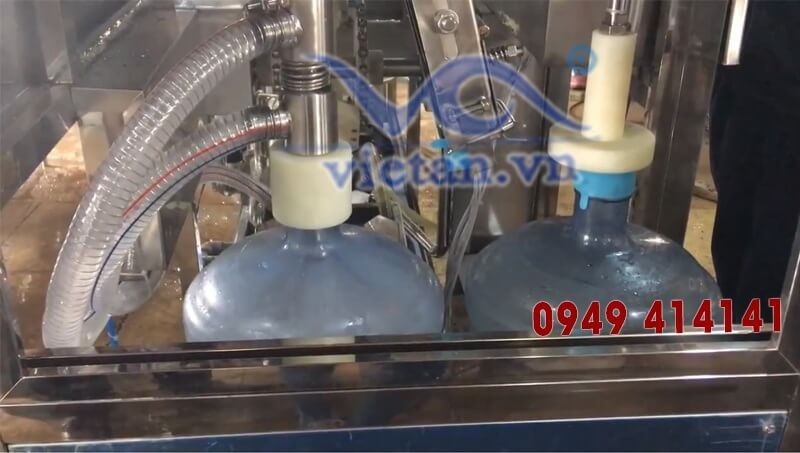 The process of closing the bottle cap: cap stamping parts for small neck type without threaded, combined with conveyor parts made of 304 stainless steel loading the jar with a roller system. There is cap screw part to put in the lid and a hydraulic cylinder to push the water bottle out.
Above are the main stages of the 3-in-1 automatic bottling filling machine VAQGF 100, in addition to increasing productivity, we also provide auxiliary machines to help the filling process more take place efficiently
Some auxiliary stages purchased separately (optional)
Inside and outside washing machine lid dispenser
light inspection
Steam bottle shrink machine
Thermocouple shrink wrap machine
Stainless steel conveyor for water tank
Benefits when Mr. Dong uses a bottle filling machine of Viet An
The machine is manufactured using the most modern filling technology of the United States
Compact design machine, durable 304 stainless steel, easy to operate
There is an intelligent control panel that automatically switches off when something goes wrong
Has a fully automatic PLC control system imported from Korea, Japan
Filling process ensures food safety and hygiene for bottled drinking water
With 3 automatic stages, the VAQGF 100 will help Mr Dong's enterprise save the cost of hiring 2 workers, and after one year, it can pay back the capital.
Long-term warranty of up to 12 months and almost lifetime maintenance of the machine
When buying bottled filling machines of Viet An, Mr. Dong will enjoy the following privileges:
When buying VAQGF100 bottle filling machine in Viet An, Mr Dong will be consulted and instructed about the bottle filling machine in detail, any questions will be answered quickly and accurately by us. Customers who buy the VAQGF 100 bottle filling machine will have a 1-year product warranty with long-term maintenance along with many attractive gifts and after-sales regime.
We will advise and design the ground, advice on the filling machine production process as well as legal documents to help you save costs appropriately.
In addition, we also assist Mr. Dong to design and print bottle labels, support bottles to connect with suppliers of plastic bottles, shrink films, etc. as well as consulting and sharing business strategies.
Thank Mr Dong for trusting and choosing Viet An to accompany. Viet An would like to wish your bottled water production facility is developing strongly and having more opportunities to cooperate with us.
Viet An is committed to providing customers with the highest quality and most prestigious products, all the machines we provide are certified and tested by the competent authorities. Customers across the country wishing to own bottled filling machine products, please contact the hotline: 0949 41 41 41 or 0943 41 41 41 for advice and support. Viet An sincerely thank you.
See more: 2 ton ice cube making machine is exported to Mr. Tan in Lao Cai