Viet An celebrate Ky Hoi spring in 2019
In the morning of February 11, 2019, on the 7th day of the Lunar New Year, Viet An General Trade Joint Stock Company held a ceremony to commemorate the Ky Hoi 2019 at its office at the address: Lot 43D1, Quang Minh Industrial Zone, Me Linh, Ha Cabinet. This is an annual activity of Viet An, aiming to start a new year full of excitement, enthusiasm and success.
The first day of the year is an occasion for all leaders and employees of the Company to gather, meet and exchange good wishes, affirm Viet An's cultural values. Attending the Spring Opening Ceremony, there was the participation of Mr Nguyen Khac Diep - Chairman of the Company, Mr Nguyen Cong Hoan - Company Director and Ms Nguyen Thi Hang - Deputy Director of the Company and all officials and employees. Speaking at the opening ceremony of Ky Hoi Spring 2019, Director Nguyen Cong Hoan thanked the contributions of all employees to the overall success of Viet An.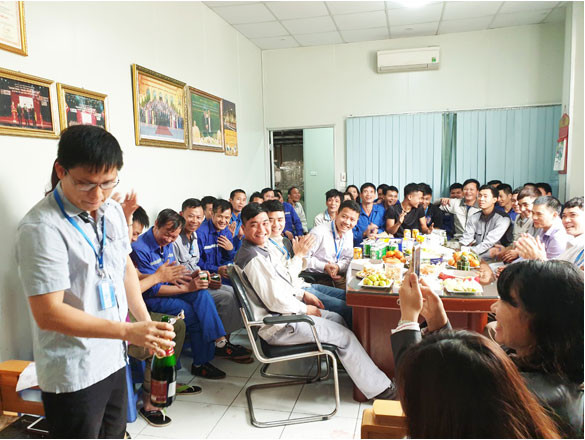 After the early spring wine rite, the Board of Directors also carried out the giving lucky money tradition at the beginning of the year in the joy of all employees. Together with the atmosphere of springing and jubilation in the first working day, Viet An and all members of the family are ready for an effective working year to conquer new goals.
The collective of employees of Viet An General Trading Joint Stock Company thanked the Board of Directors for their interest and at the same time promised to join Viet An collective to solidly overcome challenges, seize opportunities to grow stronger.
After Celebrate the Lunar New Year 2019 party, the departments and units in the company went to the New Year. Everyone wished each other good wishes, looking forward to a prosperous and prosperous New Year.