Viet An export contract ice cube making machine to Ho Chi Minh
Proud to be the largest manufacturer and supplier of ice cube making machines in Vietnam, Viet An's ice making machine is always trusted and welcomed by companies, factories and people. We specialize in providing the most prestigious quality industrial machines - this has made Viet An become the No. 1 choice of domestic and foreign customers in the field of supplying ice making machine products and  water filter line, filling machine ... and many other industrial machine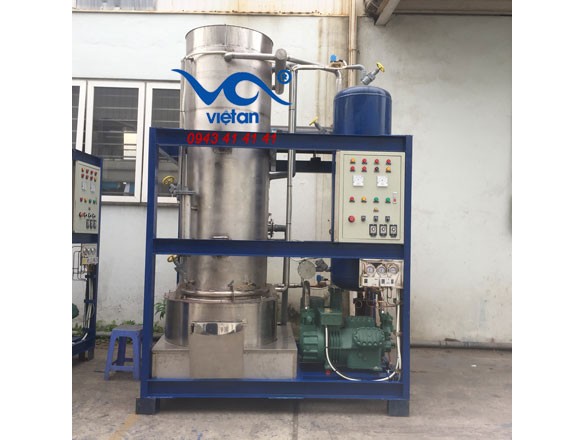 Viet An exports ice cube making machines to Mr Son - Ho Chi Minh
On April 25, 2019, Viet An General Trading JSC shipped goods to Mr Son in Ho Chi Minh City under the signing contract MDD2019HCM 075 the lines of machines he selected that was IVA7T ice cube machine with size of 18x25 (mm) ) and IVA5T ice size 48x80 (mm).
Ho Chi Minh City is the most populous city in Vietnam so the economic activity here is quite favorable with the climate of two distinct dry seasons, the pure ice business is extremely reasonable and this will be great source of profits for you.
Special advantages are only available in Viet An ice making machine
Ice cube machine is designed to compact, quality, stable and durable operation to bring high performance, save energy, easy to operate.
Components Use 304 stainless steel should increase the life of the machine, at least 15 years and not corroded by oxidation, or rust. Therefore suitable use in severe weather in Vietnam.
Using directly imported R22 refrigerant to ensure the health of users. Refrigeration method of international standards should be safe for finished ice products to be used in daily living and eating.
Thanks to a good silencer system, Viet An ice making machine has small noise, less affected by people around.
Compact design, lightweight, industrial but still highly aesthetic. Making the installation process of ice making machine simpler and more efficient. The device is suitable for 24-hour use without worrying about damage.
The automatic electrical system helps the machine, automatically disconnects when something goes wrong or adjusts the time so that it can make stones of different widths and operate the machine easily and simply.
The machine is used in combination with an advanced line of water filtration that is safe for health, has an automatic alarm system. Pure water filtration system RO or Nano technology helps our ice cubes meet standards and ensure food safety and hygiene.
The equipment and accessories come with ice making machine for Mr Son
Packing system (G7): The packaging system replaces people by automatically packing ice into bags when there are sufficient materials, including ice cubes and pouches, to make the production process happen faster and safe hygiene when there is no contact of human hands directly to the ice cubes
Cold storage (KL 18): Selecting 2 models of ice making machines of 5 tons and 7 tons, every day the machine will produce 12,000 kg of ice, so Mr Son needs to equip cold storage to avoid the situation after production the ice will be melted by ambient temperature, especially when the current temperature is hotter.
Water filtration line for ice machine (VAMĐ750): With this water filtration line, Mr Son can be completely assured of the quality of ice cubes produced, because this is a modern RO water purification technology every hour filters 750 liters of water.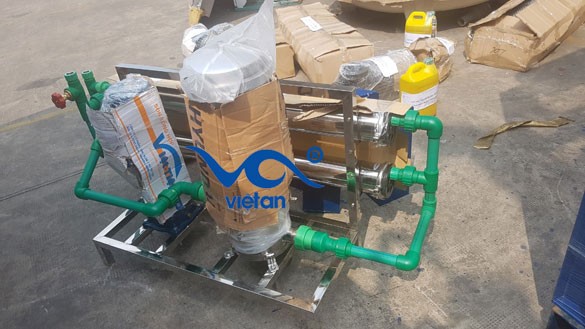 VAMĐ750 water filtration line
Cooling tower: providing optimal cooling efficiency, stable cooling machinery will operate smoothly, limiting incidents and failures, so Mr Son's ice making machine will not cost money to repair. Repair and maintenance of machines regularly. Therefore, saving a great expense.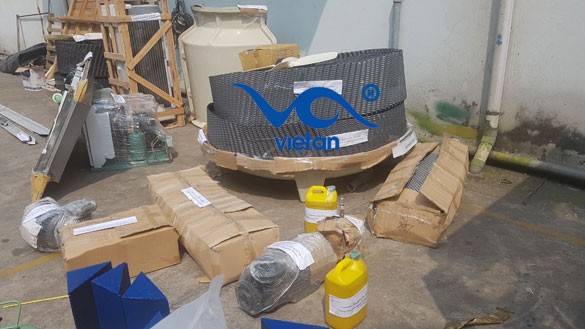 In order to install the ice maker machine smoothly, Mr Son needs to prepare:
The input water tank and water pipes to the location where the ice making machine so Mr Son should be prepared
Supply 03 phase (380V) power to the machine,
Water source meets the standard of living to produce pure ice according to the regulations of the Ministry of Health as well as the means of conveying the above sources are always stable in accordance with the initial conditions to the foot of the project in order to create conditions in during installation and operation of the machine.
Parts related to building factory, Mr Son should be carried out as follows:
           + Workshop put ice making machine system
           + Place for storing water tanks
           + Location cooling tower
           + Location of cold storage.
Viet An will support you with issues such as:
Support the design of stamps, labels for businesses
Mr Son will be provided with free shipping, installation and operating instructions
We will also advise you on a business strategy to make it easier for you to capture the market.
With Viet An ice machine, he will have 1 year warranty and long-term maintenance
Whenever machine malfunction, just contact the hotline 1900 6013 we will appoint a technician to assist and repair.
In order to make ice cube making machine work well and achieve the highest quality, he also needs to regularly clean the machinery of water pipes to avoid bacteria from intruding. This will also help ice machine to achieve long life and reduce the Unexpected failure damage affecting the manufacturing process.
Viet An thanks Mr Son and all our customers for nearly 20 years for always and support to put their faith in us. Viet An Company is committed to bringing the most prestigious and quality industrial ice machine products.