Viet An exported a water filtration system 1000 litre to Mr Toan in Nam Dinh
The water filtration system 1000 litres is one of the lines which is selected and bottled by many establishments. With the ability to quickly filter 1000 litres of pure water per hour, it will meet the demand of producing pure water.
On January 22, 2019, Viet An Joint Stock Company exported VACA1000 water filtration system to Mr Tran Van Toan under the contract 004/2019 signed with Mr Nguyen Trong Tan in Nam Dinh recently.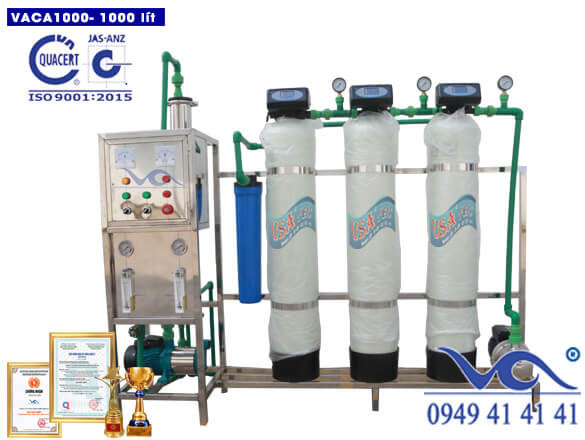 Using  water filtration system 1000 litres to trade in Nam Dinh
Clean water resources are increasingly scarce due to the abuse of stimulants, pesticides that have affected people's water supplies. The water source used by people in their daily activities mainly comes from ponds, lakes, reservoirs of rainwater and groundwater taken from wells and drilled wells, and the percentage of people using clean tap water is very small. Every day, people still bathe and eat and drink with these water sources, because of not ensuring hygiene, so the risk of intestinal diseases and skin diseases is very high. So the use of pure clean water, bottled water to ensure hygiene is quite a pressing issue in Nam Dinh.
In order to solve the worries about unsecured water, as well as providing quality drinking water to consumers, Mr Toan has installed a water filtration system 1000 litre of Viet An.
Viet An Company is a company specializing in manufacturing and distributing all kinds of water filtration lines, filling machines, ice cubes with different capacity levels to meet the needs of domestic and foreign customers.
Advantages of water filter line VACA1000 Viet An
The filtered water meets the standard of PET bottled, bottled pure water as prescribed by the Ministry of Health (QCVN 6-1: 2010 / BYT). Thoroughly handling heavy metal residues in water such as arsenic, ammonium, iron, calcium, magnesium, manganese, lead, chlorine, mercury, ...
Simple and quick washing of the material with a multifunctional 3-door valve, the intelligent 5-door valve automatically restores the materials to increase the life of the material.
Comprehensive bactericidal system of 3 effects: Ozone machine and UV lamp (ultraviolet light) kills 99% of pathogenic bacteria, viruses, parasites, bring pure and safe water for health.
The 1000-litres water filtration system uses ultra-durable composite pressure filter, good sun and rain, the life expectancy of up to 20 years.
Viet An's specialized filter materials are imported from the US, UK, India and the Netherlands with 5 times the filtering efficiency and 10 times longer life than normal materials on the market.
VAMCB 60 bottle filling machine accompanied with a 1000 litre water filtration system which is one of the specialized equipment used for filling pure drinking water and carbonated drinks. Products are manufactured according to the most modern filling technology of the United States.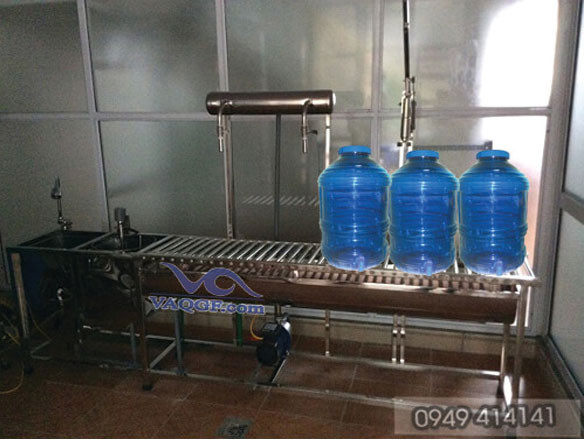 VAMCB60 is produced and distributed by Viet An Company nationwide. With a capacity of 60 cylinders/hour with many outstanding advantages compared to other types of semi-automatic bottle filling machines in the market.
Some basic specifications of VAMCB60 Semi-automatic Bottle Filling Machine
+ Material: Machine made from stainless steel.
+ Manufacturer: VA
+ Production standards: ISO 9001-2015
+ Stage includes 3 effects: bottle washing, bottle extraction, capping.
Viet An is committed to Mr Toan and other customers
100% refund for you if the filtered water does not meet the QCVN standard for safe, healthy water prescribed by the Ministry of Health.
Compensate for the amount of 1000 litres water filtration system and other machines if you find counterfeit and counterfeit goods. Because Viet An only provides genuine products, clear origin.
Provide a total solution from A to Z for you: Surveying, consulting solutions, transporting equipment, construction and installation, maintenance.
Process of installing water filtration line for Mr Toan in Nam Dinh
When Mr Toan had a need to install the water filtration line in Nam Dinh, he left the information and we contacted him as soon as possible to consult the product for free to suit the user needs of the area his plan to invest in.
After that, we will send the technical staff to the field survey, consulting the location of 1000 litres water filtration system, guiding how to bring the water samples for testing,...
When agreeing with Mr Toan on the initial stages, Viet An will design and conduct the installation of water purification line in accordance with the standard signed in the contract so as to optimize the most cost and ensure the quality of clean water.
If you want to buy a 1000L water filter system of Viet An, please contact us directly on the hotline 0949.41.41.41, to be consulted more carefully by Viet An experts. Viet An looks forward to the opportunity to cooperate with customers! Thank you.