Viet An exported IVA3T ice cube making machine contract to Mr. Rithea - Cambodia
Viet An is a leading and reputable company in the field of supplying IVA3T ice cube market - 3 tons of ice per day is reputable, quality and high-efficiency, nearly 20 years of construction and mature, is an enterprise with many years of experience in the field of manufacturing and manufacturing leading ice making machine in Vietnam. We are proud to be the leading enterprise in manufacturing ice making machine for shaved ice, pure tube ice with different production capacity. Water filtration line, filling machine, bottle capping machine of Vietnam leading quality.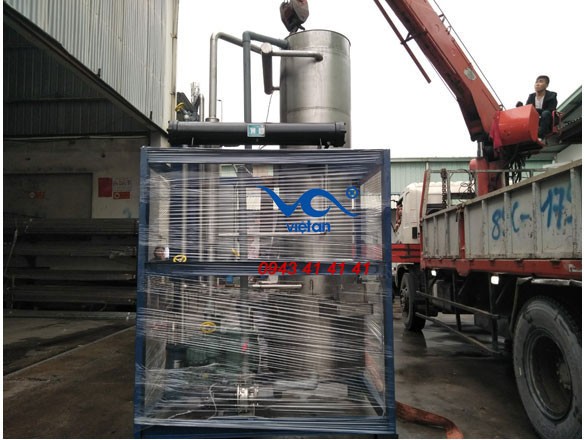 Viet An is manufacturing IVA3T ice cube making machine for Mr Rithea in Cambodian
Recently, Viet An was very honored to have signed a contract 046 IVA3T47 with Mr Rithea - a citizen from Cambodia. Certainly, when cooperating with Viet An, he will contribute a lot of benefits from pure clean ice produced by IVA6663T ice machine, to provide for the needs of people in here.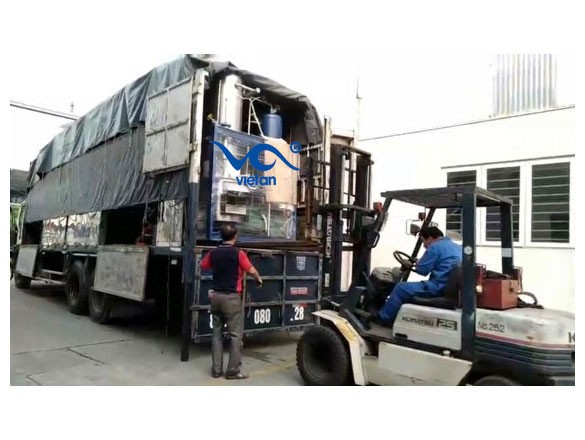 Among the numerous units produce IVA3T ice-making machine, Mr Rithea still chose to sign a contract with Viet An.
Benefits when using ice making machine IVA3T
Each Viet An ice making machine product is a perfect combination of modern technology and closed lines. Components and parts of machines are imported directly from famous countries with clear origin. For example German compressors, US filter cores, Japanese solenoid valves, ...
IVA 3T Viet An ice cube machine system manufactured according to International Standard ISO 9001-2015 is certified and issued by the quality safety department.
Understanding the climate of Southeast Asian countries, Viet An designed the body and body of stainless steel 304 stainless steel to increase the service life to 20 years.
Ability to save maximum power consumption or save labor and production costs. Increase quality and revenue for manufacturing units.
The output of IVA3T - 3 tons ice cube maker Viet An is the best among the same function machines in the market. Especially closed system should ensure safe and pure quality. No human impact should ensure food hygiene and safety issued by the Ministry of Health.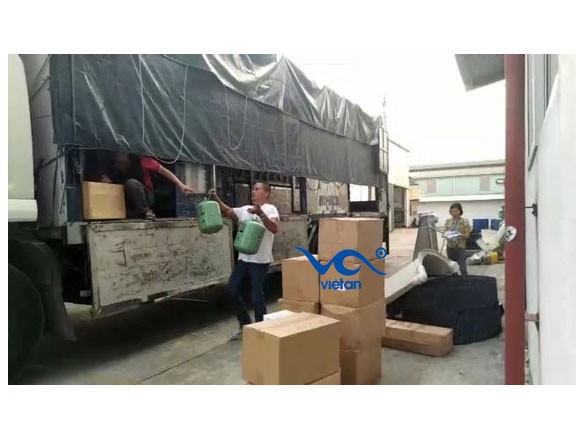 The components come with IVA3T ice machine
Viet An offers Mr Rithea a chance to buy IVA3T ice making machine
Commitment to the ice cubes to produce 100% pure purity.
The company will help customers know when to clean the machine via SMS messenger.
100% refund if providing fake ice machine - the quality of making ice is not as committed.
Viet An has a warranty for all products for 12 months.
The shipping policy is to install the machine for free in Vietnam. In the case of Mr Rithea, Viet An will support transportation to the border gate after which you will have to bear the costs and procedures from the border gate to the place you want to install.
Discount card discount - worth tens of million.
The forms of payment for pure ice machine products range from bank transfer to direct receipt.
Many attractive gifts accompanied
Viet An General Trading Joint Stock Company is proud to be the first unit to produce automatic clean ice machines for public health. Each ice making machine made by Viet An company is a message that the company wants to send to customers and businesses: "Please respect your health more, listen to the voice of the body - by using clean ice from Viet An ice making machine ".
Mechanism of operation of IVA3T ice making machine - Mr Rithea chooses
Ice making machine is a product of the field of refrigeration. They have the main function of crystallizing water molecules from liquid to solid to produce ice products or we know them as ice cubes.
The cooling mechanism of IVA 3T - 3-ton ice cube maker is: We use a special solvent (We often call it gas). Thanks to the compressor motor (often called the block), the compressor converts the solvent from liquid to gas (vapor). This gas is pushed through a ice mortar, in ice mortar, the gas is indirectly exposed to water through the contact surface of stainless steel pipes. Here the process of heat exchange occurs: The gas vapor collects the heat of the water, making the temperature of the water gradually decreases to the appropriate negative temperature, the water molecules will crystallize, freeze water into ice, and vapor gas after the endothermic of water will turn into a liquid solvent and pushed to the compressor to continue the process.
To get ice cube products meeting food hygiene and safety standards for consumer markets: There are two deciding factors that are the quality of IVA 3T ice cube machine and the quality of water put into the product ice.
About Cambodia, where Mr Rithea lives
Cambodia is a country of about 181,035 km². The climate of Cambodia is similar to that of other Southeast Asian countries, dominated by the monsoon. The climate is dry and humid markedly seasonal. The temperature ranges between 21 ° C - 35 ° C. This is a very favorable condition for a Rithea to be able to trade pure ice.
It is expected that this is a potential market in the future, the industry of manufacturing industrial ice will be further developed. In 2019, Viet An will also actively expand the market - seeking customers to cooperate and develop not only in Cambodia in particular but in ASEAN countries in general.
Certainly, with the potential market in Cambodia, Mr Rithea will quickly payback and bring his production base to further develop with IVA3T ice making machine, hope that Viet An will have more opportunities to cooperate with him. Thank you for choosing Viet An!