Viet An exported the filling machine of VACGF2000 to Ms Hoan in Bac Giang
Viet An is a leading company in the field of installation and distribution of bottle filling machine of VACGF2000 and some other products such as the leading prestigious water filtration, ice making machine, ... in Vietnam. That is why Ms. Hoan decided to invest in VACGF 2000 filling machine of Viet An.
On January 19, 2019, Viet An Trade Joint Stock Company exported the filling machine of VACGF2000 and accessories for Ms Vu Thi Hoan - Bac Giang in accordance with contract 238/2018 signed with Mr Nguyen Cong Hoan.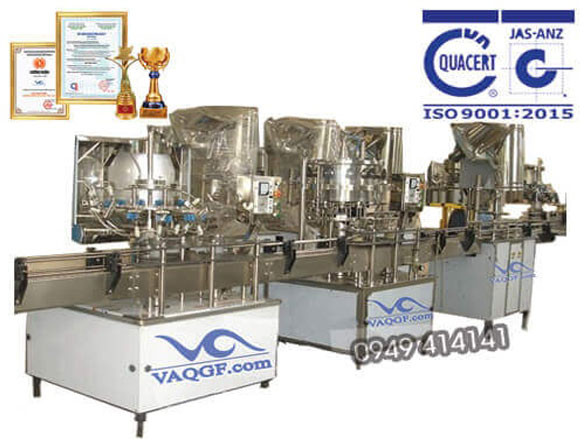 The reason Ms Hoan decided to buy VACGF2000 bottle filling machine system
Bac Giang is a city with a natural area of ​​3,823 km2, of which the proportion of hilly and mountainous land accounts for 28.9%, but mainly limestone, so the groundwater source is severely contaminated with limestone. If people use this water for days, eating and drinking are very susceptible to certain skin diseases, kidney stones, gallstones, etc. In addition, the economic development with industrial parks and factory, ... also contribute to the water source here is heavily polluted when untreated wastewater discharged into rivers.
Water plays an extremely important role in people's lives, so Bac Giang people have chosen PET bottled and bottled drinking water for their consumption. That is a favourable condition to help Ms Hoan choose to buy Viet An bottled filling machine system to provide clean water for Bac Giang people as well as restaurants and hotels in here.
Briefly about Ms Hoan's VACGF2000 bottle filling machine
VACGF 2000 Bottling Filling Machine has 3 main stages:
Stage 1: Automatic bottle washing
Stage 2: Automatic bottle filling
Stage 3: Close the lid and push the bottle out
Strong points of VACGF2000 bottle filling machine
Filling machine is a device used to pour liquid products such as water, milk, shampoo, ... into bottles and jars. Or solids that need to be melted before being extracted into bottles or jars: wax, cake soap, candles ... Filling machine when applied to production will ensure productivity, as well as product quality.
Filling machine applied modern technology from the United States will have many strong points such as:
US technology filling machine has great accuracy and performance
Most of the filling machine products from this technology have used various types of pistons to pump as well as extracting solutions into bottles, special vials of filling capacity can be installed on the touch screen, helping to The product is properly extracted.
The types of filling machines currently used in US technology are designed to be very easy to use, greatly increasing productivity.
VACGF2000 bottle filling machine equipment enhances product value
The second advantage when you use filling machine to apply US technology is that the products will be poured thoroughly, with contact parts made of stainless steel 304 so it is resistant to corrosion Good and easy for machine cleaning operations as well as maintenance. Besides, the solution has been quantified as well as filling in a uniform way to ensure the highest hygiene for the product.
Saving production costs thanks to US technology filling machine
US technology VACGF2000 bottle filling machine can help businesses save labour costs in a very efficient production phase.
The automatic filling machine is equipped with a "bottle-free - no-filling" intelligent protection device to handle bottle-emptying or bottleneck situations. In such situations, the machine will automatically prevent the pump system from pouring materials, maximizing the source of material loss.
US technology filling machine with high durability and low maintenance cost
Machine structure is designed simple and durable, US technology filling machine also helps businesses save maintenance costs because the machine will almost have no serious damage, especially from senior materials
The cost of investing in a US technology filling machine is not too high
One of the final advantages of the VACGF2000 bottle filling machine is that the cost of this device is not too high compared to other imported products on the market but still ensures the quality and other features to help businesses save the best cost.
Some machines accompanied by VACGF2000 machines
Bottle sealing machine SK-2: Used to shrink the whole bottle.
Plastic conveyor belt CS-8
DJ-100 light inspection: Bottles filled with water and capping will be transferred by the plastic conveyor system to the light inspection. The light inspection designed with a magic eye can warn when there are strange objects in the water bottle, and keep this bottle so that the worker can move to another place. Normal water jars will be moved to the next section.
24 head manual bottle rinsing and BJE 0.5 pump
Requirement before installing filling machine system
Viet An instructed Ms Hoan to prepare the following factors before installing VACGF2000 bottling filling system for her business:
Water supply, using tap water or drilled well, water has been treated and meets domestic water standards.
Workshop or room for installing bottled water production systems.
The water filling area is tiling white glazed tile with glass doors closed and UV disinfection lamp.
Water extraction pump.
If you want to own a good quality VACGF2000 filling machine like Ms Hoan or any other filling machine, just call to 0949.41.41.41 and we will advise and answer all your questions.