Viet An exports contract of ice making machine in Dong Nai
Currently, Viet An's ice making machine is gradually asserting its position in the market in terms of quality as well as professional customer service. Not only providing customers with high quality products, the most modern technology, cost savings, Viet An is also appreciated for after-sales service, thoughtful after-sales service.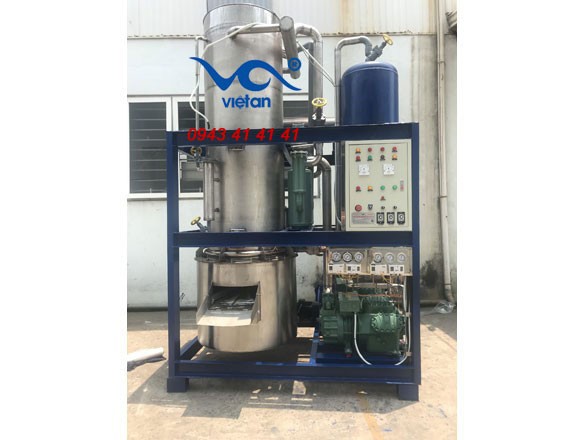 Ice making machine IVA12T exported to Mr Hoa
On April 20, 2019, Viet An General Trading Joint Stock Company proceeded to deliver goods to Mr Hoa in Bien Hoa - Dong Nai IVA12T ice making machine - 12 tons under the contract MĐ2019TH 072.
Introducing the 12-ton ice making machine
Proud to be the manufacturer and supplier of the largest ice making machine in Vietnam, Viet An ice machine is always trusted and welcomed by companies, factories and people. We specialize in providing the best quality industrial machines - this has made Viet An become the No. 1 choice in the field of supplying ice making machine, water filtration lines, filling machines .. ... and many other machines.
Advantages of Viet An ice making machine
- Superior cooling system, producing ice in the shortest time to save time and cost. The machine is used in combination with an advanced line of water filtration for safety and health, with an automatic alarm system.
- Material manufactured by iNox 304 heat treatment ensures the best heat transfer performance.
- Ice making machine is designed compact, quality, stable and durable operation to bring high performance, save energy, easy to operate.
The industrial ice cube maker produces the following types of ice cubes:
Large ice: 47 x 80 mm. Often used for beer, soft drinks, etc.
Medium large ice: 38 x 45 mm. Usually used to drink iced tea, ...
Medium small ice: 34 x 40 mm. Often used to drink iced tea, ...
Small ice: 18 x 23 mm. Often use to drink coffee, juice, water mixed.
Ice making machine 12 tons is made of iNox 304 material with all components imported from advanced countries, components imported and new 100%.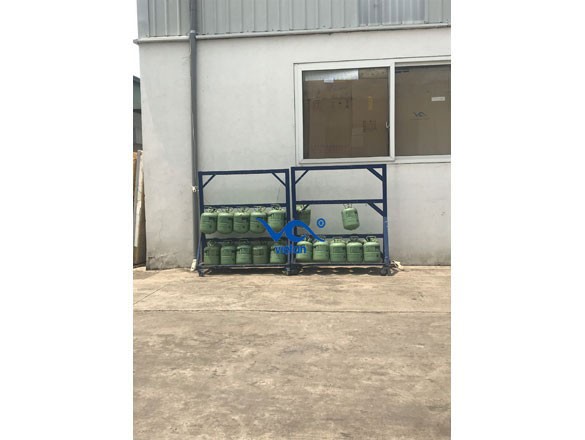 Gas R22 is imported from India
The reason why Mr. Hoa chose Viet An's ice making machine
With a team of professional technicians, the system of pure and modern ice cube making machine, quality assurance, at the same time the price of ice cube making machine is very affordable ... Viet An Company always ensures to provide machines Producing various types of ice cubes with high efficiency.
In particular, the company always puts the motto "prestige - quality" on the top, always ensuring to bring products that meet the needs in small and medium models or industrial production to customers.
In order for customers to feel secure about using products of Viet An Company, especially clean ice machine, we are committed to:
Viet An is responsible for the highest quality of products and services, the indicators of water quality testing of incoming and outgoing water are stored and analyzed in accordance with strict standards and regulations.
The most advanced and modern technology applied.
Highly qualified technical staff ensure the fastest and most accurate construction. The thousands of m2 factory system can meet the implementation of many large projects at the same time.
Long-term warranty, lifetime maintenance.
Competitive price, high investment performance for investors.
The flexible form of payment fast.
A team of consultants, answers, support all problems during the operation and use.
Components with a 12-ton ice cube making machine are shipped to Mr Hoa
Cold storage: Ice cubes after production is very quickly melted by ambient temperature, before shipping to consumers need to be carefully preserved to ensure the best volume of ice. The use of cold storage in the storage of ice cubes will help the ice production process be more stable and productive, ensuring ice for a long time until consumption and use. With a capacity of 12 tons of ice machines, Mr Hoa has chosen 18C cold storage with a size of 3mx3mx2m.
Packing system: The application of the packaging system in the production of Viet An's industrial ice cube to replace human hands helps Mr Hoa to close the ice pack simply, avoiding manpower and time spent on stitching pack.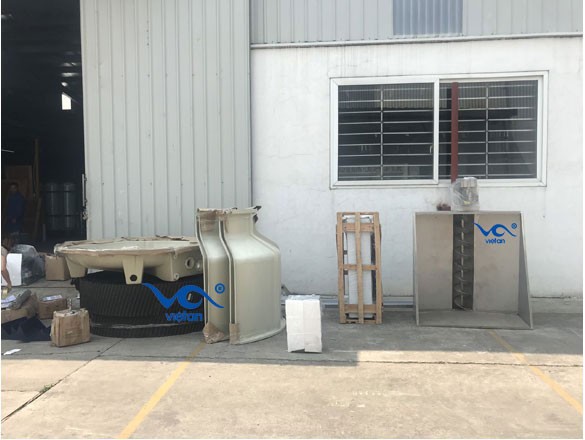 Accessories come with ice making machine
Water filtration line: To ensure 100% pure ice cubes, Mr Hoa decided to equip additional RO water filtration line 750L / h (VAMĐ 750).
Cooling tower: The cooling tower is based on the principle of drawing heat from water through the cooling plate and then discharging, thereby reducing the temperature of the water to cool machinery in the factory.
Ice blender: with 304 stainless steel for ultrafine ice finished products used exclusively for marinating seafood, or processing drinks that need ice.
With these components, Mr Hoa's ice-making facility will surely operate stably with maximum efficiency, not only that, fully equipped with such equipment will help him save money, labor costs and reduce production time as quickly as possible.
Thank you for choosing Viet An's ice making machine. You need to find out and buy ice making machine or any other model, please contact the hotline: 0949 41 41 41 for advice and the most accurate support.