Viet An exports contracts of ice making machine for customers in Ninh Binh
Viet An is one of the pioneers in producing and supplying pure ice making machines with a capacity of from 1 to 100 tons, serving the needs of the business, daily life, our products are always be trusted, used and received by the large and small business units at home and abroad.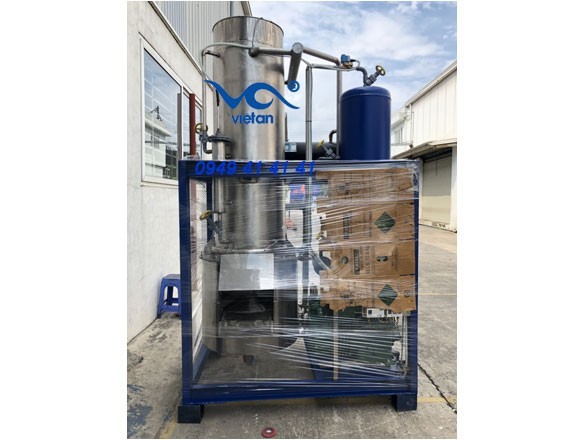 On May 8, 2019, Viet An has exported goods to Mr Hai under the contract MĐ2019NB 112 IVA5T from Viet An Factory in Quang Minh Industrial Zone to Ninh Binh Province where Mr Hai is conducting the opening of a factory producing pure ice cubes meet the needs of the people in here.
The strengths of Viet An ice making machine
Control system: The electric cabinet is considered as the brain of the ice machine operating system, the design and programming are guaranteed stable operation elements, easy to control, durable and less likely to occur trouble. In addition, electrical cabinets are usually mounted on the body and work in high humidity environments, so the cabinet is made of stainless steel.
Pipeline system: Gas pipeline system works in high pressure environment, easy to corrode during operation. It should be guaranteed thickness and made of stainless steel.
About Performance: The efficiency of ice machine depends on the design of the refrigeration system: The production of ice in one cycle (one batch) is 5000kg / 24h, the time to run the machine in a cycle from 40-45 minutes, power consumption up to 45% compared to other conventional products.
Compressor: The compressor is considered as the heart of the ice machine refrigeration system. The efficiency of the ice machine depends heavily on compressor efficiency. Imported from Europe 100% new, it should help ice machines work with low noise, less viscous, compressor structure suitable for refrigeration system ice machine.
Components and equipment: The price and quality of ice machine depend on the quality of the equipment used to manufacture it. Viet An components and accessories are selected from reputable brands, with long-lasting working, etc.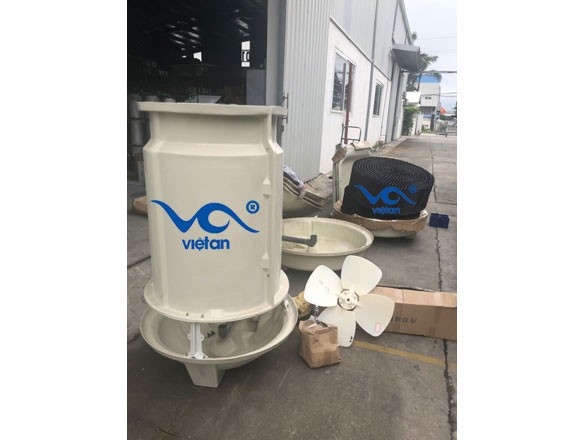 Components with 5 tons ice cube making machine are exported to Mr Hai
See more: Water filtration line for ice making machine
Mr Hai's share when he decided to choose Viet An 5-ton ice cube making machine
"Ninh Binh is a locality that has many advantages for doing pure ice business, I have learned many companies and visited in reality, but when I came to Viet An I was totally attracted to the working process, production of the company as well as the people in here, they are very professional and enthusiastic. Therefore, I decided to choose Viet An as a companion "- Mr Hai shared.
Viet An's 5 tons ice cube making machine is assembled on US technological line, strictly complies with international standard ISO 9001: 2015, Viet An ensures the best and most modern product in Vietnam.
The industrial ice machine is applied cooling system, cooling between wind and water with R22 solvent imported from developed countries, so the speed of ice making will be much faster than before.
The ice-making process is fully automatic and closed, it will not take much time to perform manual operations, saving more time.
Extremely attractive price, cheaper than other brands. In addition, enthusiastic and professional consulting services of Viet An will choose the product that you like and satisfied.
5 ton ice making machine has an industrial design with dimensions of 1.6m x 1.4m x 3.5m, the weight of 1.7 tons is still very easy to install and optimizes space.
In order to make 5-ton ice machine work the best, Mr Hai should pay attention:
Installation location: The installation process is also an important step that many people are still subjective. Here are the notes Mr Hai need to know when installing:
Installation in a cool place away from heat sources will directly affect the quality of ice cubes and the cooling capacity of the machine causing power loss.
The water supplied to the machine must be treated through proper inlet and wastewater.
Check specifications and power sources regularly to ensure stability for the machine to work. When not in use should disconnect the power source and isolate from water pipes to avoid incidents.
Note to operate: 5-ton ice machine is fully equipped with intelligent control buttons, so you need to learn how to use and know the types of alerts to fix the problem in time.
5-ton ice machine operates in a closed cycle, so it will not affect the machine too much.
Replace water dispenser to keep ice pure regularly. Depending on the water source of each area to determine filter replacement time. Normally, after 6 months, they will have to be replaced to provide a guaranteed water source for ice making and the ice maker will not scale.
Regular cleaning, periodic air filter after 15 days of operation to avoid oil drying, engine cracking and overheating.
Regular maintenance of a 5-ton ice making machine is needed to increase the service life of the machine and to avoid minor undetermined failures that will affect the machine for a while.
If for a long period of inactivity, remove trays and supply lines to clean to prevent mold and bacteria from growing.
With 5 tons of ice cube making machine, Mr Hai will produce pure ice, bring prestige and brand name to his facility, thank you for trusting in choosing Viet An.
Currently on the ice machine market, there are many types and many counterfeit goods, fake goods, poor quality goods, you should choose a reputable and reliable address to contact to buy ice making machine. Come to Viet An General Trading Joint Stock Company for the best support or contact us directly at our hotline: 0949 41 41 41, to be able to buy genuine ice making machines and advice on choosing a model to make. The ice best suits your business model.