Viet An handed over 750-liters water filtration line in Ha Tinh
750-litres water filtration system is a product of scientific advancement in the field of clean, pure water treatment today. As one of the leading units in providing modern machinery and equipment, Viet An General Trading Joint Stock Company has been trusted and selected by many consumers.
When people's life is enhanced, economic development, the need to use pure drinking water is beneficial for human health is also high. This has opened up the great business potential for units that produce bottled water and pure bottled water. Therefore, under contract 961/2018 signed, on 4/3/2019 Viet An General Trading Joint Stock Company exported and handed over the VACA750 water filtration system to Mr Phong in Ha Tinh.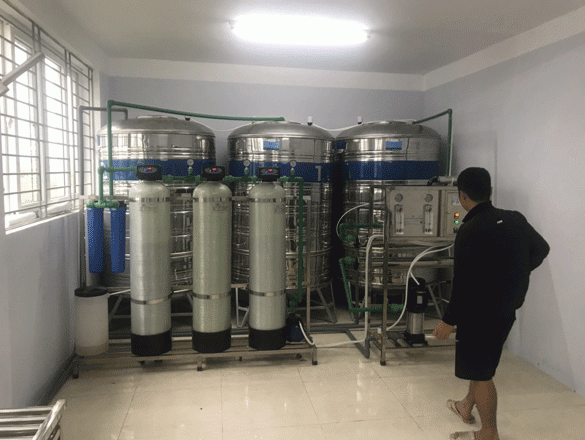 Process of installing 750 litres water filtration system in Ha Tinh
The process of installing and handing over VACA750 line to Mr Phong of Viet An is an important and complicated stage so we always arrange skilled employees. Specific steps for installation and handover are as follows:
Step 1: After signing the contract and preparing everything needed, Viet An staff will transfer the equipment to the location in Ha Tinh and quickly and effectively install the equipment so that Phong can soon go into production.
Installing 750-litres water filtration system, Viet An staff will give detailed instructions to the person in charge of this system to understand the production process and promptly reflect the problems encountered when running the machine.
Step 3: Discharge the whole assembly line system to test the machine as well as test the ice cube machine. After that, Viet An will directly hand over to Mr Phong.
Step 4: After installation and handover process is completed; Our company also carries out maintenance and maintenance of the machine so that the process of producing bottled and bottled water is safe and effective.
What is the difference 750 litres RO water filtration system in Ha Tinh?
RO technology is widely used and selected because of the following advantages:
- Suitable for rich and diversified water sources of Vietnam, proven assembly lines according to international standards.
- Pure water filter line is set to stop automatically mode, when the water supply is complete along with it is self-locking when water is full, protecting the machine from unnecessary problems.
- Genuine Film Film RO filter is imported from modern America with a multitude of micro filter holes to eliminate hardness, chemicals, heavy metals in the water compared to other technologies.
- Leading advanced bactericidal technology, preventing soil and rust mud from ≥ 5 µm in size.
- Environmentally friendly 750-litre water filtration system, the ability to self-discharge smart waste.
Long-term benefits when Mr Phong installed the VACA750 filter system
Save labour costs
The line based on high automation technology can maximize the cost of production labour and still give higher efficiency than the old line.
Stable operation
Viet An water filtration system operates extremely stable, smooth operation, low noise, no maintenance, regular maintenance and can be easily replaced, capacity upgrade.
The most modern water filtration technology
750-litres water filtration system applies advanced RO reverse osmosis water filtration technology, eliminates most harmful toxins and bacteria and gives users the purest water, ensuring standards Rigorous Ministry of Health.
Saving water source, power and area
Water filtration line is designed with a compact, beautiful, no-cost design and is capable of saving water inlet source and reducing power consumption compared to old lines.
After completing the installation and handing over 750 liters of water filtration system to Mr. Tung, Viet An also supported him on related issues such as applying for permits, designing labels, checking water samples, ... his bottled water pure water business has officially come into operation. Being contacted and working with Mr. Phong, we firmly believe that his business will reach farther. Thank you for using our Viet An products!