Viet An signed a 7-tons tablet ice making machine contract with guests in Quang Nam
Currently, the demand for using 7-ton ice making machine in Quang Nam is an essential requirement. Quang Nam is a province located in the central part of Vietnam, it is a very attractive tourist destination with two heritage recognized as world cultural heritage. One of the two places that tourists prioritize when coming to Quang Nam is Hoi An ancient town. Hoi An is an old town, it has temples, old houses and other unique monuments. Hoi An is the first choice of tourists when coming to Quang Nam. Every year, Quang Nam attracts about 4.9 million visitors, with extensive sales services, the more tourists come from Quang Nam, the demand for using ice cubes to serve soft drinks for guests also increased. It can be seen that this is a potential market for the pellet production industry because it not only serves the needs of the people in the province and the surrounding areas but also the demand for refreshments of tourists is very great.
Seizing that demand, on January 25, Mr Tran Duy Ha decided to buy a 7-ton ice cube maker - IVA7T with Mr Nguyen Cong Hoan - representative of Viet An general Trading Joint Stock Company.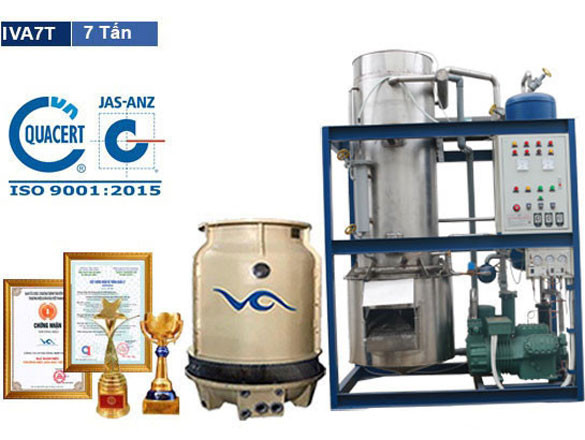 Opportunity to earn a "big" profit when Mr Ha invested in a 7-ton ice making machine in Quang Nam
The current opportunity to sell ice cubes in Quang Nam is very wide with crowded and annual residents attracting millions of domestic and foreign tourists. Here are some possible benefits when Mr Ha invested in ice making machine in Quang Nam:
The profit of ice cubes business in Quang Nam is relatively large and will quickly recover capital and have many opportunities to expand the business scale to neighbouring provinces.
The market in Quang Nam province currently has very few competitors, the cost of buying ice cubes is not too large.
Learn about condenser in 7 ton Viet An tablet ice making machine
As one of the important equipment and has a significant influence on the whole operation of ice machines in general and the operation of other components in particular, condensers have the main task of condensing gas blocks in The gas is processed in the compressor and transformed into a liquid-like substance.
The medium used in the condenser:
- NH3 medium: Suitable for equipment with large capacity such as ice making machine, brewery because it is very environment-friendly but easy to corrode metal. Therefore, this type of medium should not be used for cold storage.
- Freon substrate: used for small and medium capacity devices, used for household devices such as refrigerators and air conditioners. The advantage of this medium is that it is safe for food, does not corrode metal.
To buy 7-ton ice cubes to ensure quality, Mr Ha should note the following:
Select a reputable manufacturer and distributor of ice cubes, with a long-term, affordable price guarantee.
Select a machine with a capacity suitable for use and easy to clean and disassemble.
Selecting 7-ton ice cubes making machines, saving electricity, designing to create hygienic and safe products for users.
Check carefully the materials for making the machine.
Currently, on the market, there are many companies producing ice cubes making machines, including Viet An - the leading enterprise in Vietnam to produce industrial ice making machines according to American standards.
The reasons why Mr. Ha should buy ice cube making machine of Viet An for installation in Quang Nam
Mr Ha has been given basic advice on the selling price of 7-ton ice making machine, consulted to build a factory to produce ice cubes, and administrative procedures related to the production of ice cubes, how to make ice cubes. branding businesses and providing stamp bags for the production of ice cubes,...
Viet An has up to 20 years of experience in manufacturing machinery, with advanced technology lines, 100% of manufactured goods have absolute accuracy and safety.
Skilled workers, always exploring and learning to meet the highest demands on product quality.
The team of engineers constantly research to create an ice making machine with high performance, ensuring the quality of the pure ice safe for users.
Perfect customer care service: Viet An receives deliveries and installs 7-ton ice cubes as well as all other products for customers nationwide.
The ice making machine of Viet An is made up of high-quality materials such as SUS304 stainless steel, PE, aluminum-plate alloy to improve the life of the machine up to more than 20 years.
Long-term, fast warranty, with maintenance centres available nationwide.
Viet An Joint Stock Company with many years of experience in providing equipment for making ice cubes with capacity from 1 to 50 tons, a system of pure water filtration lines ... .. we are the best machine supplier which you can refer to. For detailed advice and quotation for each product, please contact the hotline: 0949.41.41.41
Above are some information about the contract to buy 7 ton ice maker of Mr. Tran Duy Ha in Quang Nam province. Hope the article will help you get the most comprehensive view of this field!