Viet An signed a contract to install 3-tons ice cubes making machine for customers in Ca Mau
Viet An General Trading Joint Stock Company specializes in producing top quality 3-tons ice cube machine IVA3T in Vietnam with new technology to create pure, high-quality clean ice, saving energy and saving creating ice time. On February 16, 2019, Mr. Nguyen Van Vu Linh signed a contract to buy IVA3T ice making machine with Viet An under the contract No. 019/2019 in Ca Mau.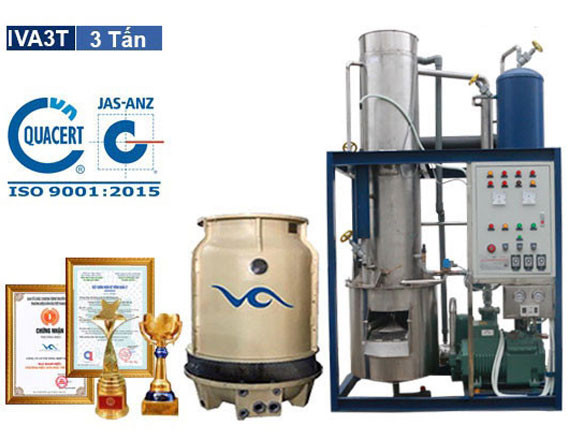 Currently, the demand for pure ice cubes to ensure the quality is getting bigger and bigger, the amount of ice cubes produced is not enough to supply the market. Because of the great demand, because of running after profits, many ice making facilities have used water sources and unsecured equipment to produce ice. Therefore, many units have the need to use large ice such as fresh seafood shops, supermarkets, restaurants, hotels, bars, beverage shops or households ... there often use machines to make pure ice cubes to be able to actively source clean ice to ensure quality and save a lot of costs compared to buying ice. Therefore, Mr Linh decided to open a ice production facility in Ca Mau.
Solving dirty ice cubes problem when installing 3-tons ice cubes in Ninh Thuan of Viet An
In fact on the market today, it is not difficult to find establishments, restaurants, ... which provide and use ice cubes of unknown origin, unsafe and unhygienic. In particular, it is a cost for each kilogram of ice packs is less than 2,000 VND, and facilities are not afraid to grant and use poor quality ice cubes to consumers. This, while providing immediate benefits as a timely solution, is quite quick with the need for stone users in hot weather, as well as saving immediate profits for businesses. But in the long term, the production of such dirty ice cubes certainly undermines the prestige of that enterprise, seriously affecting users such as causing abdominal pain, diarrhea ...
Viet An is evaluated as a leading company in importing, supplying and producing pure ice cubes in Ca Mau with a cost of less than VND 200 / kg of ice produced. It can be said that, with the modern, safe and efficient production process, Viet An's ice cube maker helps Mr Linh's ice cubes facility to save a large number of expenses as well as to provide guarantee ice with the best quality.
Why did Mr Linh choose Viet An?
Mr. Linh shared: "Viet An always tries to be more and more perfect in quality, price and after-sales regime, the best warranty and maintenance for customers to feel secure when choosing, coming to Viet An, Customers will receive a dedicated caring service, apply new technology (energy saving) compared to other ice machines on the market, it helps me save a lot of money compared to the cost of buying ice cubes outside.
3 ton Viet An ice cube maker has 12 months warranty and lifetime maintenance of products with nationwide utility warehouse system, professional customer service.
- Time to make ice super fast: Only 35 - 45 minutes for a batch of pure clean ice.
- Diverse with compact designs suitable for many spaces, easy to use, convenient. The quality of pure clean stone is certified by the Ministry of Health.
- Components imported from Europe with clearly certified stamps of ISO 9001: 2015 and CE Marking standards.
- Intelligent operation mechanism, the process of the completely closed machine should limit dirt and pathogenic bacteria to ensure user health.
Mr Linh installs an ice cube making machine 3-ton of Viet An in Ca Mau
Pure clean ice making and the manufacturing machine is designed according to the modern technology of the United States imported and assembled by Viet An general Trading Joint Stock Company in Vietnam. With a compact and ergonomic industrial design, it makes installation easier and safer for the manufacturer. The new technology of German compressors saves electricity, small noise, less affecting people around.
Ice cube maker and clean ice maker get pure water to make ice, so it is very safe for ice cubes products, made ice is clean ice and meets food safety standards 6-1- 2010 / BYT. The machine is designed with a simple technique, high durability, low maintenance costs.
3-ton ice cube making machine is made of high-quality stainless steel 304, adapted to the climatic conditions of Vietnam, making it not corroded because of oxidation. With the system of components, epoxy coating 2 layers of anti-rust help ice machine to withstand the harsh weather of Vietnam.
Hopefully, with the information we have just shared, Viet An is really an important partner of Mr Linh as well as every customer. In order to have the opportunity to own high quality, genuine, high quality and special 3-ton tablet ice maker, please contact Viet An today.