Viet An signed a contract to make pure ice making machine for Mr. Ha
Today the demand for ice machine is increasing. Pure ice cubes, pure water are used in daily living and drinking, in restaurants, cafes, schools, ... 3 ton ice cube making machine - IVA3T was born to suit the Viet Nam market manufactured and assembled by Viet An. It is the result of continuous improvement and technology exchange cooperation with foreign countries.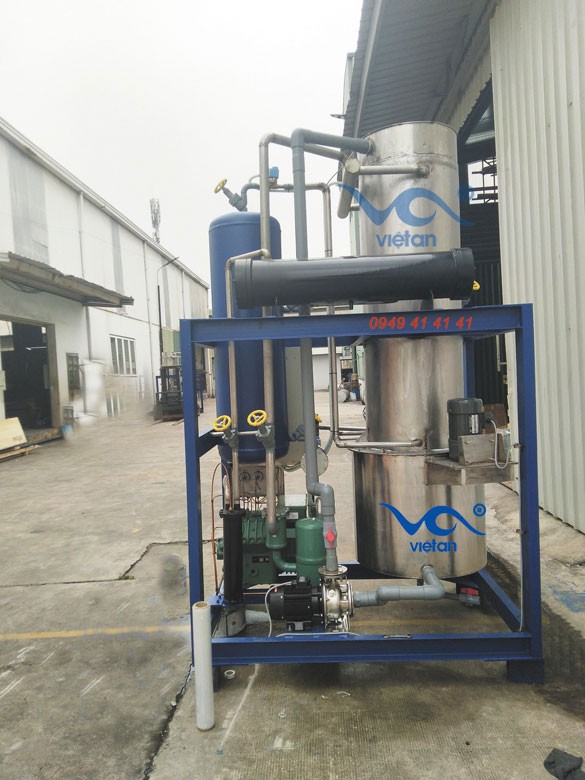 IVA 3 ton ice cubes ready for export to Mr Ha
Realizing the potential of economic development with pure ice making machine, Mr Ha decided to contact our hotline: 0949 41 41 41 for assistance. Here he was directly consulted by technical staff to choose the ice machine with the most modern technology available today, the iNox IVA ice cube making machine is 100% new.
After considering, Mr Ha decided to sign the contract of MĐ2019LS 100 IVA3T ice size 34x40mm. On 07/05/2019, Viet An has exported this 3-ton IVA ice cube making machine to Mr Ha's home address.
The advantages of 3-ton ice making machine
100% new imported compressor, running smoothly, making no noise.
Ice cube making machine is made of components imported from advanced countries - Mr Ha can be assured that this material will help the machine achieve durability up to 20 years.
In terms of price, the price of our products is always 15% lower than that of other ice machine companies - the reason for this is that we optimize our Ice making processes to suit climatic conditions in Vietnam.
3-ton ice making machine is made of stainless steel 304 - thereby resisting oxidation, easy to clean.
Viet An's ice making machine can produce many sizes of ice (depending on the needs and purposes of customers using beer, coffee, ice tea, etc.).
Viet An uses only R22 and R404A refrigerants as a catalyst, these refrigerants are absolutely safe for the human body (all approved by the Vietnam Pharmaceutical Department).
Offering a charging bucket system worth ten of millions VND when buying ice making machine Viet An
Mr. Ha needs to pay attention to the following issues so that a 3-ton ice machine works best
Install the machine in a suitable position so that it is not wet, around the machine is clear of obstructions, flat and solid cooling system radiator operating at maximum.
Ice making water is groundwater or bore well water, processed through filtration and sterilizing equipment.
Absolutely pay attention to the continuous, stable water supply line, no interruption, the water inlet must be sure, not leaking. On the inside of the water supply line, there must be a stop valve (used to turn off the water line when maintenance, repair or troubleshooting).
The water way out must have a slope, in the pipeline, there are no obstructions so that the drainage water will not stagnate.
The compression of the water line must be within 2,5 Pa or the machine will perform poorly and may not make ice (the reason is that the amount of water is too weak to pump water to the indoor unit). Even when the water is too strong, it is not too old, 5 Pa, which affects the quality of ice cubes. Besides, too much water pressure damages the electromagnetic valve(water supply valve).
Power supply for the machine is stable, no flicker. Need power supply, 3pha, 380V, 50Hz for the machine to operate with the best capacity.
See more: Viet An filling machine - The most modern technology
Warranty, preferential treatment when installing ice making machine - Viet An
Warranty: 12 months and long-term maintenance. When handing over the products, Viet An will provide all papers, machines, equipment, and accessories to facilitate the needs of Mr Ha such as: Checking the machines, transporting, running and testing, then when the machine is stable, we carry out the instructions and transfer it to Mr. Ha, so that he can rest assured our products.
Preferential mode: Periodic maintenance check, free of charge for all warranty and repair expenses for him during the warranty period.
3 ton ice making machine provided and installed by Viet An Company is a quality product. Depending on the locality, the environment that our staff conduct to design different installation locations.
Thank Mr Ha for choosing to be a partner with Viet An - We will certainly do as committed, to bring customers quality products as well as after-sales service.