Viet An signed a contract to supply 5-ton ice making machine in Bac Giang
The ice cube making machine 5-ton is used to create pure ice cubes used in daily life, most commonly used in restaurants, cafes, fast food stores, supermarkets, the health centre, school, ... in Bac Giang province. On January 26, Mr Truong Duc Vu signed a contract to buy a 5-ton tablet machine with Mr Nguyen Khac Diep - representative of Viet An Trade Joint Stock Company.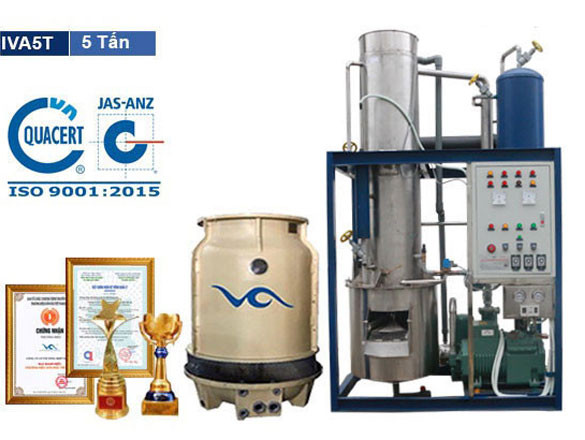 The demand for using pure ice cubes in Bac Giang is getting bigger and bigger, many ice production establishments are born and bring high profits to the producers. But how to buy a standard 5-ton ice cube machine, Which vendor has the best maintenance warranty? This is a problem that Mr Vu always cares about, not skillfully buying the wrong quality ice making machine, low warranty and maintenance service of that business project will fail. Viet An ice making machine is made to suit the tropical climate conditions of Vietnam. Currently, the ice making machine is a product occupying the market in Bac Giang in particular and Vietnam in general.
Benefits when Mr Vu installs 5 ton Viet An ice cube making machine
Saving costs because there is no need to buy outside ice that can be produced in large quantities from Viet An pure ice making machine. The cost of buying ice seems small, but with great demand, daily, monthly and yearly, plus hiring labour, manpower carrying ice in the long term is much more expensive than The investment in a 5-ton ice making machine system.
The problem of hygiene when buying outside ice is safe or not, and avoid the unfortunate risks that occur, this is the most important issue. The implications of using dirty ice not only affect people's health but also suffer from digestive diseases but also can discredit the business sector, when customers are evaluating and complaining a lot of complications when using non-safe, unhygienic industrial tree ice making machines from water shops, fast food shops, restaurants, etc …
Advantages of 5-ton Viet An ice making machine in Bac Giang
Viet An ice making machine has the ability to make the ice quickly, safely and ensure the quality, heat treatment and the best stable performance of industrial ice making machine. Ice cubes made of all sizes suitable to use needs such as drinking tea, drinking soft drinks, beer, coffee, smoothy, ...
Parts and components of pure 5-ton ice making machine are imported from the leading countries in technology so the machine does not produce a loud noise, industrial ice making machine has an air cooling system and automatic control panel provides convenience, safety and health for users.
The ice making machine is very fast making perfect ice, ensuring the food safety and hygiene standards brought into the water by the most modern sterilization technology.
The price of pure ice making machine 5 tons is reasonable, in addition, the body machine and components are made of stainless steel so it is very safe and anti-corrosion, easy to clean and clean.
Service when installing Viet An ice making machine in Bac Giang
Over the past years, Viet An Company has always improved product quality, increased sales, marketing and customer care services. Moreover, Viet An also built a staff to repair, maintain, warranty and maintain the best after-sales service for Mr Vu after the warranty period with the 5 ton Viet An ice cubes making machine.
All questions of Mr Vu related to the company's products will be enthusiastic counsellors, answer and improve the system to achieve the highest capacity while saving power consumption in the direction after:
- Fully and easily replaced equipment (ice mortar, liquid separator, oil separator, container, valve, magnetic float ...).
- Improving piping system.
- Simple technical design.
- Control cabinet system: automatic by an electronic or conventional mechanical system.
- Replace compressors - fix - adjust the system.
- Gas supply valve and defrost valve.
The Viet An ice cube making machine  5-ton was chosen by Mr Vu to install in Bac Giang with quality and ease of use to meet the demand for optimal use. You can contact the hotline directly: 0949.41.41.41 for advice, guidance more carefully on how to choose the capacity and size of stones in accordance with business areas in your provinces and localities. Viet An would like to thank you!